Learn to tune into your body with my FREE Mindful Eating Exercise
Do you want to start or grow your nutrition business?
I'm passionate about teaching business expertise to educate and empower dietitian entrepreneurs to confidently start, grow and scale their businesses.
Worksheet: Identify Your Ideal Client
Knowing and truly understanding your clients is essential to creating a successful and profitable business. Honing in on your ideal client helps you create products and services that are needed, write better copy and focus your time and energy when it comes to marketing. This worksheet walks you through how to identify your ideal client.
Sample New Client Intake Form
This sample intake/assessment form can be used for your client's first appointment. This example was developed specifically for health professionals who specialize in intuitive eating, work with chronic dieters and practice from a weight-neutral/health at every size perspective.
Client Discovery Call Template
Offering a free discovery session is a great way to turn a potential client into a paying customer. This template walks you through exactly how I structure my complimentary client call including specific questions to ask (and in what order) and how to make an offer at the end in a way that sounds natural and doesn't come up salesy.
Business Coaching for Dietitians
It is no secret that starting your own business or private practice can be a daunting, anxiety-inducing task. Having personally gone through the ups and downs myself, I can't stress enough how rewarding the process becomes when you start to see the positive results and testimonials from your clients.
Through my bi-annual Dietitian Entrepreneur Mastermind Retreats, I've had the privilege of working closely with both aspiring entrepreneurs and established business owners alike. Hearing their daily struggles and hardships have helped shape my coaching strategies to most effectively provide insight towards optimizing financial growth and stability, all while providing the services you love!

Coaching session options:
1, 45-minute session – $149
Pack of three, 45-minute sessions – $399 (save $48)
Pack of six, 45-minute sessions – $720 (save $174)
Click here to sign up and get started. Not sure which is right for you? Contact me and we can chat more!

My specialties include:
Virtual and in-person private practice
Telehealth and online business
Media spokesperson work
Working with brands
Consulting
Blogging
Professional Speaking


Topics covered may include:
Setting up your business
Honing your niche and ideal client
Website best practices and SEO
Branding and messaging
Marketing strategy
Insurance vs. private pay
Pricing your services
Creating custom client packages
Social media strategy
Virtual counseling
Building a profitable blog
Creating and reviewing contracts
Effective sales and negotiating tactics
Overcoming mindset challenges/limiting beliefs
Regardless of where you are in your career, I would love to help you attain the highest level of success. In addition to providing reputable tips and resources, I will work with you 1-on-1 to offer both guidance and accountability. By tailoring our session(s) to your specific needs and concerns, I can help you meet and exceed your business goals.


Coaching session options:
1, 45-minute session – $149
Pack of three, 45-minute sessions – $399 (save $48)
Pack of six, 45-minute sessions – $720 (save $174)
Click here to sign up and get started. Not sure which is right for you? Contact me and we can chat more!
Business Branding 101
This webinar discusses the steps to take to build the brand for your business.
Pitch Perfect
This webinar discusses how to develop a pitch, and get noticed in the media.
Know Your Value
This webinar discusses how to know your value, including seting fees and when to say no.
Entrepreneur Webinar Bundle
This bundle includes all three webinars at a discounted price.
Nutrition Entrepreneur Starter Pack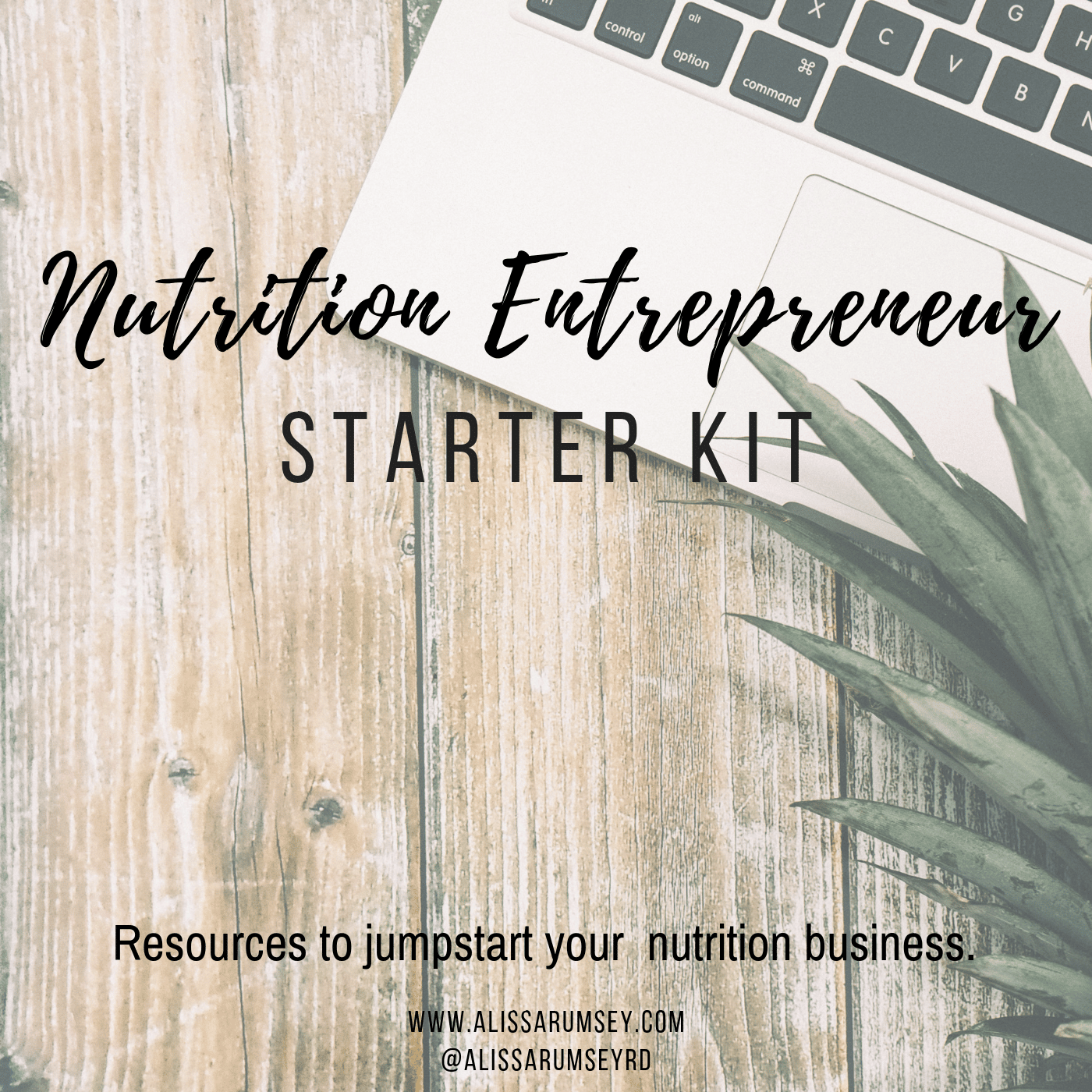 The Nutrition Entrepreneur Starter Kit includes downloadable, editable essentials for starting, developing and growing a nutrition business. It includes a Google Drive folder full of done-for-you templates, client forms, contracts, etc. – all available for you to download, edit, and use. Simply add your logo and contact information and they are ready to use for your business. You will receive templates, worksheets, spreadsheets, sample contracts, client forms, online resources, and more.
Client intake forms
Cancellation and payment policy examples
Superbill templates
Expense tracking spreadsheet
Sample consulting contracts  
HIPAA documentation forms
and more!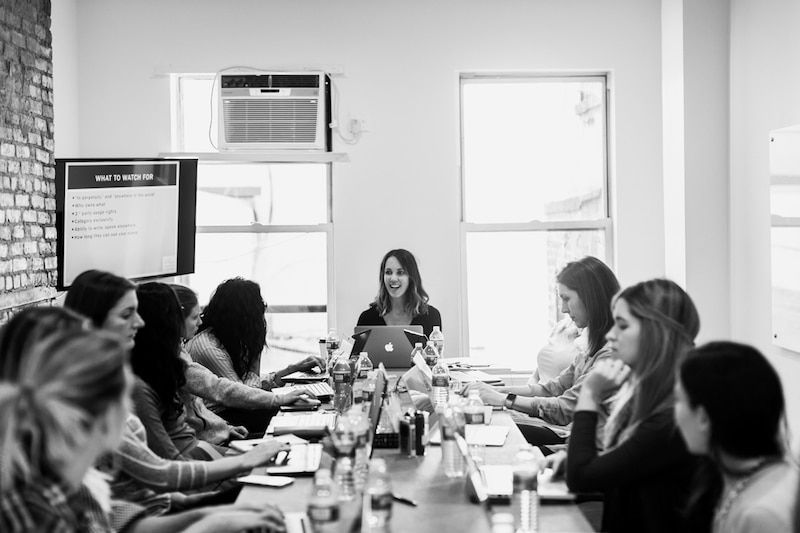 When I first started my business, I felt very much alone. As a solopreneur, I was not only the CEO but also the sales team, product department, IT, customer support, operations…even the janitor! I had no business background to speak of, yet here I was making daily decisions that affected my business and my livelihood…all on my own. While I loved the flexibility, I felt very isolated. There was no one to bounce ideas off of, or gripe about an annoying client; no brainstorming sessions or after-work drinks. No sense of solidarity.
Which is why I created the Dietitian Entrepreneur Mastermind Retreat.
An entire weekend devoted to WORKING on your business, CONNECTING with like-minded entrepreneurs, and COLLABORATING on ideas and ways to grow your businesses. Come and be surrounded by a community of nutrition entrepreneurs who are taking risks and changing lives. This is not a big conference – I purposefully keep it small to allow you to connect and build relationships with the other attendees. These people will be your network not just during the event, but for years afterward. You'll have a built-in support network to ask questions and get feedback on a regular basis after the retreat ends. Gain clarity and confidence in your business while making friends and having a blast. Plus you'll get 23 CEUs!
Because going it alone doesn't have to be lonely.
"Alissa's retreat helped me feel more secure in my decision to starting my own practice and left me with so many tools to utilize to obtain clients via social media and my optimized website. It helped me to streamline my goals for my practice and discover/hone in my niche clientele. It was great to be surrounded by other RDs who shared a similar goal and yet had so many clever niches for their businesses. All the variety and advice from everyone was invaluable!"
Rachel Albaum, RDN, CDN, CDE, RYT, CLT, IFNCP.
Owner of Inner Compass Nutrition
"I have been hoping to start a virtual practice for over a year, but was overwhelmed trying to figure out where to start and how to make sure I was "doing it right." Alissa's retreat literally answered every question and concern that I had, and gave me all of the tools necessary to take action and come up with a solid, clear plan to success. This experience has given me so much confidence in my ability to start and run my own practice. I highly recommend this retreat to any dietitian out there who dreams of being their own boss, but is confused or overwhelmed about how to get there."
Diana Savani, RD, LDN.
Owner of Eating with a Dietitian
"The whole experience was one of the best things I have ever done for myself. Alissa clearly lays out everything you need to do, think about, and reach for in order to be successful in your own business. She makes you feel like with the right tenacity and mindset, you will be able to get there and reach your goals. Alissa also approaches the information in a realistic way, and expresses how to tackle one mission at a time so you don't get overwhelmed."
Beri Young, RDN.
Owner of The Cupcake Dietitian
"I attended the retreat because I wanted to learn ways on how to expand both my practice and brand. The material presented was new; information I hadn't sent in school, retreats, webinars nor conferences. One thing I liked about the retreat is that Alissa took the time to review each of our specific needs to help us improve our business. I also enjoyed meeting new colleagues and networking. I can't express how motivated I left to continue to build my nutrition practice. I've already made short and long term goals to accomplish within the next 3-12 months. I would recommend this retreat without a doubt to people who need guidance on how to build and grow their nutrition business."

Alexandra Briceno RD, LD/N, CDN.
Owner AB Family Nutrition LLC
"Alissa's retreat was incredibly beneficial to me as a private practitioner. My number one takeaway is understanding my worth as a dedicated and passionate dietitian. Within a few weeks, I've already raised my rates and have experienced no pushback because I learned how to clearly and quickly explain the benefit of my particular coaching to my prospective clients. It was also wonderful to connect with other entrepreneurial dietitians with similar goals; there is strength to be gained from knowing you're not alone."
Barbie Boules, RDN, LDN, CHC.
Owner of NYOUTRITION, Inc.
WIND- Weight Inclusive Nutrition and Dietetics Conference
Date: February 8, 2020
Location: New York, NY 
Branding, Marketing, and Communications Through a Weight-Inclusive Lens
Ohio Academy of Nutrition and Dietetics Meeting
Date: April 17, 2020
Location: Columbus, OH
How to Integrate Intuitive Eating and a Weight-Inclusive Approach Into Your Practice
Intuitive eating and the non-diet approach have become buzzwords of late. This talk will outline and explain the principles of intuitive eating and how dietitians can use it as a framework to help clients of all types connect to their internal cue system and keep nutrition interventions behavior-focused rather than weight-focused. Alissa will outline the principles that comprise the weight inclusive approach to health and the growing body of research which supports it as a best practice. She will share practical skills that dietitians can use in their practice as well as additional resources for training and support.
Recommended Resources & Tools
This page contains affiliate links. This means that if you choose to purchase a product using my affiliate link, I will receive a small commission or bonus. This will in no way impact the price you pay. Affiliate links on this page are denoted with an asterisk (*). Thank you for your support!
Proud Partner of EHR Platform
SimplePractice is a practice management platform (EHR or Electronic Health Record) specifically built for dietitians.
It streamlines client scheduling, intake, charting, messaging, billing process (including insurance claim filing) and telehealth/video appointments all in one HIPAA compliant and easy-to-use portal.
Click the link below to get a special offer – 3 months for the price of 1!
You get a 30-day free trial then, if you decide to upgrade to the paid option, you'll get 1 additional month free.