Thanksgiving is around the corner! Check out this guest post from Carolyn Ingrid, an intern with Alissa Rumsey Nutrition & Wellness. She's rounded up 12 of her favorite (and healthy!) sweet potato recipes for you and your family to enjoy this holiday season. 
It's possible to enjoy the coveted sweet potato at your Thanksgiving dinner without blowing your diet. If prepared correctly, this vegetable not only packs a nutritious punch but will taste so delicious that it will keep your guests coming back for more. 
Is Sweet Potato Really That Good For You?
According to the Journal of Medicinal Food, sweet potatoes have anticancer, antidiabetic, and anti-inflammatory properties. Sweet potatoes are high in essential nutrients such as vitamin A, vitamin C and potassium. Although these potatoes taste sweet, they won't spike your blood sugar. Sweet potatoes are lower on the glycemic index, meaning they digest slowly, releasing sugar more slowly into the bloodstream. This helps you have higher energy levels for longer. All the better for that post-dinner family football game. 
Added Health Benefits of Sweet Potato
Did you know sweet potatoes are good for your skin? Their high levels of vitamin C stimulate collagen production, which reduces wrinkle formation. Sweet potatoes are also a great source of beta-carotene, an antioxidant that protects our skin from damage from free radicals.
12 Healthier Sweet Potato Recipes
Skip your standard marshmallow-covered sweet potato casserole and try one of these 12 healthy sweet potato recipes instead. 
Roasted Sweet Potato & Lentil Salad  from Lauren Blake at Whole Living Lauren
Chicken, Sausage & Root Vegetable Cassoulet from Katie Cavuto at Katie Cavuto
Slow Cooker Loaded "Baked" Sweet Potato from Alexis Joseph at Hummasapien
Sweet Potato Bites With Pecans & Cashew Cream from Tracee Yablon Brenner at Triad to Wellness
Roasted Butternut Squash & Sweet Potato Soup from Jessica Fishman Levinson at Nutritioulicious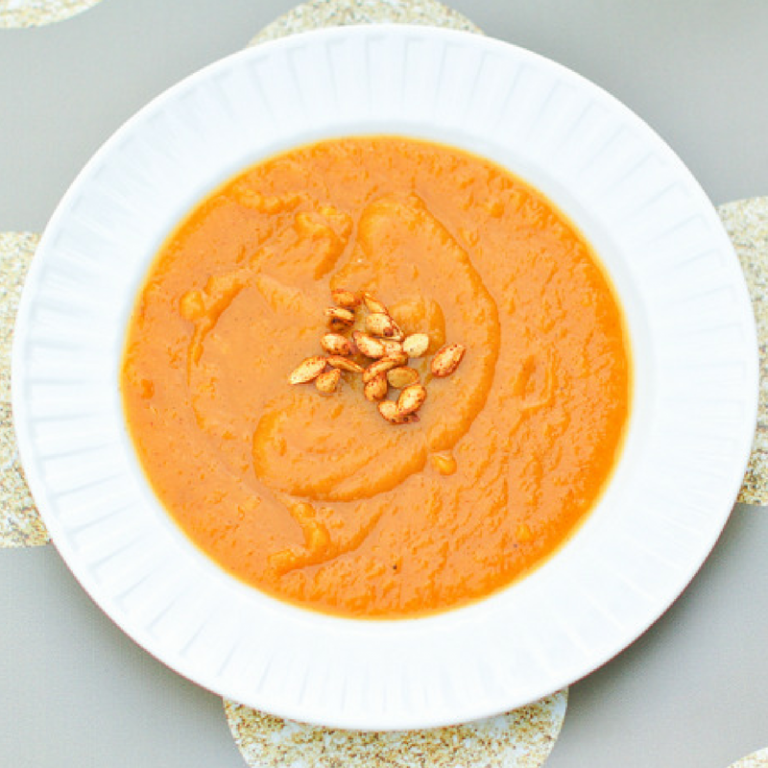 Cinnamon Sweet Potato Apple Bake from Stacie Hassing at the Real Food Dietitian
Pecan Topped, Slightly Sweet Sweet Potato Casserole from Liz Weiss at Meal Makeover Moms
Creamy Kefir Garlic Herb Mashed Sweet Potato from Dianna Sinni Dillon at Chard in Charge
Sweet Potato Bake from  Betsey Ramirez at Hungry & Healthy
Chipotle Turkey & Sweet Potato Chili from Dixya Bhattarai at Food Please and Health
Scalloped Sweet Potato Casserole from Meme Inge at Living Well Kitchen 
Sweet Potato Pie Hummus Dessert from Kristina LaRue at Love and Zest
What's your favorite way to enjoy sweet potatoes? Share your sweet potato recipes in the comments below!