More and more "fast casual" healthy lunch restaurants have been popping up in the last few years. Here are 13 of my favorites lunch restaurants.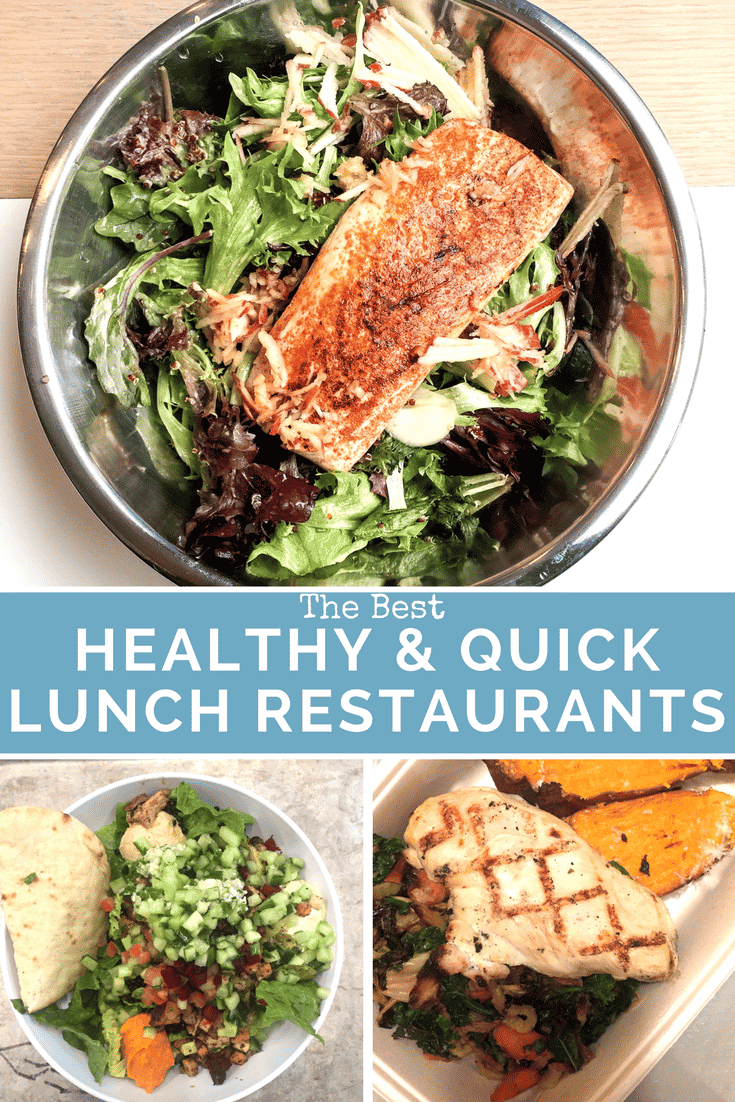 As much as I try to meal prep ahead of time (and recommend that my clients do the same), there are days when it's simply easier to buy my lunch. Luckily, more and more "fast casual" healthy lunch restaurants have been opening up in New York City and other cities around the country. Here are 13 of my go-to healthy lunch restaurants and my favorite meal at each.
1. Sweetgreen. I love that they offer a seasonally inspired menu, with many local and organic ingredients. Dozens of healthy options appear on the menu, with everything from soups to salads, sandwiches and more. Sweetgreen has locations in NYC, Boston, Philly, Washington DC, Chicago, LA, and the Bay Area. My favorite: The Hummus Tahina Salad, which comes with herbed falafel, feta cheese, lots of veggies, homemade hummus, and cucumber tahini yogurt dressing. 
2. Dig Inn. My go-to when I'm craving a warm and hearty meal, Dig Inn offers a "farm to counter" experience as they work with local food producers. They have a large variety of hot and cold veggie dishes alongside whole grains, greens, and protein sources. Locations include NYC, Rye Brook New York, and Boston.  My favorite: Toasted farro with herb roasted chicken, kale-curry-delicata squash salad, and Brussel sprouts with maple and Sriracha.
3. Mimi's Hummus. There are a few different hummus restaurants around the city offering up nutritious Mediterranean food, and Mimi's is my favorite. The menu includes a variety of vegetables, lentils, chicken, meat, and, of course, hummus. You can easily make a healthy meal with one of their protein dishes paired with a veggie side. My favorite: Mujaddara Bowl (lentils and bulgur wheat) with roasted cauliflower, hummus, and half a wheat pita.
4. The Little Beet. I love that you can order anything on this menu and not only does it taste amazing, but it's all healthy. The menu is made up of local and seasonal foods. They have locations in Manhattan, Long Island and Washington DC. Their sister sit-down restaurant, The Little Beet Table in Flatiron, is also a great choice. My favorite: Chicken with Maple-Roasted Acorn Squash and Golden Cauliflower.
5. Roast Kitchen. I love a good grain bowl and Roast Kitchen brings them to a whole new level. They offer both hot and cold bowls full of seasonal veggies, greens, and whole grains, plus an array of protein choices. Their stores are all around Manhattan. My favorite: Moroccan Hot Bowl with Chicken.
6. Hu Kitchen. This quick-service restaurant offers a variety of healthy and unprocessed dishes. They skew paleo, so while there is a lack of whole grains, they have a lot of protein and veggie options. They have locations in Union Square and the Upper East Side. My favorite: Wild Meatloaf with Roasted Broccoli
7. Cava Grill. The newest addition to my healthy lunch restaurant rotation, Cava Grill offers customizable Mediterranean dishes. Choose from a base of salad, grains plus greens, or grains, then add up to 3 dips/spreads, a protein source, and unlimited veggie toppings. Locations in New York, New Jersey, DC, Maryland, Virginia, and California. My favorite: Grains + greens bowl with crazy feta dip, roasted red pepper hummus, harissa, falafel, beets, cauliflower tabbouleh and cabbage slaw.
8. Reviver. The menu options at Reviver all follow four guiding principles: Balanced, Nutritious, Pure and Clean. All meals feature whole, nutrient-dense foods including fresh vegetables, whole grains, legumes, nuts, seeds, and lean protein. Plus they had a dietitian (shout out to Monica Reinagel!) help create the menu. They are located in Flatiron. My favorite: North Shore Mahi Salad, featuring grilled mahi-mahi over greens, mandarin oranges, golden raisins and red quinoa.
9. Beyond Sushi. Vegan sushi may sound like an oxymoron, but it's absolutely delicious at Beyond Sushi. All rolls are made with rice and vegetables, in creative combos like black rice, braised fennel, sundried tomato and avocado or enoki mushrooms and baked tofu, you can't go wrong with any of the menu items. They have three locations in Manhattan. My favorite: Sweet Tree Roll: 6-grain rice, avocado, roasted sweet potato, and alfalfa sprouts topped with toasted cayenne sauce.
10. Le Pain Quotidien. With a huge number of locations in cities around the world, this is one of my go-to spots. They offer tartines, or open-faced, sandwiches, whole-grain salads, fresh fruit, Greek yogurt, oatmeal, veggie frittatas, and more. Their bread is baked fresh daily without preservatives, and they use organic ingredients whenever possible. My favorite: Lentil Avocado Salad or the Avocado Toast (plus a large whole-milk latte!).
11. Chipotle. With endless combination options, Chipotle offers a variety of real foods that you can easily make a balanced meal out of. The key is balanced – skip the burrito and the rice bowl (unless you're going to just eat half), and go for a salad bowl to up your veggie intake. Locations all around the country. My favorite: A salad bowl with a "small scoop" (say that to ensure you don't get 2 cups!) of brown rice + black beans + fajita veggies + chicken + salsa + "small scoop" of guac.
12. Cosi. Cosi offers a variety of sandwiches and salads made from fresh ingredients while you wait. Their bread is baked fresh daily and is low in calories, fat and sodium. Take advantage of the option to substitute carrots for chips, and get in an extra veggie serving. My favorite: the Signature Salad (I've been ordering this since I was in high school!) with chicken, with light dressing and half a slice of whole wheat bread.
13. Whole Foods. You can't beat the prepared food selection at Whole Foods. With a hot bar, salad bar, fresh sandwiches, freshly made sushi, pizza, and more, there is plenty to choose from. My favorite: anything from the salad bar.
Tell me – what did I miss? Have a favorite lunch restaurant? Share below!