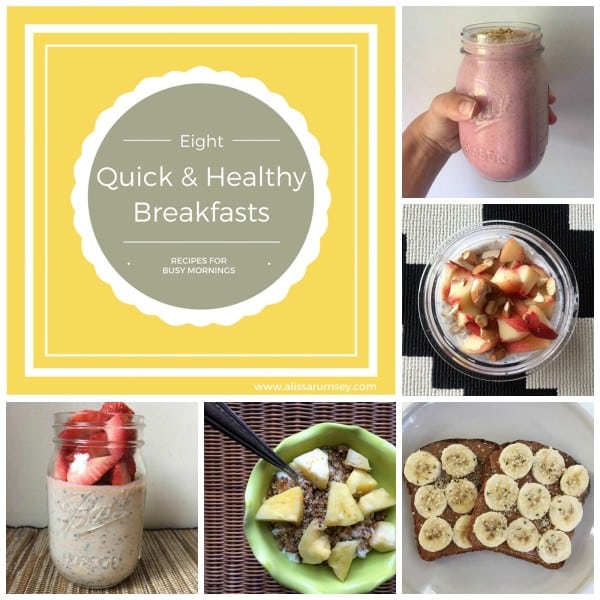 I can't tell you how often my clients say "my mornings are just so crazy, I never have time for breakfast". I get it, mornings are busy and many people get out the door only with a cup of coffee (or two). Often it seems simpler to just wait and eat later, especially if you aren't hungry when you first get up. While some people do fine skipping a morning meal, for many more it can backfire and result in eating too many calories later on in the day. Starting the day with a balanced meal helps set the stage and makes it more likely that you'll eat healthier as the day goes on. Plus, with a little fuel in your system, you're less apt to overeat (or go crazy with the snacking and grazing) come afternoon.
Skip the sugary breakfast cereals or pastries and focus on getting plenty of protein along with some complex carbs and healthy fat. Breakfast doesn't have to take a lot of time – try these 8 simple recipes, all can be made in under 5 minutes or even prepared the night before.
1. Overnight Oats. The ultimate grab and go breakfast. The night before, combine ½ cup old fashioned rolled oats, ½ cup milk of your choice, ½ cup plain Greek yogurt, 1 tablespoon chia seeds, ½ banana (mashed) and a tablespoon of peanut butter or two tablespoons walnuts or almonds. Mix well and refrigerate overnight in a sealed container. Come morning just grab the tupperware and go. Eat cold (my favorite), or microwave for 1-2 minutes for a warmer version. You can also check out my Vanilla Walnut Overnight Oats and my Nutty Chocolate Overnight oats.
2. Egg Muffin Cups. Bake these Sunday night and have breakfast for the week! Whisk 10 eggs with 1 cup of mixed vegetables – try chopped steamed broccoli, zucchini, bell peppers and/or onions – and season with salt and pepper. Pour into muffin tins coated with cooking spray, filling ¾ of the cup. Bake at 350 degrees F for 10-12 minutes, or until set in the middle. Keep refrigerated, and microwave for 45 seconds when ready to eat.
3. Fruit & Yogurt Parfait. Top 6-7 ounces of plain greek yogurt with 1 tablespoon of chia or hemp seeds, 2 tablespoons nuts, and ½ cup chopped fruit or berries. Try apple + walnut, banana + almond, or pineapple + cashew.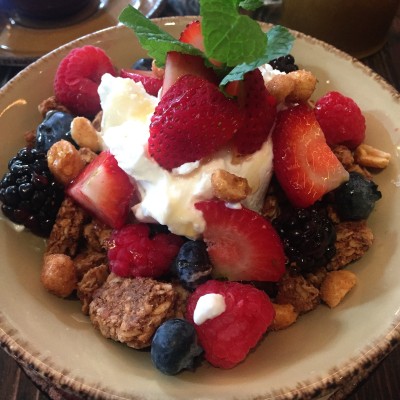 4. Avocado-Egg Toast. Toast 1 or 2 slices of whole grain bread (I like Ezekiel sprouted grain breads) and top with ⅓ avocado (mashed) and 2 hard-boiled or poached eggs. Sprinkle with salt and pepper to taste. Yum!
5. Chia Seed Pudding. A healthier take on rice pudding, this simple dish comes together quickly and makes enough for 2 servings. Mix together ¼ cup chia seeds, 1 cup milk of your choice, ½ teaspoon vanilla extract and ½ teaspoon cinnamon. Refrigerate overnight and top with fresh fruit and a tablespoon or two of nuts before eating. Or try this Mango Chia Seed Pudding.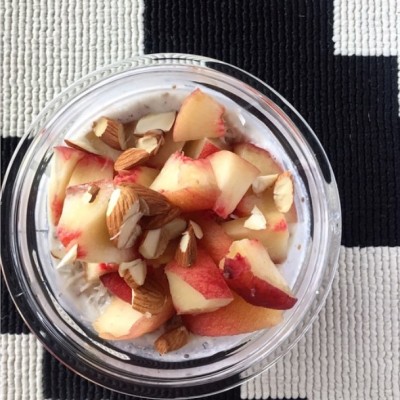 6. Protein-Packed Smoothie. A hearty, balanced smoothie needs just 5 ingredients: 1 cup leafy greens (I like spinach or kale) + 1 cup fresh or frozen fruit + 1 tablespoon chia, flax or hemp seeds + 2 tablespoons nuts or 1 tablespoon nut butter + ½ cup plain Greek yogurt. Add water or milk to desired consistency and blend. Try my Powered-up Smoothie Bowl.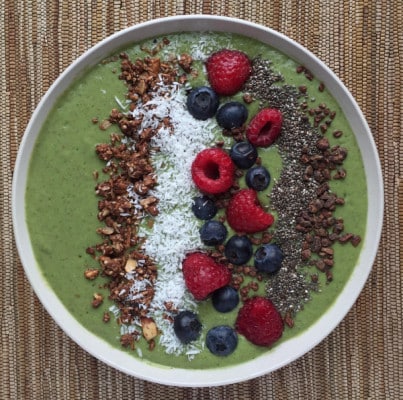 7. Southwest Burrito. Scramble 2 whole eggs, ½ cup red peppers and ¼ cup black beans. Place in a whole wheat wrap and top with 2 tablespoons each salsa and shredded cheese. Roll up and go!
8. PBB&C. My alternative to PB&J, this pairs peanut butter, banana & chia seeds. Toast two slices of whole grain bread, top with 2 tablespoons natural peanut butter, sliced banana and sprinkle with a teaspoon or two of chia seeds for added omega-3 fats.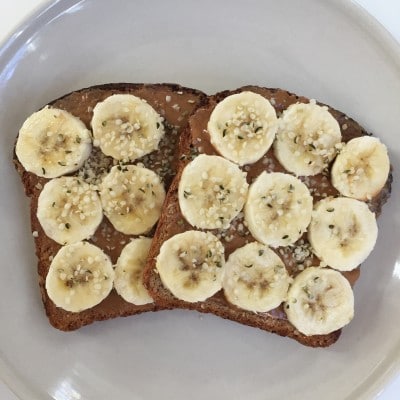 Do you have a favorite quick and healthy breakfast? Share in the comments below or tag me on social @alissarumseyRD.