In the spirit of celebrating love this month (and beyond) I bring you this delicious Chocolate Covered Strawberry Smoothie. Enjoy on your own or share with a special someone.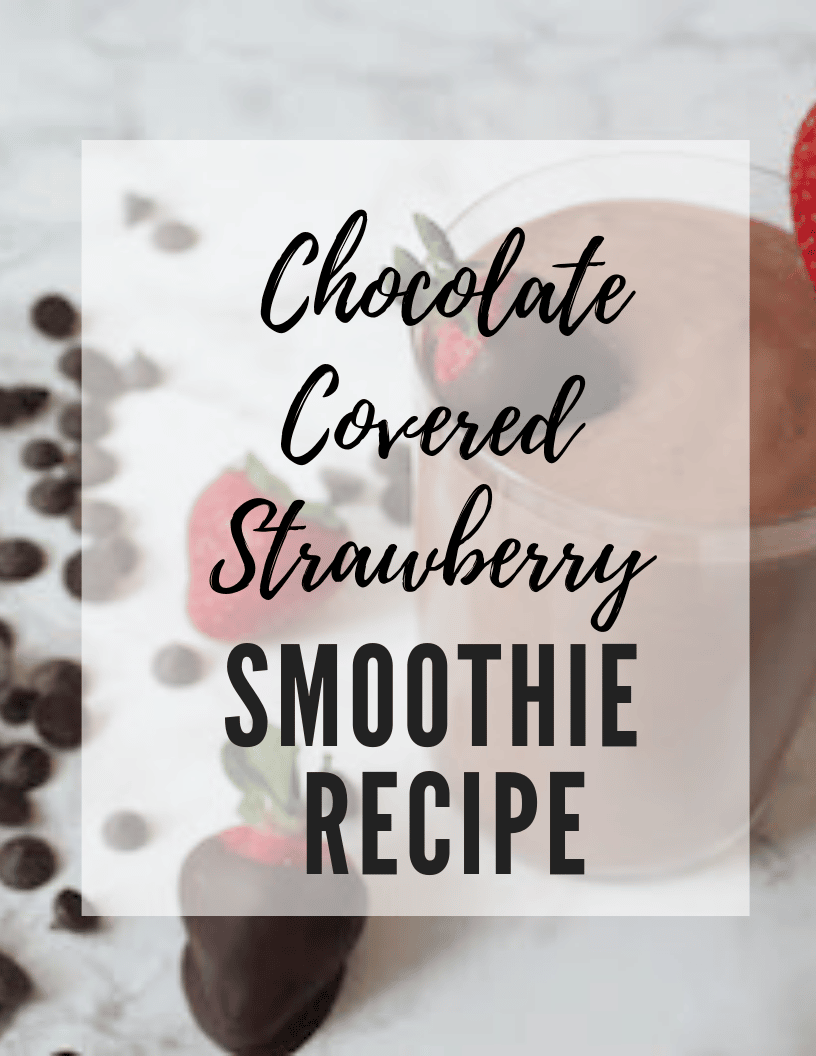 Today is Valentine's Day, and you know what that means? CHOCOLATE!
I have always been a chocolate lover, it just seems to make everything better. Especially REALLY GOOD chocolate.  Am I right?
So there's no better way to celebrate Valentine's Day than with a chocolate-based smoothie. Nothing screams romance more than chocolate and strawberries. Back in college, my boyfriend at the time decided he wanted to surprise me with chocolate covered strawberries…except the grocery store was out of strawberries. He substituted cantaloupe instead, and while it was a sweet gesture, it just wasn't the same. There's just something about chocolate and strawberries together that screams YUM. It's right up there for me with peanut butter and chocolate.
This simple smoothie combines chocolate and strawberries for a yummy treat that will satisfy your sweet tooth. Raw cacao powder makes this smoothie extra rich and adds a boost of antioxidants while strawberries add a hefty dose of vitamin C and fiber. If you don't have raw cacao on hand, feel free to use unsweetened cocoa powder instead.
The recipe also calls for avocado. Sounds a little weird, I know, but hear me out. Avocado gives the smoothie a super creamy texture along with a boost of healthy monounsaturated fats to help keep you full and satiated. The flavor is surprisingly neutral so it doesn't overpower other ingredients and doesn't change the smoothie's taste.
Protein powder helps to make this smoothie more of a meal and further increases its staying power. You can use any chocolate protein powder in this recipe. Vanilla or unflavored protein could also be used if necessary—in that case, you may want to adjust the amount of cacao powder as needed to give it more chocolate flavor. I typically use a real food protein source in my smoothies, like Greek yogurt, silken tofu, cottage cheese, or pulses, but I liked how the chocolate protein powder added an extra chocolatey punch.
Finally, dark chocolate chips add a bit of crunch to the smoothie. When you drink the smoothie, you get little bits of chocolate chips with every sip. It's like drinking chocolate covered strawberries straight from a glass!
Share this smoothie with a special someone this Valentine's Day or enjoy it on your own as a blend-and-go meal or snack.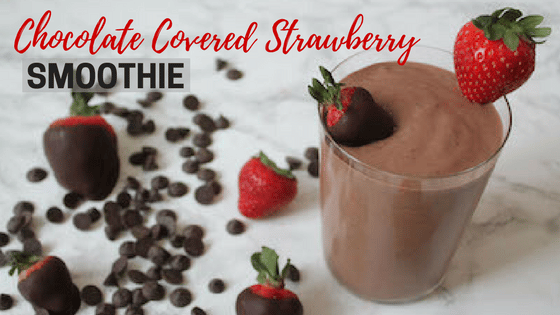 Ingredients
1 cup milk or non-dairy milk alternative
1.5 cups frozen whole strawberries
⅓ of an avocado
1 scoop chocolate protein powder
1 tbsp cacao powder
2 tbsp chocolate chips
Instructions
Add milk, strawberries, avocado, protein powder, and cacao powder to a blender and blend until smooth, about 1 to 2 minutes.
Add chocolate chips and blend just until they are crushed into bits, about 20 seconds. Pour into two glasses and enjoy!
This recipe was developed by Megan Miller, an intern with Alissa Rumsey Nutrition and Wellness.
[convertkit form=5101846]