Looking for a healthy breakfast sandwich? Look no further: check out my tasty Egg Breakfast Pita with Feta and Spinach.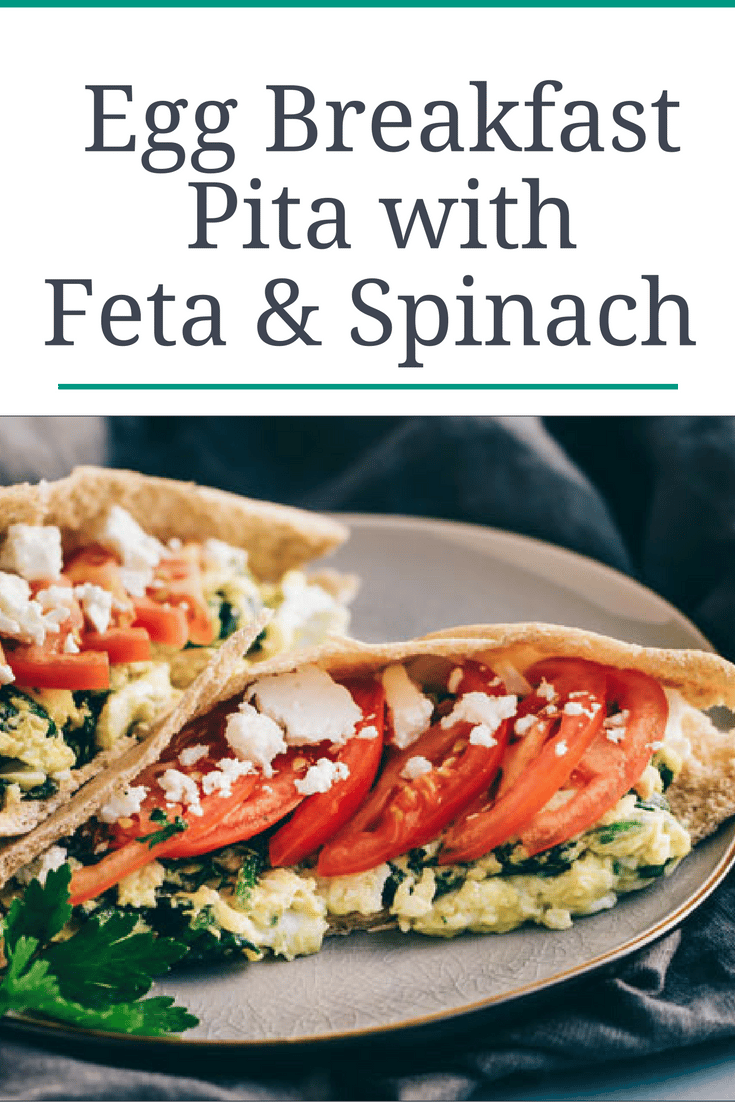 As I kid I hated eggs. When my dad would make them for breakfast, I always choose cereal instead (or a cinnamon pop tart…!). Boy, how times have changed. Eggs are now one of my go-to breakfasts. They are high in protein, and keep me full for hours. Plus they pair well with vegetables, and I always love when I can get a serving of veggies in first thing in the morning.
This healthy breakfast sandwich pairs scrambled eggs with fresh spinach, tangy feta cheese, and a whole wheat pita. Sliced avocado adds some healthy fat, while tomato slices provide another serving of veggies. This is a hearty breakfast full of fiber, protein, and healthy fat, guaranteed to keep you full for hours.
This recipe originally appeared in a blog I wrote for Luvoinc.com.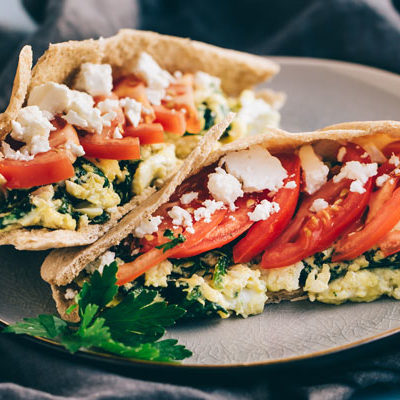 Ingredients
2 teaspoons butter
4 eggs
¼ cup milk
2 loosely packed cups of fresh spinach
¼ cup crumbled feta cheese
½ medium avocado, sliced
1 medium tomato, sliced
Salt and pepper to taste
1 whole wheat pita, cut in half
Instructions
Heat butter in large nonstick skillet over medium heat. Add spinach and cook one to two minutes or until wilted.
In a medium bowl whisk together eggs and milk. Pour egg mixture into the skillet.
As eggs begin to set, pull the eggs across the pan with a spatula. Continue cooking, pulling and folding the eggs, until they form soft curds and no liquid egg remains.
Remove skillet from heat and add crumbled feta, folding into the eggs until combined.
Season eggs with salt and pepper as desired.
Place half of the egg mixture into each of the whole wheat pita halves, topping with avocado and tomato slices. Enjoy!