Looking for a quick and easy make-ahead breakfast? Look no further! This 5-ingredient overnight oat recipe is sweet and creamy and high in protein thanks to Bolthouse Farms Plant Protein Milk, which is made with pea protein. 
This post is sponsored by Bolthouse Farms. I was compensated for my time, but all thoughts and opinions are my own. Thanks for supporting the brands that I love that make this blog possible!
It's been a busy couple of weeks. I'm spending a month in California with my brother and his family while he undergoes some medical treatment. I'm primarily here to help out with my (absolutely adorable) 8-month old niece and nephew. If you haven't caught a glimpse of them yet on my Instagram stories, go take a peek…trust me. I'm pretty sure the videos of them have gotten more responses than any other story I've shared! I mean they are pretty cute 😉 And my nephew's laugh totally sounds like a squeaky toy.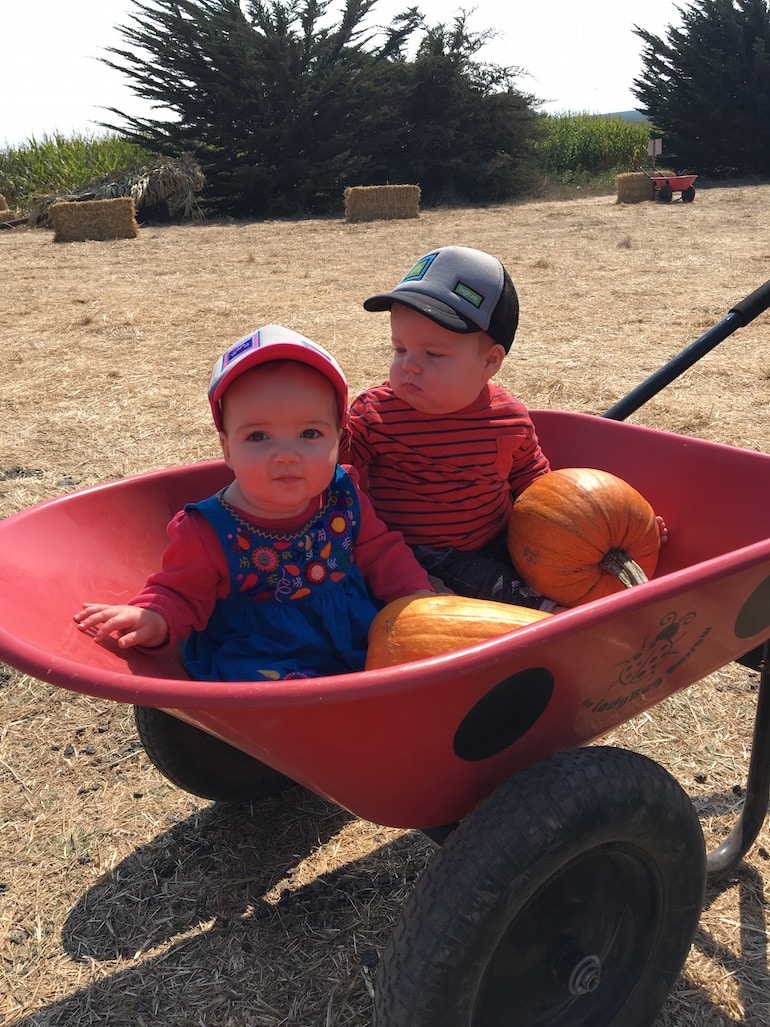 So since I'm basically in mom-mode right now (seriously parents, I give you sooooo much credit), I've been relying heavily on my favorite make-ahead breakfast: overnight oats.
Overnight oats are as simple as it gets. Five ingredients and five minutes later, you're done. Take just a few minutes at night to throw the recipe together and when you wake up breakfast will be ready.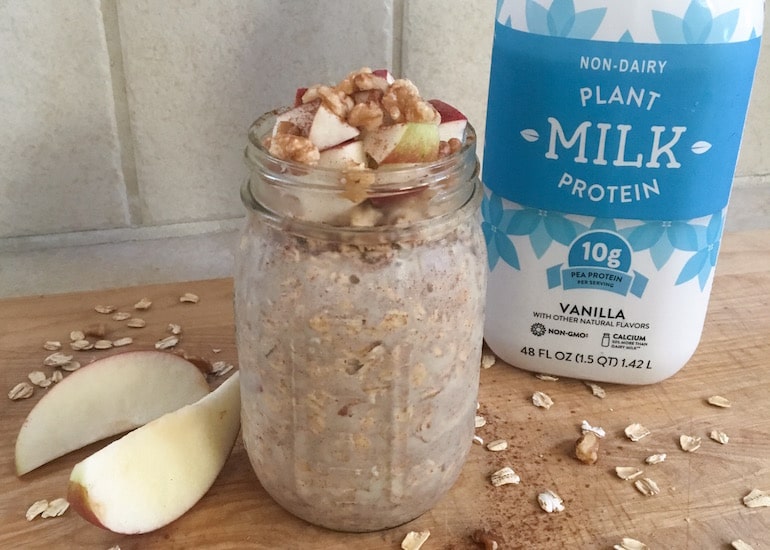 Old fashioned rolled oats work the best, resulting in a final texture that isn't too soggy or too crunchy. For the liquid, I've used Bolthouse Farms Plant Protein Milk. It's made with pea protein, so it does not contain dairy, lactose, soy or nuts. One of my qualms with many non-dairy milks is the lack of protein, but this plant protein milk delivers 10 grams of protein per cup (compared to 1 gram in almond milk). It's also a good source of calcium, vitamin D and vitamin B12. The creamy consistency is similar to traditional dairy milk, so I've been using it in smoothies, coffee, and my cold and hot cereals.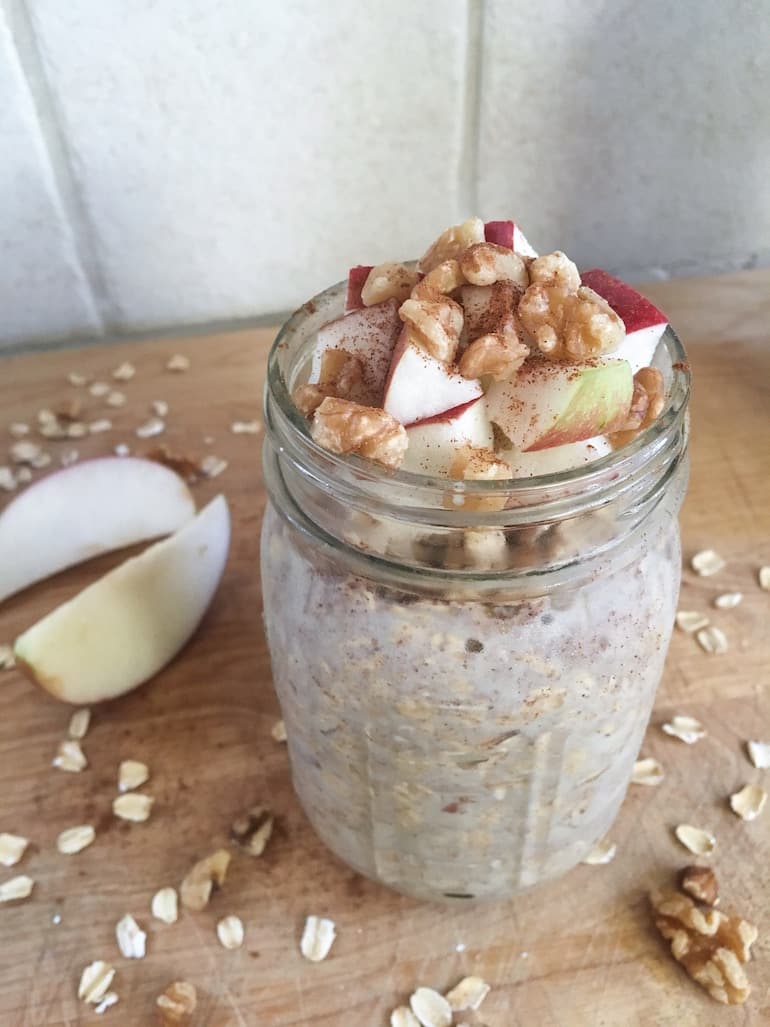 Another great thing about overnight oats is that they can be easily customized with many different flavor combinations. Since we are in the full swing of fall apple season, and my fridge is packed with apples, I've been making this High-Protein Apple Cinnamon Overnight Oats recipe on repeat. Filled with 15 grams of protein, 11 grams of fiber, and plenty of omega-3 fats, this breakfast will keep you full for hours.
If you give these a try, leave a comment below or share your photos on Instagram and tag me @alissarumseyRD – I'd love to see what you come up with!
Bolthouse Farms Plant Protein Milk can be found nationwide in the refrigerated dairy section at grocery stores including Kroger, Safeway East, Shaw's and Publix. Visit bolthouse.com to find a store near you.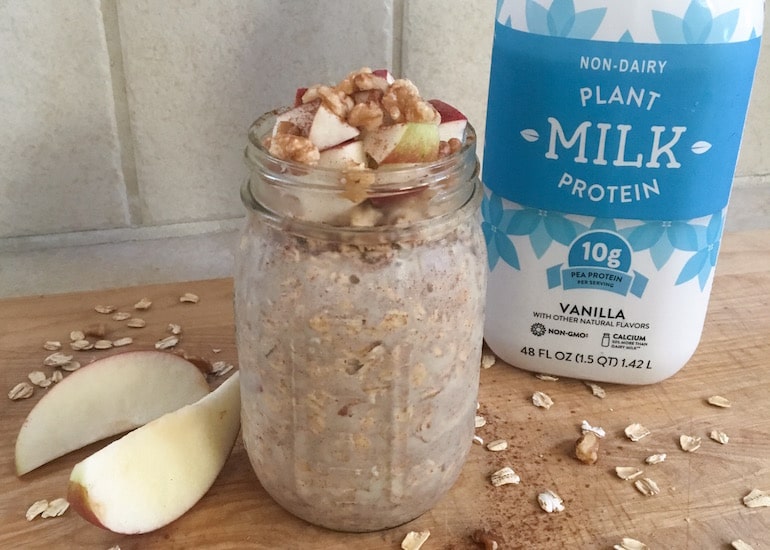 This 5-ingredient overnight oat recipe is sweet, creamy and high in protein.
Ingredients
1 cup vanilla Plant Protein Milk
1 cup old fashioned rolled oats
1 tablespoon chia seeds
1 medium apple, diced
1 teaspoon ground cinnamon
¼ teaspoon ground ginger (optional)
¼ cup walnut halves (optional)
Instructions
Put oats and Plant Protein Milk in a bowl and stir to combine.
Add remaining ingredients and mix well until combined.
Pour mixture into a mason jar or other container, cover and refrigerate overnight or at least four hours.
Enjoy! Overnight oats will keep in the fridge for up to 2 to 3 days, but are best enjoyed within 12 to 24 hours.