Check out my review of the Eat What You Love cookbook, including a sneak peak at one of my favorite recipes – Shrimp Zoodle Scampi! 
About The Cookbook
The Eat What You Love: Diabetes Cookbook includes over 100 comfort-food recipes drawn from Lori's Southern roots and nutritional expertise. Lori aims to help you make good food choices without sacrificing great taste. The recipes are whole-food based, with lower amounts of sugar and saturated fat compared but just as much flavor. The cookbook includes:
Breakfast, lunch, dinner and dessert recipes
Tips on how to "complete the plate", including suggested pairings to create a balanced meal
Helpful icons to show you how the recipe fits into your day in terms of carbs, protein and veggie servings
Detailed nutrition information
With recipes like Chocolate-Strawberry Breakfast Pudding, Chipotle Chicken with Creamy Avocado-Lime Sauce, Thai-Style Beer Curry, and Slow Cooker Pulled Pork Sandwich, it will be hard to decide what to try first!
Lori also includes sections on meal planning and food preparation, tips for how to stock your kitchen, and ways to balance out your plate.
Should You Buy It?
Lori created this cookbook to help people enjoy great tasting comfort food while keeping their diabetes under control, but this cookbook is for anyone who wants to eat more healthfully, whether they have diabetes or not. If you're looking for new healthy recipe ideas to include in your weekly rotation, this book is for you.
The book is available on Amazon – click the link for more details:
Eat What You Love Diabetic Cookbook: Comforting, Balanced Meals


Lori was kind enough to share a recipe from the book with my readers! Check out her delicious Shrimp Zoodle Scampi below.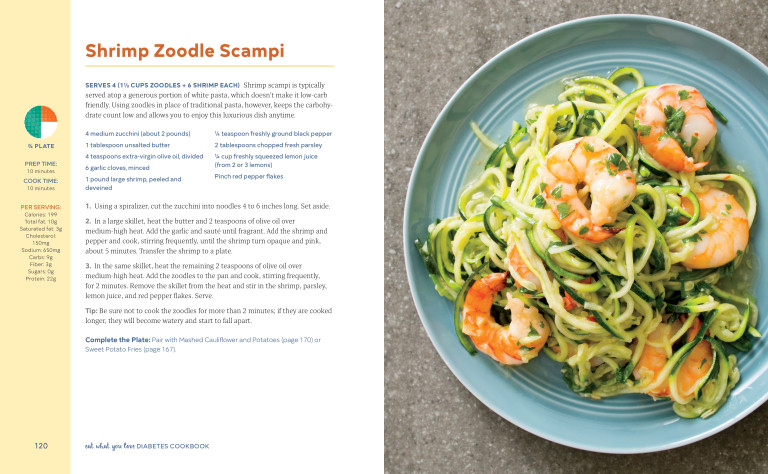 Shrimp scampi is typically served atop a generous portion of white pasta, which doesn't make it low-carb friendly. Using zucchini noodles in place of traditional pasta, however, keeps the carbohydrate count low and allows you to enjoy this luxurious dish anytime.
Ingredients
4 medium zucchini (about 2 pounds)
1 tablespoon unsalted butter
4 teaspoons extra-virgin olive oil, divided
6 garlic cloves, minced
1 pound large shrimp, peeled and deveined
¼ teaspoon freshly ground black pepper
2 tablespoons chopped fresh parsley
¼ cup freshly squeezed lemon juice (from 2 or 3 lemons)
Pinch red pepper flakes
Instructions
Using a spiralizer, cut the zucchini into noodles 4 to 6 inches long. Set aside.
In a large skillet, heat the butter and 2 teaspoons of olive oil over medium-high heat. Add the garlic and sauté until fragrant. Add the shrimp and pepper and cook, stirring frequently, until the shrimp turn opaque and pink, about 5 minutes. Transfer the shrimp to a plate.
In the same skillet, heat the remaining 2 teaspoons of olive oil over medium-high heat. Add the zoodles to the pan and cook, stirring frequently, for 2 minutes. Remove the skillet from the heat and stir in the shrimp, parsley, lemon juice, and red pepper flakes. Serve.
Notes
Be sure not to cook the zoodles for more than 2 minutes; if they are cooked longer, they will become watery and start to fall apart.
Disclaimer: I was given a free copy of this book in exchange for a review. As always, all opinions are my own and I only recommend brands and products that I love and use personally.