On weekdays I'm all about quick breakfasts – anything to get me out the door on time. But come weekends, I like to indulge in breakfasts I can linger over. Lately, I've been spending a few extra minutes in the kitchen whipping up one of my childhood favorites: blueberry waffles.


These whole wheat blueberry lemon waffles are perfect for eating warm off the griddle; you can also save them for later, they make a great a nutritious breakfast on the go. Whole wheat flour boosts the fiber content while Greek yogurt adds protein and a touch of sweetness. The fresh lemon juice and zest give it a soft lemony flavor that pairs deliciously well with the blueberries. I used frozen wild blueberries in the batter, which are different than the fresh berries you find in the store. Wild blueberries are smaller and pack a more intense blueberry flavor. Plus they have more than twice the antioxidants compared to fresh blueberries. Frozen blueberries can last for months, and are a good addition to waffles, pancakes, yogurt parfaits, oatmeal, smoothies, muffins, and more. 


Try making a double batch of these whole wheat waffles, then freeze the leftovers. For a quick and healthy weekday breakfast, pop a frozen waffle in the toaster and heat until warm. Go traditional and top the waffles with real maple syrup, or mix it up and pair with peanut or almond butter and sliced bananas or strawberries. Either way, these are sure to be a family favorite.


Serves: 4 - 1 waffle each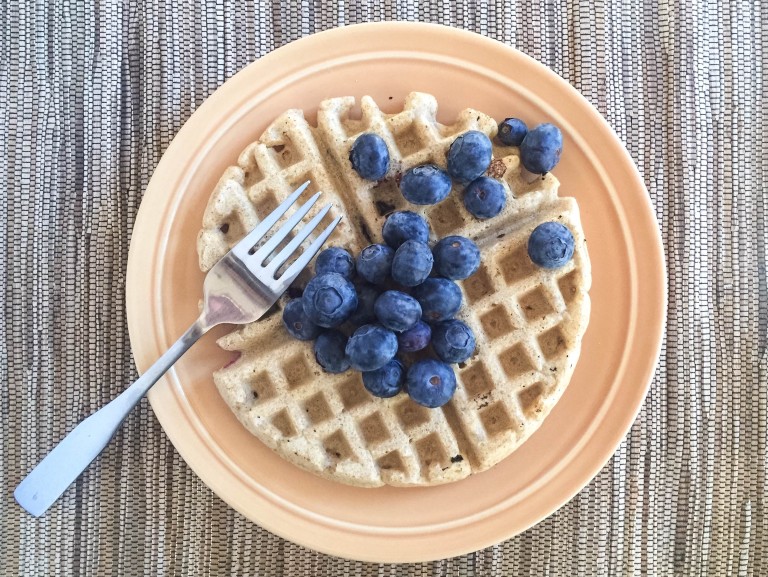 Ingredients
1 cup whole wheat flour
1 teaspoon baking powder
¼ teaspoon salt
¾ cup milk
½ cup (4 oz) plain 2% Greek yogurt
1 large egg
Juice of 1 lemon
Zest of 1 lemon
1 cup frozen wild blueberries
Instructions
Pre-heat waffle iron according to manufacturer's instructions.
Combine flour, baking powder and salt in a small bowl. Combine wet ingredients in a separate bowl, stirring together milk, yogurt, egg, lemon juice and zest.
Add wet ingredients to dry ingredients and stir together until incorporated. Fold in the blueberries.
Pour ½ - ⅓ cup of batter in the center of the waffle iron (amount will depend on size of the griddle). Close the waffle iron and cook for 1 ½ to 2 minutes, or until done to your liking. Top with maple syrup, nut butter, extra blueberries or other sliced fruit.
Store leftovers in a freezer-safe bag, and pop them in the toaster when you want to enjoy them again.