If you are a dietitian, therapist, or health professional who wants to build a weight-inclusive business from a justice-informed lens, deepen your counseling skills, WHILE prioritizing taking care of yourself, so that you can confidently show up for your clients...
The Liberated Clinician is for you.
The Liberated Clinician is an intimate six-month weight-inclusive group coaching experience for dietitians, therapists, and other clinicians that incorporates business coaching, mentoring, professional supervision, case consultations, and community support. 
Whether you are an emerging entrepreneur or a seasoned business owner, this group is for you. The small group size allows us to tailor the monthly content to our members, no matter how long you've been a clinician or what stage of business you are in.
The Fall 2023 Cohort runs from October 2023 to March 2024.
The group is capped at 12 participants to ensure that everyone has an intimate, personalized experience with plenty of hands-on support. 
Approved for 45 CEUs by the CDR for Registered Dietitians!
(PLUS: if you complete the Dietitian Entrepreneur Foundation Course - included with your membership, you will earn an additional 28 CEUs for a total of 73 CEUS.)
The Liberated Clinician is for you if...
If you are a weight-inclusive clinician who has a business, but it's not getting the traction that you want and you're looking for support and confidence to take things to the next level...
If you have a business that incorporates intuitive eating or other weight-inclusive practices and you want to deepen your commitment to social justice and build a more sustainable, inclusive business...
If traditional marketing techniques feel icky to you, and you know you don't want to do it "like that", but you're unsure how to build a business differently...
If you are struggling to keep your clients coming back to see you and want to deepen your counseling skills to support real, long-term behavior change...
If you are getting burned out by your business, feeling unhappy or unfulfilled, and want to get back to feeling passionate and excited again.

Why I created the Liberated Clinician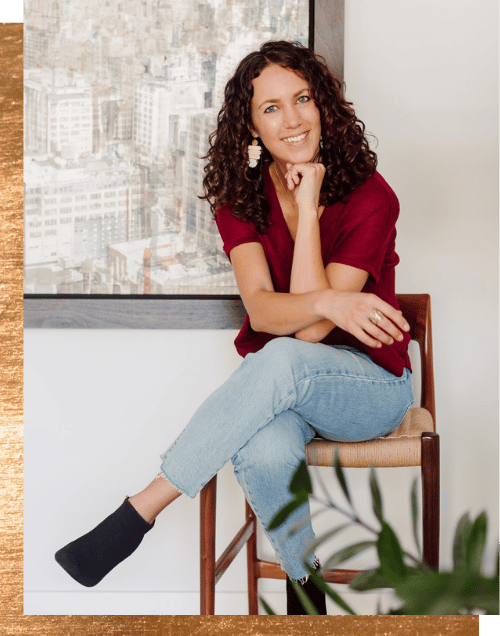 Hi, I'm Alissa Rumsey (she/her), a dietitian, nutrition therapist, intuitive eating counselor, and the author of Unapologetic Eating.
As a dietitian for over 14 years, who build a business from scratch and transitioned from a weight-centric approach to a weight-inclusive approach all within a year and a half, I know first-hand how challenging entrepreneurship can be.

Especially when you're swimming against the tide when it comes to cultural beliefs about body size, weight, nutrition, and health.
And even more so when you are part of a culture and profession that is all about you getting it "right" all the time.
Since I started my business over 8 years ago I've felt overwhelmed, lonely, confused, and questioning if this was the right path.
I've felt "imposter syndrome", had confidence issues, a never-ending (NEVER ENDING) to-do list, and regularly have thought: "Should I just go back to what I was doing before?". 
It. Was (and still Is). A. lot.
So over the years, I continued to take and join a variety of anti-oppressive business training courses, counseling skills training programs, accountability groups, and year-long feminist mastermind groups.
I learned so much in all of these settings but was left wishing that I could integrate pieces of all of them into one program that was built specifically for dietitians and health professionals.
I specifically wanted a space where...
You can learn and talk about business building, through a weight-inclusive, justice-informed lens. 

You can get support for the loneliness, the confusion, the imposter syndrome, the confidence issues, the burnout. 

You can be held in compassion, able to show up as your full self, while being held accountable and pushed to consider other perspectives, to grow and change in a way that aligns with your values and makes you a better clinician. 
And that's what The Liberated Clinician

The 4 Pillars of The Liberated Clinician
The framework we'll be working within during the program includes four fundamental pillars.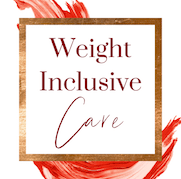 Pillar 1: Weight-Inclusive Care
Explore and deepen your practice as a weight-inclusive clinician.
Discuss best practices for client sessions (structure, documentation, etc)

How to navigate the urge to "fix" our clients

Apply a weight-inclusive lens to various client cases including MNT

Support your clients with body image and weight concerns

Manage yourself and your nervous system during sessions.

Monthly case consultations featuring a variety of guest supervisors with different areas of expertise will help you get real-time client support.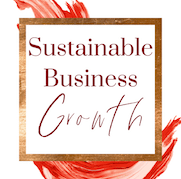 Pillar 2: Sustainable Business Growth
Build a business that aligns with your values and grows with you. We'll cover a variety of topics including:
Developing an authentic marketing strategy
Creating content that resonates
Finding your voice & showing up on social media
Website, copywriting & SEO best practices
Creating group programs and courses
Setting rates and fees
Building non-traditional income streams
...and more! (see below)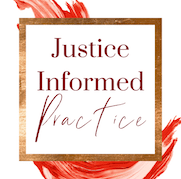 Pillar 3: Justice-Informed Practices
Apply an anti-oppressive lens to your business and nutrition practice.
Unpack your implicit biases

Bring awareness to your cultural conditioning

Understand how your privileges impact your business and client work

Unpack 'imposter syndrome

Sell without using scarcity

Make your services accessible (without burning out)

Challenge perfectionism and binary thinking.
All while learning to sit with the discomfort that this work can bring up.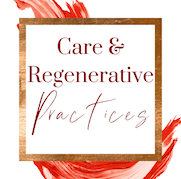 Pillar 4: Care & Regenerative Practices
Prioritize self-care and opt-out of toxic hustle culture. Learn how to:
Prevent and manage burnout

Set boundaries

Rest and take time off without feeling guilty

Regulate your nervous system.

Develop a variety of care and regenerative practices that you can use on a regular basis to keep you grounded and bring you back to yourself. 
These four pillars are woven through our monthly topics and content, as we work together to infuse these pillars into our business, counseling practices, and personal self-care.
Plus I'll be with you every step of the way, holding space for vulnerable conversations and the discomfort or uncertainty that can arise in this work.

Build a Business That Aligns With Your Values
Traditional business and marketing techniques are very similar to diet culture: they use scarcity tactics, fear, and shame to prey on people's insecurities.
Traditional nutrition and health professional training is also very similar: we are taught to "fix" people, assuming that something is wrong with them (hint: it's really a problem with our culture).
(This happens to our clients, but it also happens to us as clinicians: I have 100% made business decisions from a place of scarcity, fear, and shame. And it did NOT feel good.)
But there is a different way to do business. Let's challenge the 'status quo' in nutrition care and in business. 
Let's reframe what is possible as dietitians and clinicians
Dates: May 8th - October 20th, 2023
Group Coaching Sessions: Held the 1st, 2nd, and 3rd week of each month, on Wednesdays at 3pm ET/12pm PT for 75 minutes
May 10th, 17th, and 24th
June 7th, 14th, and 21st
July 5th, 12th, and 19th
August 2nd (Integration month)
September 6th, 13th, and 20th
October 4th, 11th, and 18th
Additional Session Schedule: (days/times vary)
Bimonthly Coworking Sessions: Twice a month for 60 minutes
Group Supervision: Once a month for 60 minutes
Guest Teacher Workshops: Once a month for 60 minutes
Regenerative Practices: Once a month for 30-60 minutes
We also add sessions and workshops as needed based on the group's interest. Past examples include: a workshop for people who accept/want to accept insurance, a session on how to start/build a group program, and more.
Please note: we offer a variety of options for learning, connection, and community throughout each month. None of the calls are mandatory, and we are big proponents of only participating in what you have the bandwidth for. However, to get the most out of the program, ideally, you are able to attend most of the weekly group coaching calls on Wednesdays.
What TLC Members Are Saying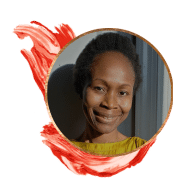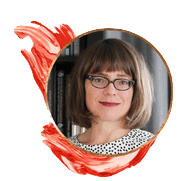 The Liberated Clinician is for you if:
You're a weight-inclusive/intuitive eating-aligned clinician who has a business, but it's not getting the traction that you want.

You have been using intuitive eating with your clients, but feel like you want to go deeper.

You want to deepen your commitment to social justice and build a more sustainable, inclusive business.

Traditional marketing techniques feel icky to you, and you know you don't want to do it "like that", but you're unsure how to navigate building a business differently.

You feel "stuck" and aren't sure where to go next with your business or practice.

You're feeling isolated or lonely and are looking for support and community.
You struggling with confidence issues, self-doubt, and/or "imposter syndrome" (quotes are there for a reason!).

You're afraid of messing up or doing things "wrong" which is keeping you feeling stuck and unsure.

You have been feeling burned out, unhappy, and/or unfulfilled and want to be able to feel passionate and excited about your work again.

You want a brave space to unpack, engage with and discuss various topics in the weight-inclusive space and the business world.

You're looking for personalized support, advice, feedback, and confidence to build and grow your nutrition business.

You want to do all of the above while sharing, connecting, and collaborating with other clinicians. 
The Liberated Clinician may not be a fit for you if:
You're practicing from a weight-centric approach, selling weight loss, fat loss, and body transformation, or are coaching people to use restrictive eating practices like macro counting, intermittent fasting, etc. (I'm all about helping people approach nutrition from a place of self-care, using their own body cues/connection - along with some brain knowledge - to decide when, what, and how much to eat)
Money, growth, and power are the main drivers for you when it comes to running a business. (I value making a living AND building a justice-oriented business that helps others.)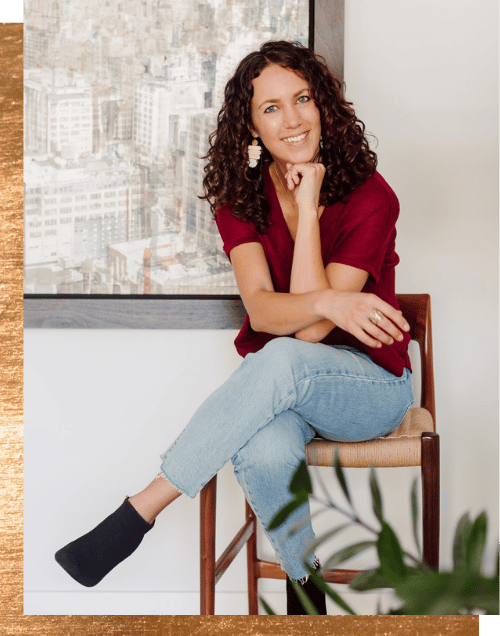 Alissa Rumsey, MS, RD, CDN, CSCS (she/her)
Alissa is a registered dietitian, certified intuitive eating counselor, and the author of Unapologetic Eating: Make Peace With Food and Transform Your Life.
She is the founder of Alissa Rumsey Nutrition and Wellness, a weight-inclusive nutrition practice that offers virtual counseling, group programs, and online trainings to support people in breaking free - both individually and collectively - from body-based oppression. Through their work, Alissa and her team help people liberate themselves from dieting, cultivate a peaceful relationship to food and their bodies, and live a more authentic, connected life.
Alissa is also passionate about empowering dietitian entrepreneurs to confidently start, grow and scale their businesses. She is the founder of the Dietitian Entrepreneur Foundation Course, an online training program that teaches clinicians how to set up and launch their nutrition business. She is also the founder of the Dietitian Entrepreneur Mastermind Retreat and from 2017 to 2020 she hosted over a dozen 3-day in-person workshops to help dietitians from around the country start and grow their businesses.
Alissa's expertise has been featured in hundreds of media outlets and she speaks regularly at events, online trainings, and conferences around the country including the Academy of Nutrition and Dietetics Food and Nutrition Conference and Expo (FNCE), Today's Dietitian Symposium, and multiple state Academy meetings including Texas, Washington-Oregon, Florida, and New York.
Alissa calls New York City home and spends her free time exploring the city's food scene and searching for patches of green space to sunbathe in.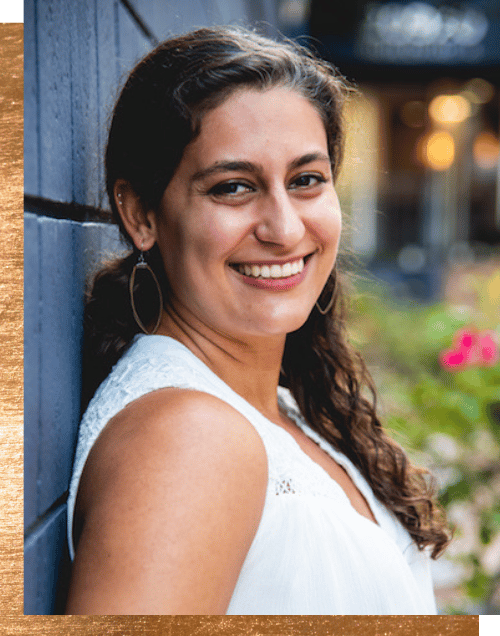 Jasmine Hormati, MS, RD (she/her)
Jasmine is a registered dietitian and certified intuitive eating counselor based in New York, New York. In addition to being the co-facilitator of The Liberated Clinician, Jasmine is an associate dietitian at Alissa Rumsey Nutrition and Wellness and also works on a variety of projects.
Jasmine uses an intuitive eating and Health at Every Size® (HAES®) approach to help her clients heal their relationship with food, their body, and reclaim their inherent worth. She specializes in disordered eating recovery and body image work for all ages, including family feeding, baby-led weaning, and the division of responsibility. She also integrates cooking and meal planning into the intuitive eating journey.
In addition to her work with Alissa, she is the cofounder of mendinground nutrition & yoga. Prior to joining Alissa and her team, Jasmine worked as a manager for Morrison Healthcare at Harbor-UCLA and consulted on various intuitive eating and HAES-aligned nutrition projects.
Jasmine earned her Bachelor of Science degree in Conservation and Resource Studies from the University of California, Berkeley and her Master of Science in Nutrition and Public Health from Teachers College, Columbia University. She is also a Certified Intuitive Eating Counselor. In her free time, she enjoys hiking, yoga, cooking/baking, and playing board games.
Hi, I'm Jasmine Hormati - a dietitian, intuitive eating counselor, and owner/co-founder of mendinground nutrition & yoga.
I always knew I wanted to have my own practice, but I kept hearing the message that I should get a few years of clinical experience before starting my own business. I knew that wasn't for me though. I knew that I wanted to help people using an intuitive eating and weight-inclusive approach. I knew that I wanted to have flexibility in my work and personal life.
After attending Alissa's Entrepreneurship Retreat in 2020, I felt inspired and energized to get my practice started. The things I learned in the retreat were super helpful and provided so much information. I also felt stressed about ALL THE THINGS I had to do to get started. I wondered if I really should work in clinical to get more experience first. I doubted my abilities. Who was I to charge what I wanted being a newer dietitian?
I found myself going deep into rabbit holes trying to do this "right" and let my perfectionism get in the way of launching. Luckily my business partner, Autumn, helped pull me out of it.
Talking to other business owners, getting mentorship, and investing in my business helped me feel more confident in what I'm doing. I didn't feel so alone in this space. I also learned that I'm one of those people who likes to know a little bit about everything when it comes to running a business - website development, legal, finances and taxes, marketing, etc.
This also means that there's always something to do... as soon as I cross something off my to-do list, more things are added. I'm learning how to set boundaries, be okay with 'B+ work', and building a practice that works for me so that I can show up for my clients who need support.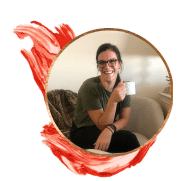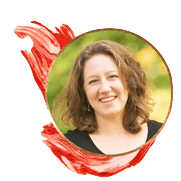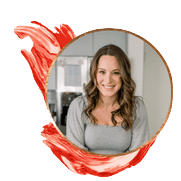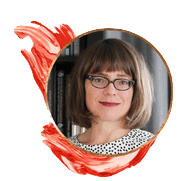 aka the Monthly Topic Breakdown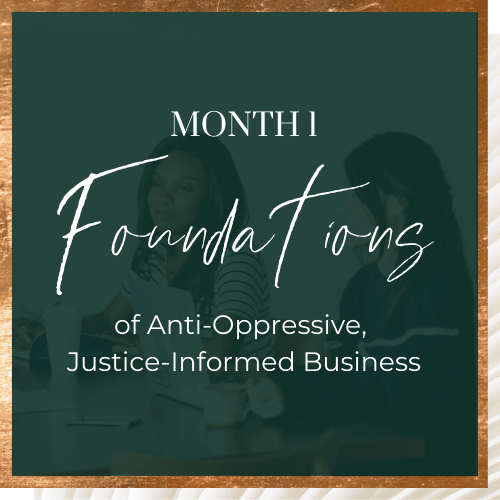 Month 1 - Foundations of Anti-Oppressive, Justice-Informed Business
We will spend time during Month 1 settling in, getting to know one another, and beginning to build a sense of trust, accountability, and community that will set the stage for the next six months.
Topics covered include:
Vision planning - for your business, for your life, for your community, for your clients, for the world.
Getting clear on your "why" and uncovering your core values.
Assessing values alignment - in your business, and in your life.
Acting on your values - how to use your values for decision-making and grounding.
Niching down - getting clear on your ideal client (and how to think about this differently than traditional business teaches us).
Goal setting and business planning - considering the rhythms of the year, nature, your body, and your energy levels.
Overview of the stages of business - are you working on the "right" things for where you are in your business?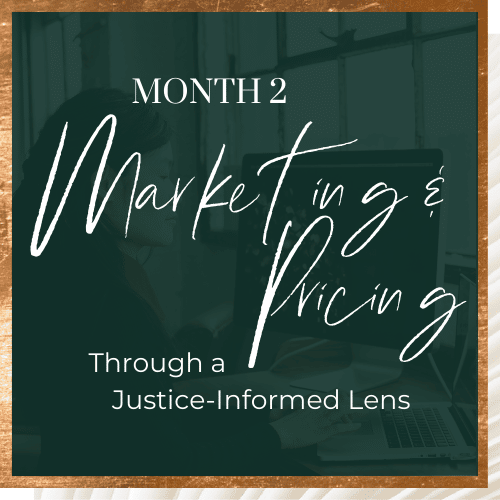 Month 2 - Marketing and Pricing Through a Justice-Informed Lens
In Month 2, you'll be diving deeper and considering what building a weight-inclusive, justice-informed business looks like, for you.
Topics covered include:  
Consent-based marketing - tactics and messaging through a trauma-informed lens.
Creating values-aligned marketing messages.
Considerations for website design and copy.
Weight-inclusive counseling skills + what to do when someone wants to lose weight.
Creating and updating your policies and intake forms - from an inclusive, justice-informed lens.
What to consider when setting your prices and rates - for counseling, groups, consulting, and more.
Discussion of the various ways you can contribute to economic justice (without overdoing it to the point of emotional, financial, or energetic danger) plus why "making things more accessible" isn't necessarily the best goal.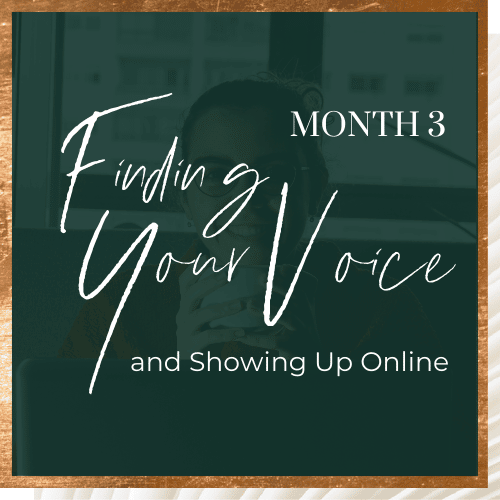 Month 3 - Finding Your Voice and Showing Up Online
During Month 3, we'll continue to unpack all of the things - including a whole lot of cultural conditioning - that get in the way of our ability to show up authentically online.
Topics covered include:
Finding your voice and getting visible with your business

- figuring out how you want to show up online.
How to show up authentically and consistently online.
Using social media for your business (and also - do you have to?).
Creating content that resonates with your audience.
Dealing with backlash when running an online business.

Challenging perfectionism - unpacking how it can help, and how it can harm you as a business owner and clinician.

Working through "imposter syndrome" feelings.
Developing confidence - as a clinician and a business owner.
The problem with scarcity mindset in business - and it's parallel to diet culture.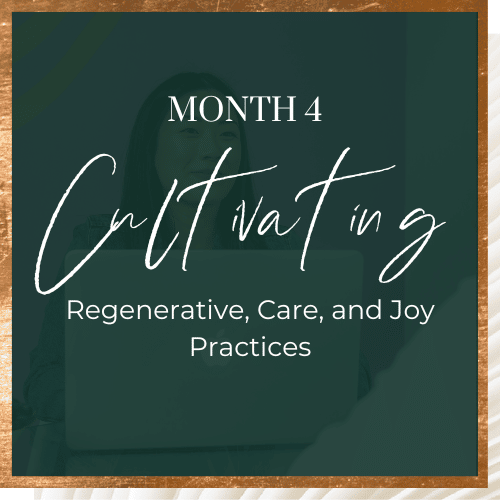 Month 4 - Cultivating Regenerative, Care, and Joy Practices
Month 4 is all about regenerative practices: how can you cultivate regular self-care and connection practices, so that you can best show up for yourself and your clients?
Topics covered include:
Understanding and redefining burnout - how does it happen? What does it feel like/look like?

How to manage - and prevent - burnout.
Polyvagal theory and the stress response cycle - this was a HUGE game changer for me, both personally and in my work with clients.
Setting boundaries - in your business, with your clients, and in your life.
Cultivating regular regenerative and care practices.
The lie of laziness - how to push back against "hustle culture".
Business practices that can help prevent burnout.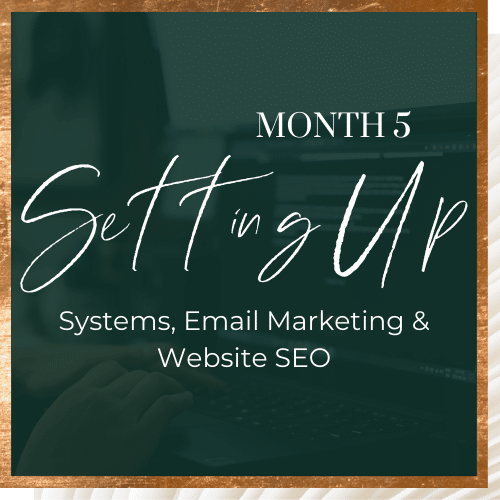 Month 5 - Setting Up Systems, Email Marketing & Website SEO
In Month 5, we will learn and discuss several different topics, approaching them from a weight-inclusive, justice-informed lens.
Topics covered include:
Setting up systems - learn my 4-step process to increase your business productivity and allow your business to work without you.
Creating easy-to-use client systems.
Systematizing other areas of your business.
How (and why) to create standard operating procedures.
Time management - working smarter, not harder, in your business.
Consent-based email marketing.
How to get started with email marketing.
Tactics to grow and nurture your list.
Creating automated sales funnels or email sequences (that don't feel icky).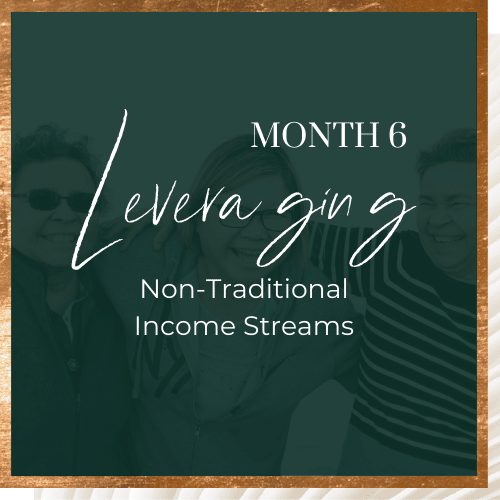 Month 6 - Leveraging Non-Traditional Income Streams
In our final month together, we will discuss how you can leverage a variety of non-traditional income streams (i.e. outside of 1:1 client work) to grow and provide stability to your business.
Topics covered include:
Self-reflection - what non-traditional work is a fit for you?

How alternative income streams can fit into your business (without feeling like you're doing a million different things).
How to get started whether you're interested in:

Speaking
Writing
Brand work
Consulting
Corporate Wellness

How to develop "passive" income - group programs, online courses, digital products, etc.
Time for reflection and intentional closing of our container together as a group.
What TLC Members Are Saying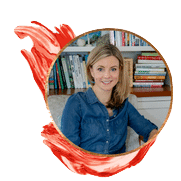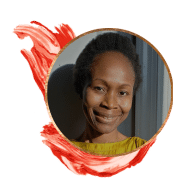 TLC Guest Teachers Include: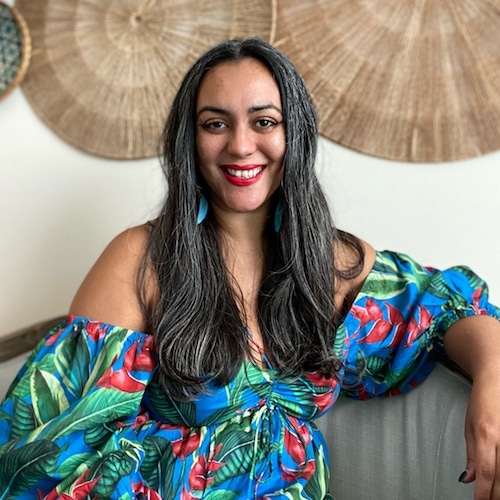 Eva Glamaris, BSN, M.DIV, M.A, PCC (she/her)
Foundations of Sacred Inclusion: A Framework for Creating Safer and Inclusive Spaces for BBIPOC
Nurse. Theologian. Mental Health Therapist. Military Chaplain. Pastor. Life Coach. Writer. Businesswoman. Educator. Facilitator.
Racially profiled. Wrongfully accused. Physically assaulted.
All of these experiences have informed the way Eva shows up in the world as an instrument of liberation in a space that is bound by power and fear. As the creator, educator, and facilitator of Sacred Inclusion, Eva holds the space for deeper exploration, taking sincere, committed white women leaders through a journey that addresses the conscious & unconscious ways in which harm is perpetrated toward people of color (POC) so they can learn to create truly inclusive and safer spaces.
"If you take the time, make the space to really sit with these principles and answer the questions from a place of openness, honest vulnerability, and devotion, you will have begun the journey of undoing, unlearning, unhooking, and dismantling the systems of oppression that keep us bound in fear and separation. ⁠You will have begun preparing yourself to root into The Work." ~Eva Glamaris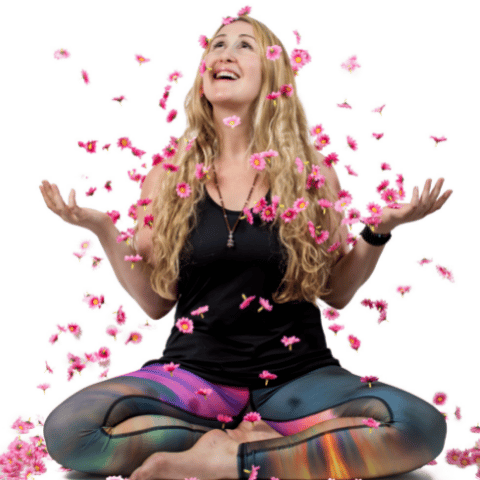 Blair Silverman, MS, RDN, CDN, RYT-500 (she/her)
Teaching Meditation, Yoga, Breathwork, and Grounding Techniques
Blair is a Registered Dietitian and Certified Intuitive Eating Counselor, and an alumni of The Liberated Clinician. She owns and operates Blair Silverman Integrative Wellness Solutions, providing support for those struggling with eating disorders and disordered eating.
Blair is also a 500-hour ISHTA certified yoga teacher, 500-hour certified UZIT (formerly Urban Zen Integrative Therapist), certified Meditation teacher/guide, and Reiki "Master".
With her integrative toolbox, she has helped to support patients and staff at NewYork- Presbyterian and Mount Sinai Beth Israel, camp counselors at Kids Need More, provided ongoing self-care workshops for the social workers at CancerCare, and led yoga classes for students and staff at Teachers College, Columbia University.
Not only does Blair pull from her experience working in higher levels of care for eating disorder treatment, but she is also informed having gone through the recovery process herself. She is thereby able to work with her clients in a compassionate, trauma-informed, non-judgmental manner through a weight-inclusive and anti-diet lens.
Her expertise lies in integrating laughter, spirituality, and mind-body practices to aid clients on their path to recovery.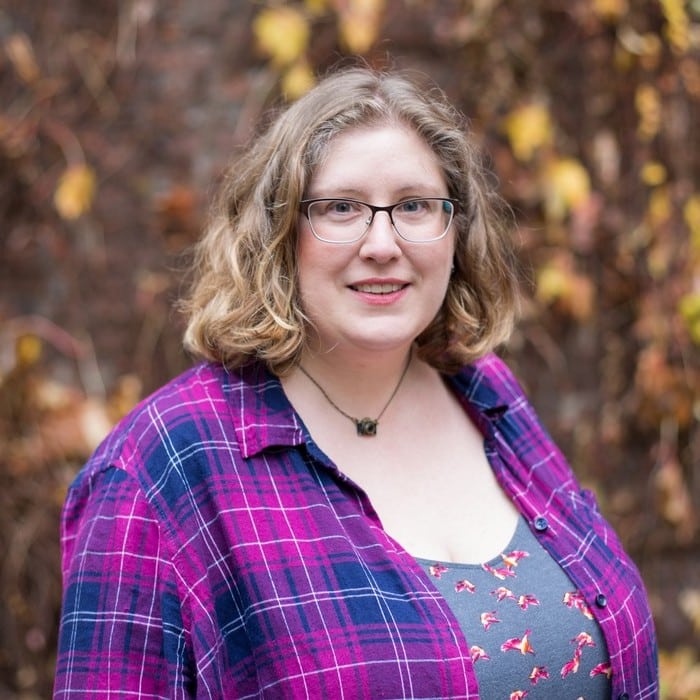 Lindley Ashline (she/her)
Guest Teacher
Designing your business to be fat-friendly and inclusive.
Lindley Ashline creates photographs that celebrate the unique beauty of bodies that fall outside conventional "beauty" standards. She fights weight stigma by giving fat people a safe place to explore how their bodies look on camera and by increasing the representation of fat bodies in photography, advertising, fine art and the world at large.
Lindley is also the creator of Body Liberation Stock (body-positive stock images for commercial use) and the Body Love Shop (a curated resource for body-friendly products and artwork).
In addition to her hats as a photographer and body liberation advocate, Lindley is a marketer, writer and editor. She provides Health at Every Size®-aligned consulting, marketing and content for the HAES, Body Positive, Fat Acceptance, Plus-Size Fashion, Intuitive Eating and Eating Disorder Recovery Communities.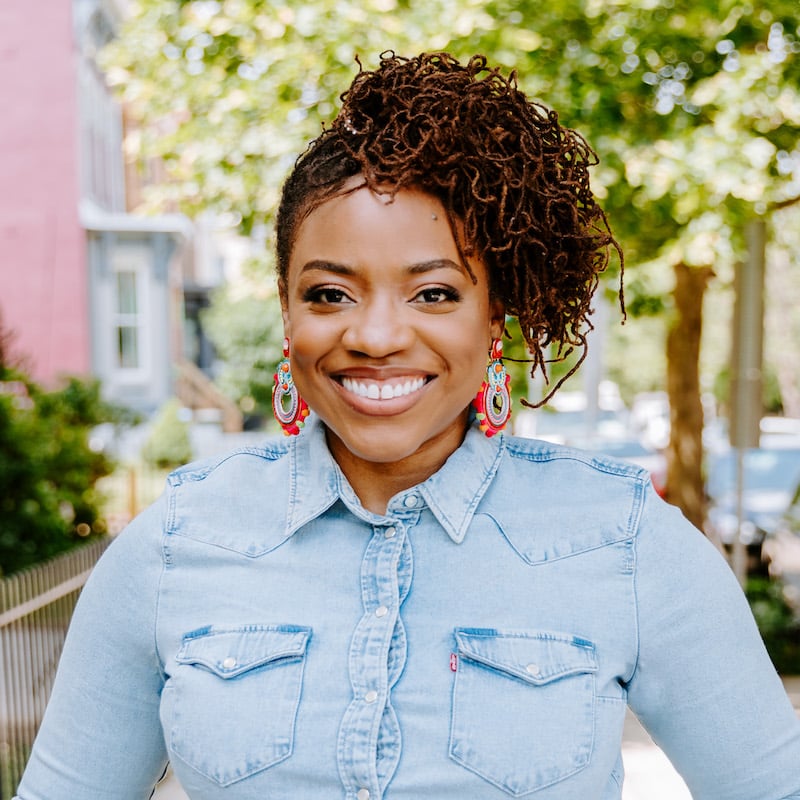 Ayana Habtemariam, MSW, RD, LDN (she/her)
Guest Supervisor
Incorporating anti-racism and inclusive, culturally informed care.
Ayana Habtemariam MSW, RD, LDN is a nutrition therapist, certified intuitive eating counselor, and macro social worker. She is the owner of Truly Real Nutrition, LLC, a private nutrition practice where she empowers clients to give up dieting in exchange for trusting their bodies and tapping into their internal wisdom to break free from internalized body oppression. She believes that weight-centric approaches to health and wellness only serve to exacerbate body image issues, stress, and anxiety which contribute to increased rates of chronic diseases. In addition to her 1:1 client work, Ayana provides anti-oppression consultation to individuals and groups, drawing from her lived experience and training as a social worker. Prior to transitioning to private practice, Ayana owned a community-based nutrition company in Philadelphia where she worked with community leaders and local politicians as a nutrition policy advocate and community nutrition educator.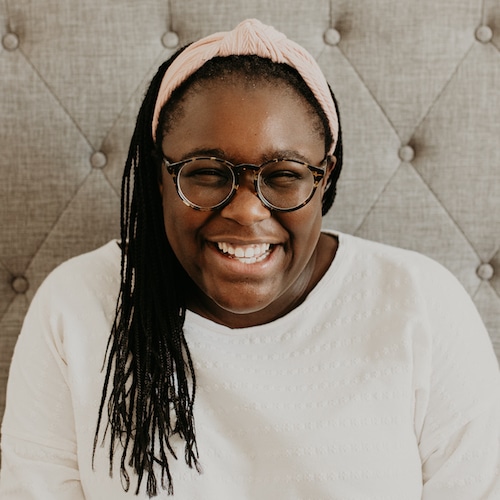 Mimi Cole, LPC, MHSP (she/her)
Guest Supervisor
Helping clients with body image and weight concerns through a weight-inclusive lens.
Mimi Cole, LPC-MHSP (temp) is a therapist in Franklin, TN. Her work has been featured in various notable publications including Essence, the NYT, Well+Good, HuffPost, as well as a variety of podcasts. Mimi is known for her work around eating disorders and OCD through trainings, conference presentations, and social media advocacy where she writes under the handle The Lovely Becoming.
Mimi is passionate about intersectionality and the role of marginalized identities in therapy and healing through an attachment and trauma informed lens. She is the co-author of A Body Image Workbook for Every Body: A Guide for Deconstructing Diet Culture and Learning How to Respect, Nourish, and Care for Your Whole Self.
Outside of work, Mimi loves reading and writing, coffee shops, and connecting with others, especially around books in said coffee shops.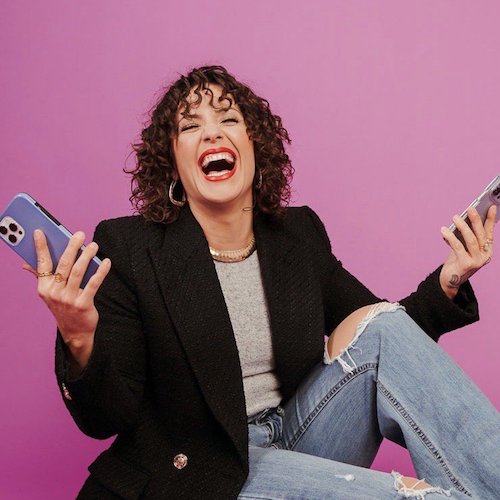 Allie Mason, Founder of Something Greater Social (she/her)
Guest Teacher
Instagram Intensive Workshop
Allie is an Instagram expert, researcher, and experienced copywriter and content producer having worked in government, journalism, wellness, radio and television production, and entrepreneurship for more than a decade.
Allie's areas of expertise include strategy, content creation, and branding for coaches, authors, speakers, and who lead with a holistic approach to business. She prioritizes social impact and authenticity in her copywriting, and organic growth without compromising engagement.
Her company, Something Greater Social, helps mission-based, socially-conscious entrepreneurs leverage their expertise to build an organic online presence and thriving, loyal, Instagram community driven by authenticity, expertise, and valuable content.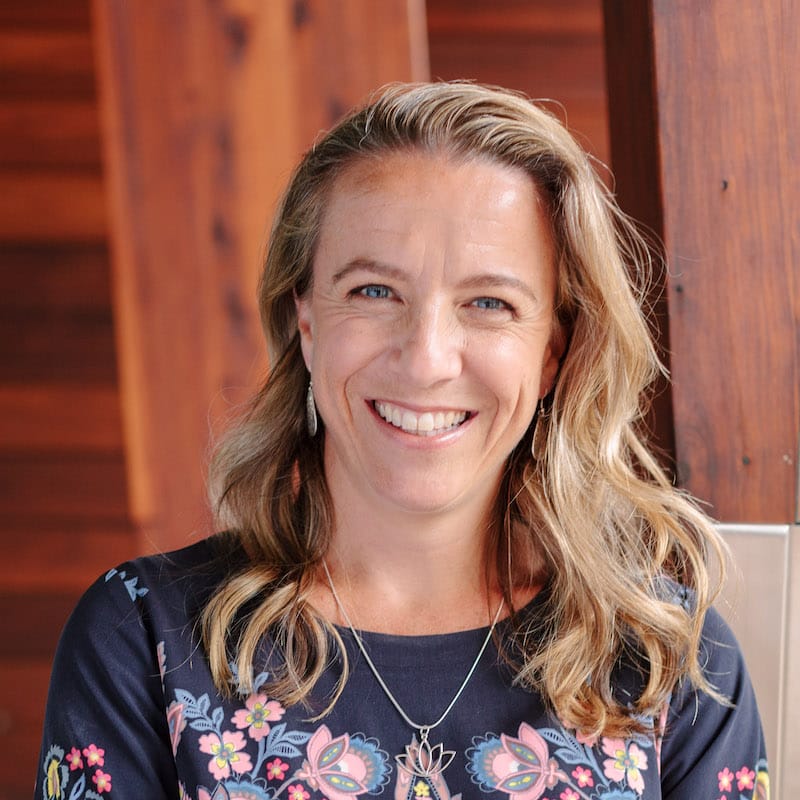 Fiona Sutherland, APD (she/her)
Guest Supervisor
Re-defining burnout, imposter syndrome, and self-doubt, and how to do it differently.
Fiona Sutherland is Director of The Mindful Dietitian, living and working on Wurundjeri Country (Melbourne, Australia). She works both Nationally and Internationally as a Dietetic supervisor and is active in the training, education and speaking spaces with specific focus areas of in Trauma-informed care, weight inclusive care, body image and Eating Disorders.
Over the last 20 years, Fiona has spent thousands of hours studying humans, paradigms, philosophies and practices. She has worked in clinical eating disorders, elite high performance sport, private practice and tertiary education and she has been teaching for more than two years. She now helps clinicians build more skills and confidence in bringing the non-diet approach, mindfulness and body-inclusive healing messages to the world.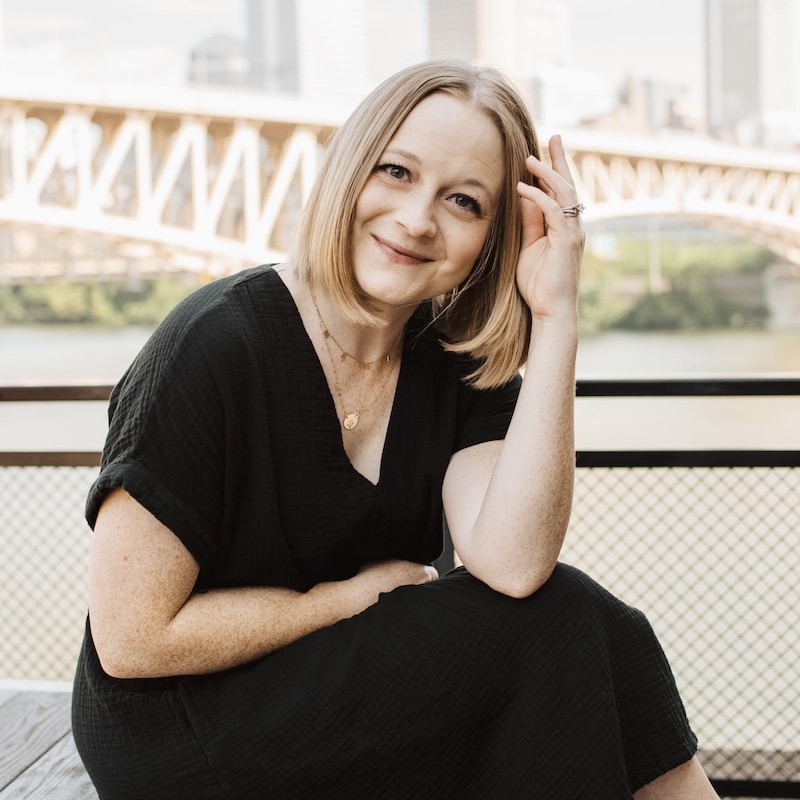 Haley Goodrich, RD, LDN, CEDS-S (she/her)
Guest Supervisor
Building confidence as a clinician and business owner.
Haley Goodrich is a Certified Eating Disorder Registered Dietitian who is fiercely passionate about helping people heal from disordered eating and cultivate a peaceful relationship with food and their body. She specializes in eating disorder recovery, body image, weight-inclusive nutrition therapy, and is an iaedp approved supervisor for registered dietitians. In addition to individual client work and managing her group private practice, she is also the co-founder of INSPIRD to SEEK, where she mentors nutrition entrepreneurs and practitioners who are challenging the status quo of our health industry. Haley strongly believes in integrating the Non-Diet Approach and HAES® philosophy into all health care settings, including nutrition therapy. She advocates through her writing, speaking, and social media presence.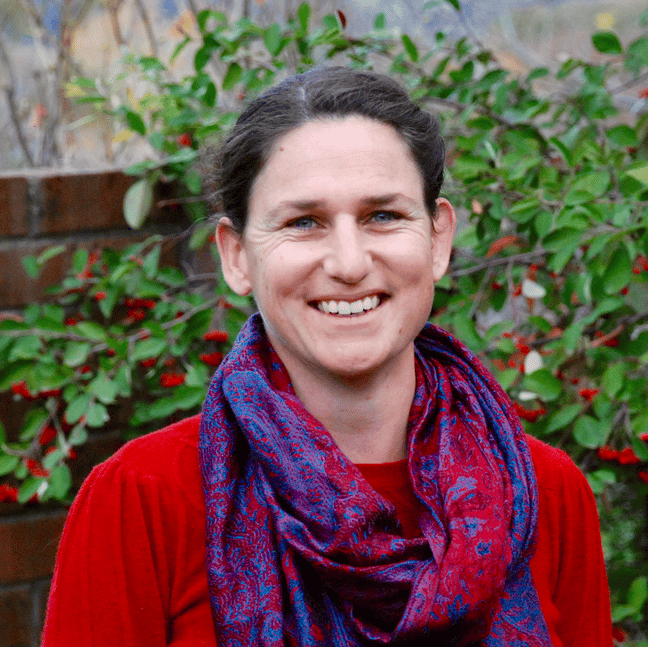 Laura Jean, ADP (she/they)
Guest Teacher
Trauma Informed Business and Marketing.
Laura Jean, APD, is a dietitian business coach passionate about supporting other dietitians to bring more of themselves and their values into their businesses. Laura practices (and runs her business) with a non-diet, trauma informed, social justice, human centered approach front of mind. She's based in Australia and when she's not challenging the status quo over at Dietitian Values, you can find her kicking back enjoying her daily iced coffee or pottering in her permaculture garden.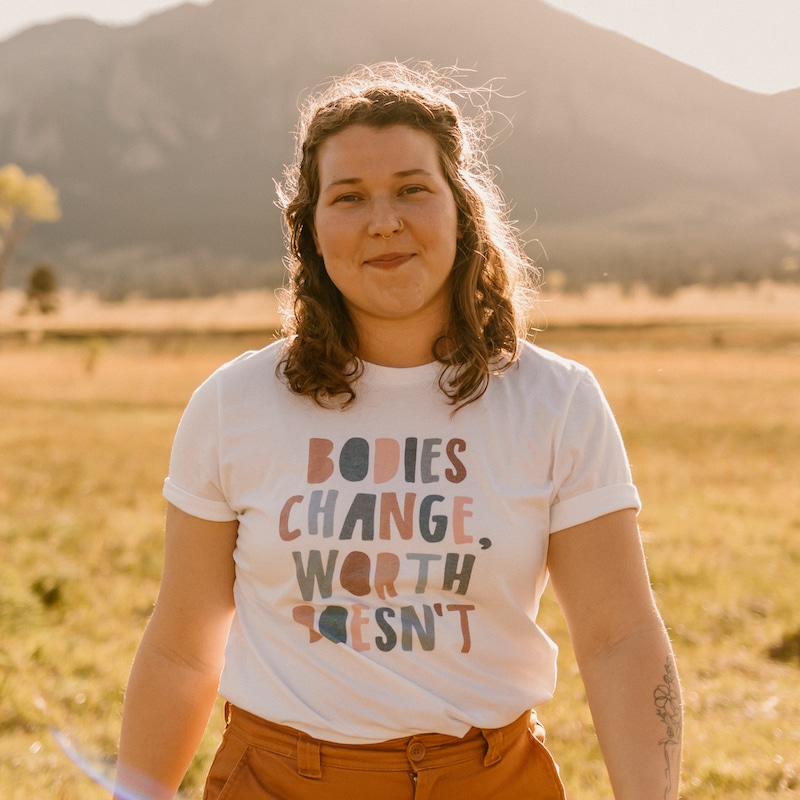 Charlie Golightly, RD (they/them)
Guest Supervisor
LGBTQ+ Affirming ED/Body Image Care.
Charlie Golightly is a queer and gender expansive dietitian who takes an intersectional, therapeutic approach to their work to support and uplift folks in marginalized bodies. In addition to seeing courageous clients in their private practice, Moxie Mind, they counsel other brave, thoughtful dietitians who care deeply about their clients and anti-oppressive work.
Aside from 1:1 and group supervision for RDs, Charlie also runs the Clinician Collective - a multidisciplinary consultation and community space - and hosts Counseling Skills for Dietitians Who Give a Damn - a virtual training series for RDs to hone their skills through an anti-oppressive lens.
While they can never claim to be an expert on any lived experience but their own, Charlie frequently works within the "specialties" of LGBTQ+ affirming, weight neutral, trauma-informed, eating disorder care. They welcome topics related to the intersectionality of eating disorders (BED and bulimia in particular), body image, and trans-affirming care, reflecting on our inner experiences as clinicians, and regulating our own nervous systems in/outside of sessions.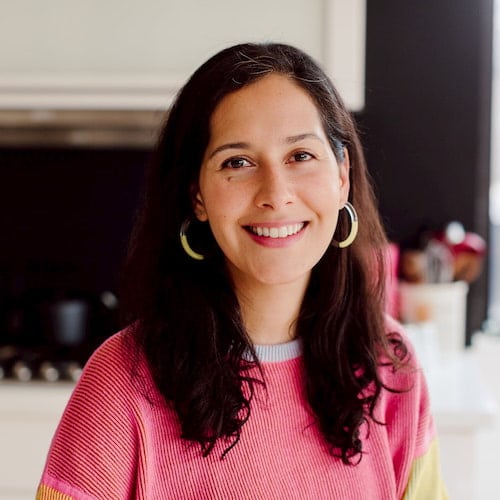 Carolina Guizar, MS, RD (she/her)
Guest Supervisor
Integrating medical nutrition therapy (MNT) with weight-inclusive care.
Carolina Guízar is a Mexican-American Registered Dietitian Nutritionist and certified intuitive eating counselor with a private practice in New York City. She works with individuals who are recovering from diet culture and want to cultivate a more peaceful relationship with food and their bodies.
She specializes in eating disorders, disordered eating, GI conditions including IBS, PCOS, diabetes, and heart disease, and brings a non-diet approach to her work with these populations. She works through an anti-racist, feminist, and social justice lens because without an understanding of systems of oppression, healing is incomplete.
There is a different way to do business.
Let's challenge the 'status quo' in nutrition care and in business. 
Let's reframe what is possible as dietitians and clinicians.

If you'd like to chat more about The Liberated Clinician program and figure out if it's a good fit for you before enrolling, please schedule a free discovery call.
In the spirit of creating economic justice, 20% of the spots in each cohort are reserved for people from marginalized communities and those experiencing financial hardship.  
To request a scholarship application for the Spring 2023 cohort, please email hello@alissarumsey.com.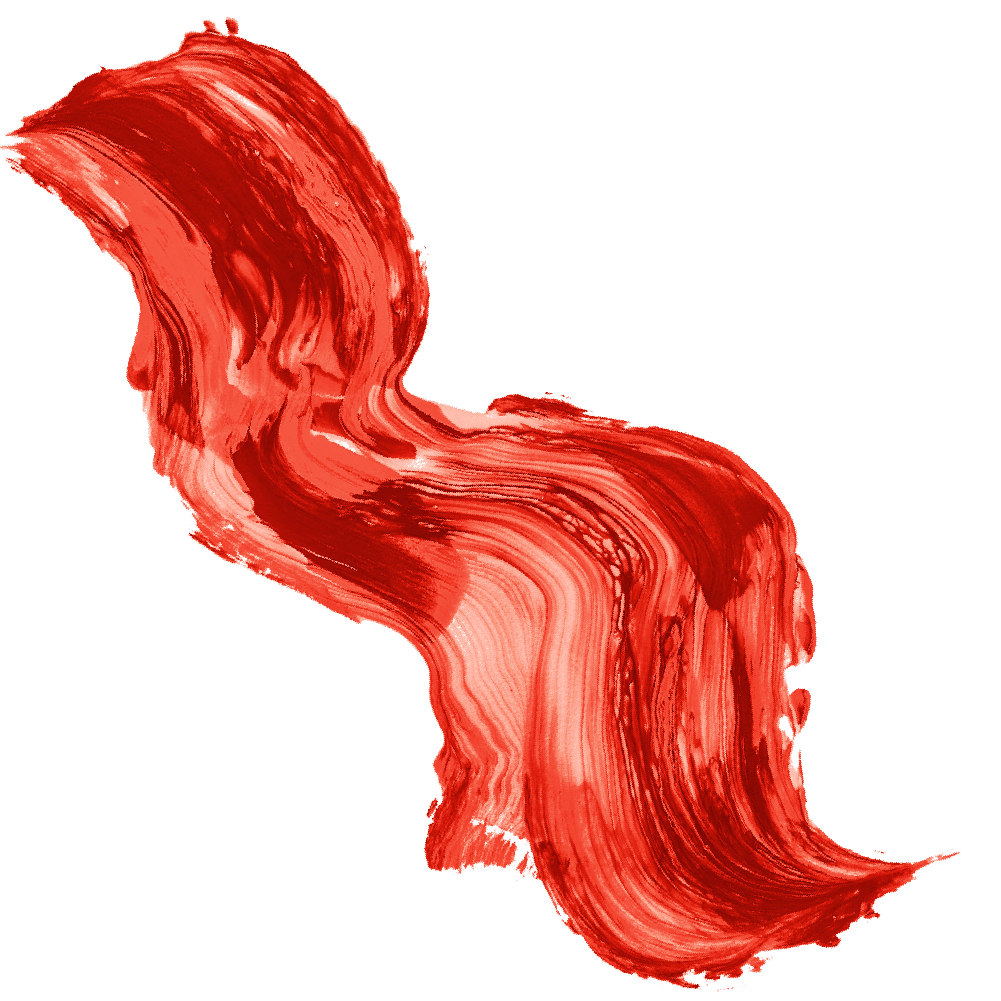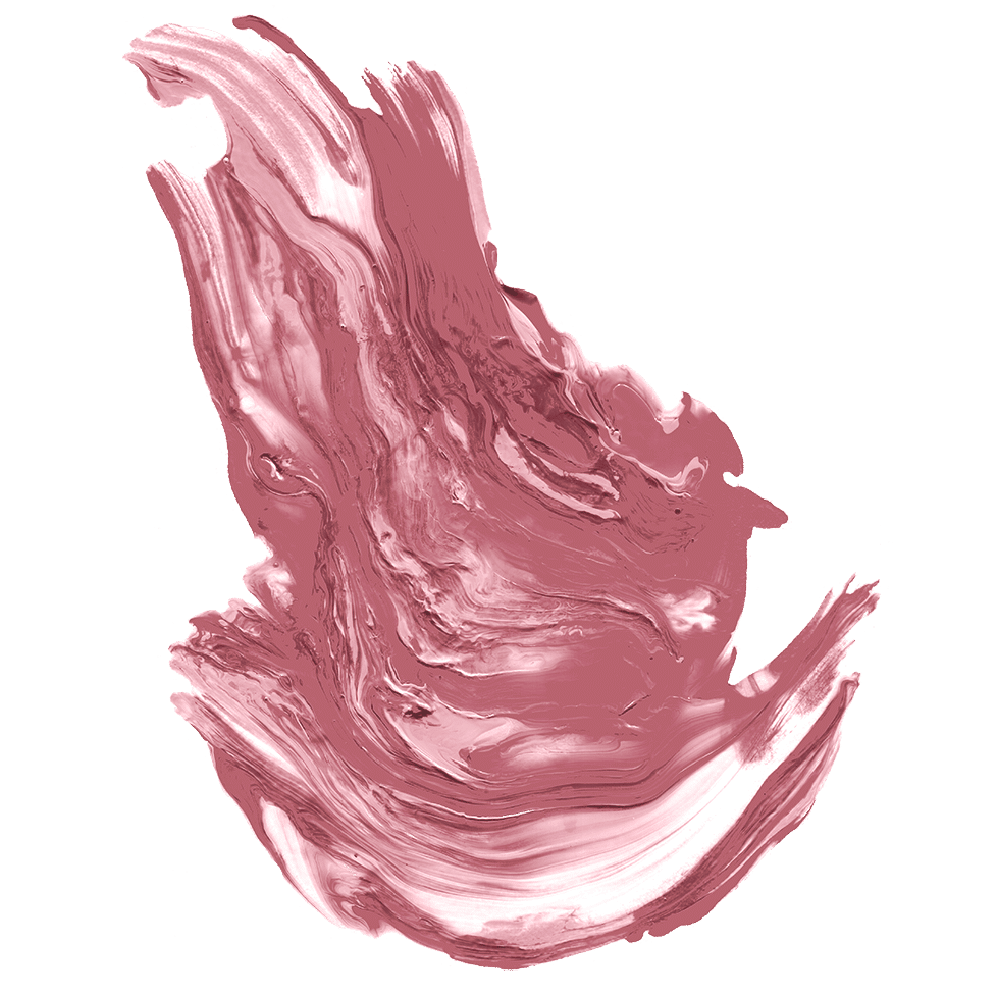 Frequently Asked Questions