Break the cycle of chronic dieting with my FREE Intuitive Eating Starters' Guide
Alissa is a nationally respected media personality who is sought after for her opinions on nutrition, fitness and health. Alissa skillfully helps consumers make sense of the latest nutrition news. As a media trained registered dietitian, her expertise is regularly featured on television, online, and in print. She is renowned for her ability to make the science of nutrition accessible. Her credibility, enthusiasm, and strong work ethic shine through in her work.
Alissa has been featured in hundreds of television, radio, print, and online media interviews and is a regular contributor to US News & World Report. With a background in nutrition and communications, Alissa crafts powerful messages to increase visibility on TV, in print, or on social media. She was a national spokesperson for the Academy of Nutrition and Dietetics from 2014-2017 and received the 2017 Media Excellence Award from the New York Academy of Nutrition and Dietetics.

Click here to see Alissa's recent media appearances.
Click here to see Alissa's recent podcast interviews and written work.
For Media Inquiries: 
Email [email protected]
Phone (860)309-7500
"Alissa Rumsey is fantastic to work with and has
undeniable charm, poise, and grace when handling media interviews
. I've worked with her on national, local and live television segments and no matter who is conducting the interview or where she is, Alissa keeps her cool and delivers insightful nutrition advice."
—Linda Kamateh
Senior Media Associate, NewYork-Presbyterian Hospital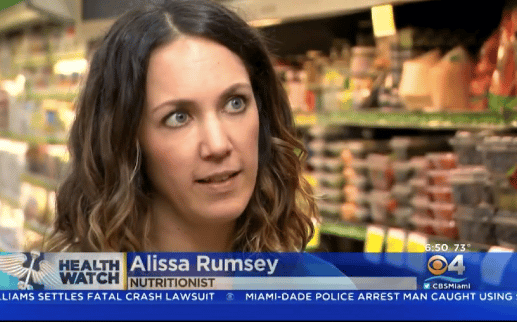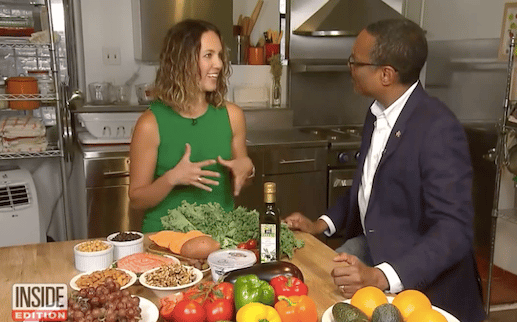 Alissa works with like-minded brands and agencies. Partnership opportunities include:
Spokesperson – Expert Brand Representation
Broadcast, Print, Radio Interviews
Satellite and Radio Media Tours
Press Releases
Consumer or Media Event Appearances
Trade Show Representation
Desk Sides
Branded Article/Blog Writing
Content Development
Social Media Engagement

Facebook or Instagram Live
Twitter Chats
Social Media Takeovers
Interested in working together?
"Alissa has an excellent and professional public appearance, and is comfortable in front of a live audience or on camera. She is articulate, organized, easily understood, and exhibits talent whether for a prepared presentation or when speaking extemporaneously. Alissa knows the science of nutrition and is not only a well-respected dietitian, and credible, but also engaging. Alissa is flexible to meet aggressive deadlines, with a keen ability to adapt effectively to various personalities and situations. I have seen Alissa's professional, media-savvy, nutrition knowledge, and enthusiasm shine during two social media trainings during our fall leadership retreat of the New York State Academy of Dietitians and Nutrition."
—Barbara R Baron, MS, RDN, CDN
Past President and Public Relations Coordinator, New York State Academy of Nutrition and Dietetics