Break the cycle of chronic dieting with my FREE Intuitive Eating Starters' Guide
Alissa Rumsey, MS, RD, CDN, CSCS
Nutrition Therapist and Certified Intuitive Eating Counselor
She/her
I love to eat. I mean really love it. Freshly baked bread. Creamy, soft, cheese. A red, ripe tomato. Chocolate chip cookies right out of the oven. Handmade pasta topped with truffle butter. I'm drooling just writing this! As a foodie, and an anti-diet dietitian, I believe that diet should be defined by what you eat – not by what you can't.
I am a Certified Intuitive Eating Counselor and specialize in intuitive eating, body acceptance and recovery from chronic dieting and disordered eating. My philosophy is rooted in the Health at Every (HAES®) approach, as I believe that true health comes from nurturing behaviors to enhance physical, mental and emotional wellbeing – not by following external food rules or a number on the scale.
This wasn't always my approach. I started out practicing from the "traditional" nutrition model – recommending portion sizes and calorie levels, creating meal plans, tracking my client's weight. It always worked for a little while but over time I realized that, despite my client's best efforts, no one was able to maintain the "lifestyle changes" that I believed I was teaching them. Inevitably they'd go back to their prior eating habits and feel like they failed. I too felt like a failure – how come I couldn't help them?
Everything changed after I took a course on intuitive eating.
I immediately realized why my approach wasn't working for people in the long term. I was telling people to listen to their bodies, yet I was giving them prescriptive meal plans. I was saying, "listen to your hunger and fullness cues" yet I was suggesting they not go more than X hours without eating. Everything we worked on still revolved around external, rather than internal, cues. This kept them stuck in the restrictive diet cycle – limiting foods or food portions, followed by overeating or "failing", which led to guilt and then want to get "back on the wagon". Clearly, this wasn't working.
I spent the next several months doing one-on-one training on intuitive eating and the non-diet, Health at Every Size Approach. Once I started practicing this new approach with my clients, everything shifted. This was most apparent while working with several people who I had worked with while still practicing my "old" approach. They came back to me – feeling like they had failed – and signed on to work with me using my new intuitive eating and body acceptance approach. The changes that occurred in them this time around were mind-blowing. Despite the fact that we had previously worked together for several months in the past, so many pieces of their food and body history came out that we had never discussed before. These were parts of their history that were deeply rooted and affecting so much of their current experience with food. And now, working from an intuitive eating, weight-inclusive approach, they were able to heal their relationship to food and their bodies, find true food freedom and create positive health habits from a place of self-care instead of self-control.
As an intuitive eating dietitian nutritionist, my goal is to help you reconnect with your internal body cues, build back body trust, and cultivate a healthy and peaceful relationship with both food and your body. With this approach, you will discover the nutrition and self-care behaviors that will help you to nourish yourself and to thrive – for the long run.

Professional Bio:
Alissa Rumsey MS, RD, CDN, CSCS is a nationally recognized and award-winning registered dietitian nutritionist and the founder of Alissa Rumsey Nutrition and Wellness P.C. Alissa specializes in intuitive eating coaching, body acceptance and disordered eating recovery. Her philosophy is rooted in the anti-diet and Health at Every Size (HAES®) movement, as she believes true health comes from nurturing behaviors to enhance physical, mental and emotional wellbeing. As a Certified Intuitive Eating Counselor (Trained & Certified by the Original Intuitive Eating Pros), she helps people who are frustrated with dieting cultivate a healthy and peaceful relationship with food and their bodies.
As a freelance writer, speaker, and spokesperson, Alissa's expertise is regularly featured on television, online, and in print. She is a monthly contributor to US News and World Report and has appeared in over 100 media outlets including NBC Nightly News, CNN, CBS News, ABC News, Prevention, Health Magazine, SELF and Women's Health. As a past spokesperson for the Academy of Nutrition and Dietetics, she represented a national association of over 100,000 Registered Dietitians and nutrition professionals. In 2017 she received the Media Excellence award from the New York State Academy of Nutrition and Dietetics.
Alissa is also passionate about empowering dietitian entrepreneurs to confidently start, grow and scale their businesses. She has spoken at professional meetings and events around the country including the Academy of Nutrition and Dietetics Food and Nutrition Conference and Expo (FNCE), Today's Dietitian Symposium, the Texas Academy of Nutrition and Dietetics Annual Conference and Expo, the California Academy of Nutrition and Dietetics Annual Conference and Expo, the Florida Food and Nutrition Symposium, and more. In 2017 she launched the Dietitian Entrepreneur Mastermind Retreat, a weekend workshop that brings together dietitians from around the country to connect, collaborate and work on their businesses.
Alissa earned dual Bachelor of Science degrees in Dietetics and Exercise Science from the University of Delaware and a Master's of Science degree in Health Communications from Boston University. In her spare time, Alissa can be found traveling to far-off countries, and, as a self-proclaimed "foodie," exploring the expansive New York City food and restaurant scene.
Anne Mittnacht, MPH, RD, RYT-500, TCTSY-F, CEDRD-S
Nutrition Therapist & Certified Eating Disorder Registered Dietitian
She/her
After visiting Alice Waters' Edible Schoolyard at a large public middle school in Berkeley, California and watching the students make a meal with food that they had grown, I decided that I wanted to pursue a career in public health and nutrition. I wanted to become a part of programs that help children to develop a positive relationship with food early on. As an Eastern Religion major, my focus as an undergraduate was based in the Humanities. It wasn't until I was preparing for my graduate school studies in Nutrition and Public Health that I discovered that I love nutritional biochemistry – how our bodies digest, absorb and utilize nutrients that come from the foods we eat.
One might assume that learning about the science of nutrition would have driven me to seek out and only recommend the most highly nutritious food choices. On the contrary, it helped me to see that all foods can truly fit into a healthy relationship with food. I quickly realized how much of my understanding of nutrition was influenced by our diet driven culture and that most of the information that informs restrictive approaches to eating is rooted in pseudo-science or just blatant misinformation. I also started to realize how this information draws us away from our body's innate ability to eat what it needs.
In my graduate program, I learned how to read the research and distinguish strong studies from weaker ones. One of my favorite things to do with clients is to debunk modern diet/nutrition myths – most of them promising immediate results and great health. I ask my clients to bring me claims about foods and nutrients that they have heard about and that may inform their approach to eating and we go straight to the science – we look at research that supports the claim (often times, there isn't any) and determine if it is credible. I also present any evidence that I know of that may dispute the claim.
My approach to nutritional counseling and to eating disorder treatment aims to bring the joy of eating back to the table. I believe that a truly healthy, intuitive relationship with food is one that is non-restrictive and that includes all foods and nutrients, that the best option on a menu is the one that you are in the mood for, that feeling satisfied at the end of meal is just as important as feeling satiated, and that eating a meal can be just as much about gathering together and ceremony as it is about the food and nourishment.
Professional Bio:
Anne Mittnacht, MPH, RD, RYT-500, TCTSY-F is a Certified Eating Disorders Registered Dietitian (CEDRD-S) through the International Association of Eating Disorder Professionals (IAEDP).
Anne provides nutritional counseling to individuals who are struggling with eating disorders and disordered eating, to chronic dieters who are interested in exploring a non-diet, intuitive approach to eating, and to children and families. Anne's food philosophy and approach to counseling draws on Intuitive Eating and Health at Every Size® principles, and on Ellyn Satter's Feeding Dynamics Model.
Anne is also a certified Sivananda Yoga Instructor and has received specialized training in Curvy Yoga and in Trauma Center Trauma-Sensitive Yoga (TCTSY).
In addition to her work at Alissa Rumsey Nutrition and Wellness, Anne provides in-person nutritional counseling at Metrowest Nutrition, an outpatient nutrition group in Newton Center, MA. She also substitute teaches Trauma Sensitive Yoga at The Trauma Center in Brookline MA and, when appropriate, integrates this approach into her in-person nutrition sessions with clients.
Anne completed her Bachelor of Arts degree at Middlebury College where she studied religion. She completed her graduate work in public health and nutrition at The University of North Carolina at Chapel Hill. While at UNC she was the lead investigator on a study that she conducted with Cynthia Bulik (a leading researcher in the field of eating disorders) that evaluated the consensus on nutrition counseling practices among registered dietitians treating individuals with anorexia nervosa, and findings were published in the International Journal of Eating Disorders.
Christine Téllez, MS, RD, LDN
Nutrition Therapist and Registered Dietitian
She/her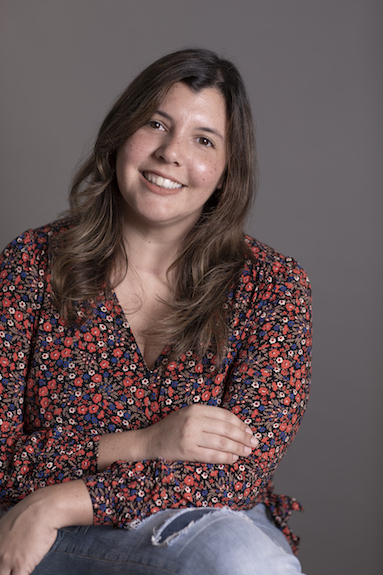 When I first began my journey as a dietitian, I never knew that there were possibilities beyond what I learned in school, which focused on weight loss and individual changes. My first job as a dietitian was working at a university with college students, and this is when I first delved into the world of eating disorder treatment. I listened to students telling me about their "healthy eating habits" that quickly spiraled into food and body obsession and took over their lives. I realized that I needed to change not just the way I practiced as a dietitian, but also examine my own relationship to food and my body.
After my dietitian crisis, I began to explore other alternatives. I completed Intuitive Eating training with Evelyn Tribole, started following non-diet and anti-diet dietitians on social media and learned about the Health at Every Size approach. With ongoing training and supervision, I was able to start doing work that helped my clients heal from their eating disorder/disordered eating and improve their relationship with food. Instead of focusing on calories and super foods, I now help clients relax around food and approach eating from a place of connection to others and to culture.
My approach to the work I do with my clients is to foster a collaborative and supportive relationship. I will challenge you and stay in the discomfort that may come up in sessions. I also work from an anti-oppression, anti-racist and queer feminist lens, and think that body liberation is only possible when we are living in a just world.
Growing up as a Cuban and Nicaraguan daughter of immigrants, I know firsthand how inaccessible working with a dietitian can be—whether because of money, language, or just not finding anyone that can relate to your lived experience. I am fluent in Spanish and passionate about working to increase access to care for all who need it.
Professional Bio:
Christine Téllez MS, RD, LDN is a bilingual dietitian based in Miami, Florida. Christine specializes in eating disorder recovery, GI issues such as IBS and IBD, and PCOS. She is particularly interested in the brain-gut connection and the relationship with disordered eating. Christine practices from a non-diet and fat positive lens, and helps her clients heal their relationship with food and their bodies.
In addition to her work with at Alissa Rumsey Nutrition and Wellness, Christine also works part-time at the Miami VA Medical Center as an outpatient dietitian. In 2019, Christine helped to establish an Eating Disorder treatment program for Veterans struggling with eating disorders as previously, there were limited options for treatment in the community.
Christine earned her Bachelor of Arts degree in Philosophy and English from Simmons College and her Master's in Nutrition and Dietetics from Florida International University. She is a mom of 2 and in her free time enjoys reading, going to the beach, and exploring Miami.
Kelly Demers MS, RD, LDN
Nutrition Therapist and Registered Dietitian
She/her
Eating should be an easy, pleasurable experience, and yet it is often fraught with anxiety, fear, and stress. Our cultural obsession with thinness at any cost only serves to further complicate our relationship with food and our bodies. If you are reading this, you have likely struggled with knowing what and how to eat. Perhaps you have spent many years bound to external food rules or rigid beliefs that have kept you disconnected from your body's innate wisdom and natural hunger and fullness cues. Maybe you have used disordered behaviors with food as a way to cope with anxiety or other life stressors. You may also feel confused and overwhelmed by the constant bombardment of conflicting and misinformation about food and nutrition. I've been there too and I feel for you! The silver lining in all of this though is that there is another way.
If you choose me as your dietitian, we will work collaboratively as we dig deep into the roots of your thoughts, feelings, and beliefs about food and your body. We will challenge the diet mentality, cultural beauty ideals, and deconstruct what it means to live in an oppressive diet culture. I see myself as not just your dietitian, but as your co-facilitator and fellow human along with you for the ride. I do not subscribe to the hierarchal belief that: "You are the client and I am the expert here to tell you what to do".  Though I may challenge you, this is still your journey – your personal values will guide all clinical decisions, and I will help coach you along the way to achieving your individual goals.
I strive to create a safe, non-judgmental, and supportive environment for my clients to get curious about themselves and their core beliefs about food and their bodies. I will hold space for and help you process the discomfort that inevitably accompanies personal growth. Together we will dissect your past and present relationships with food, while also exploring the concepts of body trust, Intuitive Eating, and self-compassion, so that you may move not just toward a more peaceful, liberated relationship with food and your body, but also toward a more rich, satisfying, and fulfilling life – free from the limiting constraints of diet culture.
Professional Bio:
Kelly Demers MS, RD, LDN is a registered and licensed dietitian based in Minneapolis, Minnesota. Kelly specializes in eating disorders/disordered eating, body-acceptance work, and chronic dieting recovery. She is passionate about helping her clients let go of external food rules and discover a more peaceful relationship with food and their body.
Kelly practices from an anti-diet, Health At Every Size® (HAES®), and social justice informed lens. She utilizes the principles of Intuitive Eating and the practice of mindful self-compassion to help her clients establish a practice of self-care and cultivate a sense of self-worth that is not reliant on a number on a scale. Kelly uses these and other techniques to guide her clients toward a more nurturing, healthy relationship with themselves and their bodies.
In addition to her work at Alissa Rumsey Nutrition and Wellness, Kelly also works at Lyn-Lake Psychotherapy and Wellness – a private group practice in Minneapolis where she works primarily with clients with active eating disorders, with an emphasis on trauma-informed care. Prior to her work in private practice, Kelly worked as a clinical dietitian and has experience providing Medical Nutrition Therapy (MNT) and nutrition counseling at various levels of care. She has worked as an acute care and outpatient dietitian for the VA hospital in Portland, OR, as well as for Monte Nido & Affiliates Eating Disorder Treatment Center – first as the lead dietitian for their residential home in Springfield, OR, and later as the lead dietitian for their PHP/IOP program in Eugene, OR. Kelly has also worked as a public health nutritionist at the state administration level for the NYS WIC program. Current areas of interest include polyvagal theory and somatic processing in the treatment of eating disorders, as well as the co-occurrence of chronic GI issues in clients with eating disorders/disordered eating.
Kelly earned her Bachelor of Arts degree in Nutrition and Food Science from Russell Sage College in upstate NY and completed her Master of Arts degree in Nutrition, with a strong focus on culinary nutrition and food psychology, from the National University of Natural Medicine in Portland, OR. She is currently pursuing training to become a Certified Intuitive Eating Counselor, and has nearly completed the rigorous requirements needed to become a Certified Eating Disorder Registered Dietitian (CEDRD). In her free time Kelly enjoys reading, hiking, listening to podcasts, and exploring the Minneapolis food scene.
Individual Nutrition Therapy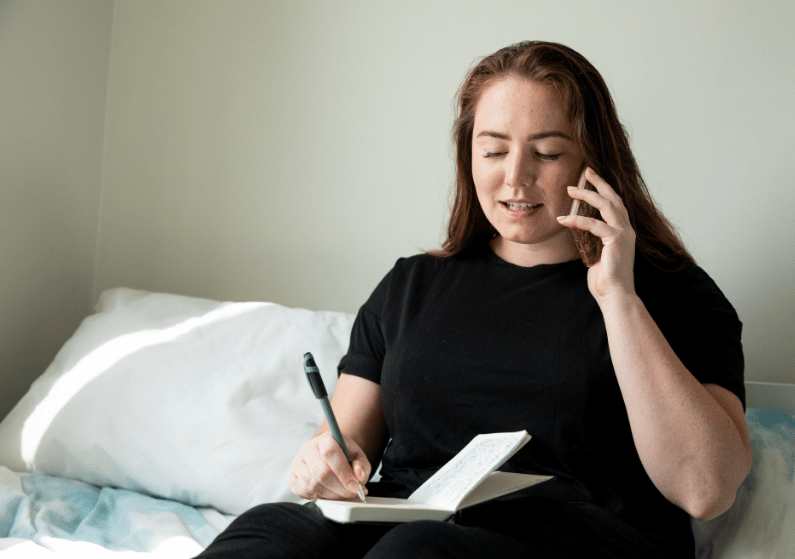 Online Courses and Programs