Learn to tune into your body with my FREE Mindful Eating Exercise
Alissa Rumsey, MS, RD, CDN, CSCS
Nutrition Therapist and Certified Intuitive Eating Counselor
I love to eat. I mean really love it. Freshly baked bread. Creamy, soft, cheese. A red, ripe tomato. Chocolate chip cookies right out of the oven. Handmade pasta topped with truffle butter. I'm drooling just writing this! As a foodie, and an anti-diet dietitian, I believe that diet should be defined by what you eat – not by what you can't.
I am a Certified Intuitive Eating Counselor and specialize in intuitive eating, body acceptance and recovery from chronic dieting and disordered eating. My philosophy is rooted in the Health at Every (HAES®) approach, as I believe that true health comes from nurturing behaviors to enhance physical, mental and emotional wellbeing – not by following external food rules or a number on the scale.
This wasn't always my approach. I started out practicing from the "traditional" nutrition model – recommending portion sizes and calorie levels, creating meal plans, tracking my client's weight. It always worked for a little while but over time I realized that, despite my client's best efforts, no one was able to maintain the "lifestyle changes" that I believed I was teaching them. Inevitably they'd go back to their prior eating habits and feel like they failed. I too felt like a failure – how come I couldn't help them?
Everything changed after I took a course on intuitive eating.
I immediately realized why my approach wasn't working for people in the long term. I was telling people to listen to their bodies, yet I was giving them prescriptive meal plans. I was saying, "listen to your hunger and fullness cues" yet I was suggesting they not go more than X hours without eating. Everything we worked on still revolved around external, rather than internal, cues. This kept them stuck in the restrictive diet cycle – limiting foods or food portions, followed by overeating or "failing", which led to guilt and then want to get "back on the wagon". Clearly, this wasn't working.
I spent the next several months doing one-on-one training on intuitive eating and the non-diet, Health at Every Size Approach. Once I started practicing this new approach with my clients, everything shifted. This was most apparent while working with several people who I had worked with while still practicing my "old" approach. They came back to me – feeling like they had failed – and signed on to work with me using my new intuitive eating and body acceptance approach. The changes that occurred in them this time around were mind-blowing. Despite the fact that we had previously worked together for several months in the past, so many pieces of their food and body history came out that we had never discussed before. These were parts of their history that were deeply rooted and affecting so much of their current experience with food. And now, working from an intuitive eating, weight-inclusive approach, they were able to heal their relationship to food and their bodies, find true food freedom and create positive health habits from a place of self-care instead of self-control.
My goal is to help you reconnect with your internal body cues, build back body trust, and cultivate a healthy and peaceful relationship with both food and your body. With this approach, you will discover the nutrition and self-care behaviors that will help you to nourish yourself and to thrive – for the long run.

Professional Bio:
Alissa Rumsey MS, RD, CDN, CSCS is a nationally recognized and award-winning registered dietitian nutritionist and the founder of Alissa Rumsey Nutrition and Wellness P.C. Alissa specializes in Intuitive Eating, body acceptance and disordered eating recovery. Her philosophy is rooted in the anti-diet and Health at Every Size (HAES®) movement, as she believes true health comes from nurturing behaviors to enhance physical, mental and emotional wellbeing. As a Certified Intuitive Eating Counselor (Trained & Certified by the Original Intuitive Eating Pros), she helps people who are frustrated with dieting cultivate a healthy and peaceful relationship with food and their bodies.
As a freelance writer, speaker, and spokesperson, Alissa's expertise is regularly featured on television, online, and in print. She is a monthly contributor to US News and World Report and has appeared in over 100 media outlets including NBC Nightly News, CNN, CBS News, ABC News, Prevention, Health Magazine, SELF and Women's Health. As a past spokesperson for the Academy of Nutrition and Dietetics, she represented a national association of over 100,000 Registered Dietitians and nutrition professionals. In 2017 she received the Media Excellence award from the New York State Academy of Nutrition and Dietetics.
Alissa is also passionate about empowering dietitian entrepreneurs to confidently start, grow and scale their businesses. She has spoken at professional meetings and events around the country including the Academy of Nutrition and Dietetics Food and Nutrition Conference and Expo (FNCE), Today's Dietitian Symposium, the Texas Academy of Nutrition and Dietetics Annual Conference and Expo, the California Academy of Nutrition and Dietetics Annual Conference and Expo, the Florida Food and Nutrition Symposium, and more. In 2017 she launched the Dietitian Entrepreneur Mastermind Retreat, a weekend workshop that brings together dietitians from around the country to connect, collaborate and work on their businesses.
Alissa earned dual Bachelor of Science degrees in Dietetics and Exercise Science from the University of Delaware and a Master's of Science degree in Health Communications from Boston University. In her spare time, Alissa can be found traveling to far-off countries, and, as a self-proclaimed "foodie," exploring the expansive New York City food and restaurant scene.
Brenna O'Malley, RD
Nutrition Therapist
When it comes to nutrition, I'm a firm believer in three things: that we can feel our best without feeling obsessed, our relationship with food and our body is as important as what we put into our body, and that nutrition doesn't need to be confusing or complicated. With so many diet messages available to us, we hear a lot about the specifics of food, but rarely give enough credit to the importance of having a healthy relationship with food to put that information to use in a healthful way.
I never gave much thought to my relationship with food growing up – or even thought that my relationship with food was something to think about. I grew up playing sports, having all foods as a part of my diet and not thinking much about it. The first time I really remember paying attention to what I ate was in high school when a series of stomach issues led me to adopting a gluten-free diet and seeing a registered dietitian. This was the first time I had 'rules' around foods and gave me a new perspective on the connection between what we eat and how we feel. I loved my relationship with my registered dietitian, she was such a support and source of information in navigating my relationship with food that I realized I wanted to offer that same positive, personalized support to others. While studying nutrition, I discovered the research and personal effects of mindfulness and intuitive eating and haven't looked back. My goal is to help you develop a positive relationship with food and your body so you can feel your best.
Professional Bio:
Brenna O'Malley, RD, is a registered dietitian and founder of the mindful health website, The Wellful. Brenna specializes in helping people move away from dieting and disordered eating patterns to develop a healthy relationship with food and their body. She is passionate about changing the language we use to talk about nutrition and health in the media, online and in food marketing. Brenna uses a non-diet, mindful approach to nutrition and health and believes that the 'why' we eat is just as important as the 'what' we eat. Brenna practices from a Health at Every Size (HAES®) perspective and truly believes that all foods can fit in a healthy diet. Brenna started The Wellful's Women in Wellness Podcast where she features female entrepreneurs who are changing the food, health and wellness landscape. She consults for food and media companies and her writing has been featured in POPSUGAR, Boston Voyager, My Life OOO and Spoon University. Brenna loves to travel, explore new coffee shops, try fun workout classes and there's no food she won't try, at least once!
Brenna completed her Bachelor of Science degree in Nutrition and Dietetics at New York University and completed her dietetic internship at Massachusetts General Hospital with a concentration in media and intuitive eating.
Individual Nutrition Therapy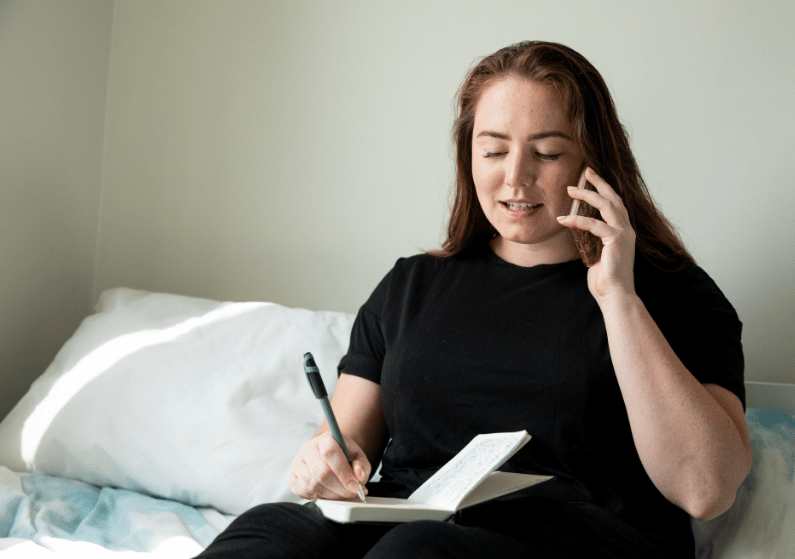 Intuitive Eating Online Shop