Learn to tune into your body with my FREE Mindful Eating Exercise
Today I'm sharing a few ways that you can apply the principle of gentle nutrition to intuitive eating, to help make nutritious meals easy and convenient. I've partnered up with the Florida Department of Citrus to bring you this post, meaning I was compensated for my...
read more
Intuitive Eating is gaining more and more popularity and recognition in the world of nutrition. With more awareness comes more questions and curiosity. Part 4 of this Q&A series addresses more intuitive eating questions about the different types of hunger, how to...
read more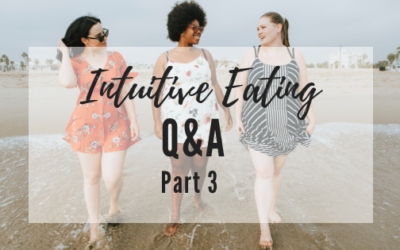 Intuitive Eating can be hard to wrap your head around at first. If you are starting the Intuitive Eating journey and are feeling a bit lost you've come to the right place. In part 3 of this Q&A series, I'm answering some intuitive eating common questions, such as...
read more