Break the cycle of chronic dieting with my FREE Intuitive Eating Starters' Guide
Here are some of my favorite resources on intuitive eating, anti-diet work, body liberation, body image healing, Health at Every Size/weight science, and mental/emotional health. This includes books, podcasts, blogs, courses, websites and more.
For more support, click here to join my free, private Ditch the Diet Facebook Community.
Note: some links may be affiliate links. I only use affiliate links for products and services I use and trust.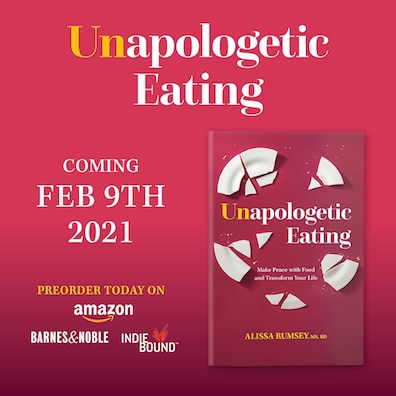 Unapologetic Eating: Make Peace with Food & Transform Your Life 
So many people spend time dieting and trying to change ourselves in order to fit into a mold—and a body—that is deemed socially acceptable. Yet it is dieting that is the problem: it disconnects us from our body's wisdom and holds us back from living life to the fullest. The more time we spend trying to "fix" ourselves, the less time we have for the things that really matter.
What presents as a problem about food is, in reality, much deeper and more complex. In my new book, Unapologetic Eating: Make Peace with Food & Transform Your Life, I help you explore your history with food and your body and question societal expectations to get to the bottom of the complexity and find a clear path forward.
Using a four-step approach – Fixing, Allowing, Feeling, and Growing, I walk you through how to reconnect with your body using your relationship to food as the entry point. The book provides actionable tools you can use to confidently nourish yourself physically, mentally, and emotionally. You'll learn how to make peace with food, improve your body image, trust your intuition, and reclaim the space to eat and live unapologetically.
5 Minute Mindful Eating Exercise
This 5 Minute Mindful Eating Exercise will help you reconnect with your body and your senses. It includes written and audio meditations plus several reflection prompts and mindful eating practice suggestions. 
List: Body Positive Fitness Options
The exercise space presents challenges of its own in regards to overcoming diet language and culture. Check out this list for some of our favorite body-positive fitness options online and in-person around the country.
Guide: 5 Steps to Start Intuitive Eating
Download this 5-step guide to help you break free from diet mentality, re-connect to your body cues and build back body trust. It includes five steps and practical ways that you can start integrating intuitive eating into your life. 
Intuitive Eats: Gentle Nutrition Cookbook
This free cookbook includes six recipes alongside prompts to help you practice intuitive eating in the kitchen. Learn how to cultivate curiosity and compassion, and rediscover the joy of cooking.
Podcasts, Websites & More
Body Positivity & Body Image Healing
Podcasts, Websites & More