Imagine being able to eat what you want, when you want, and how you want...without second-guessing your body or worrying about what others are thinking.
Imagine not spending so much time and energy thinking about food and your body.
Unapologetic eating is eating what you want, when you want, and how you want without feeling guilty or ashamed. It means being in the moment with what you are eating, and what you are doing, without feeling self-conscious or worrying about what others may be thinking. 
It's about getting back to your roots, to who you were before society told you who you should be. 
Unapologetic eating involves intuitive eating, and it is food freedom, but it's also freedom in life.
Because the more you trust your body with food, the more you start to trust yourself in other areas of your life. Connecting with your intuition, your inner knowing, in ALL areas of your life allows you to be unapologetic about how you are eating and living.
My Unapologetic Eating 101 Course will help you heal your relationship to food, reconnect to your body, and reclaim your inherent self-worth. To reject all of the "shoulds" and "supposed tos", and to figure out what it is that you really want to eat, to do, to move, to love.
to help liberate you from dieting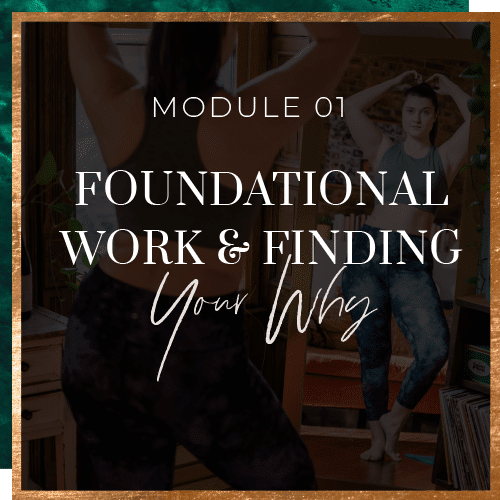 Module 1: Foundational Work & Finding Your 'Why'
Understand the societal forces that play into the urge to control your eating your body shape so you can begin to unpack and question your beliefs about food, bodies, weight, and health

Connect with your personal reason for doing this work and get clear on your 'why', which you'll come back to repeatedly throughout this process
Module 2: Moving Away from Fixing
Learn all the ways in which diet culture permeates your life and environment so you can start to raise awareness and push back agasint it. 

Begin the work of accepting and sitting with yourself and your body, rather than always trying to "fix" or control.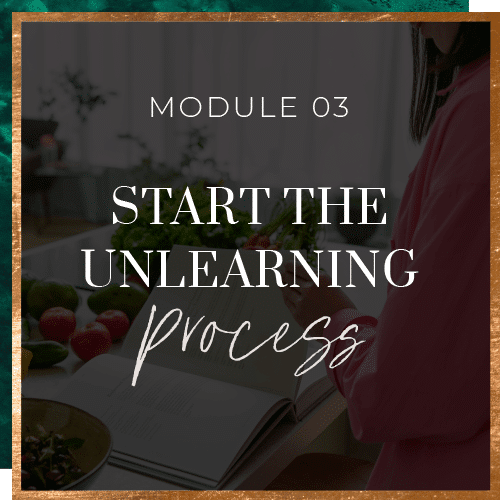 Module 3: Start the Unlearning Process
Learn the scientific reasons about why diets don't work (aka the things the diet industry doesn't want you to know!)

Shift from blaming

yourself

to blaming the

environment

 and the diet itself 

Discover new ways of measuring your progress outside from body shape and size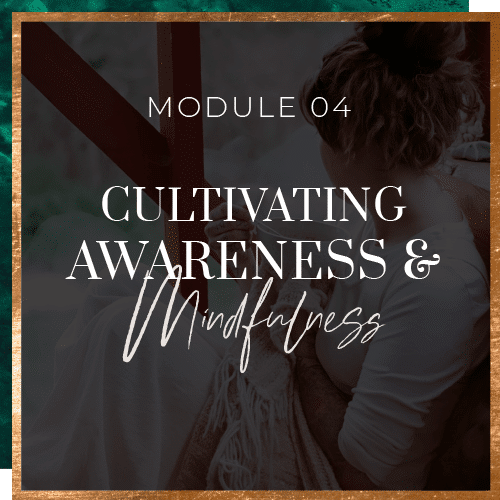 Module 4: Cultivating Awareness & Mindfulness
Learn how to reconnect with yourself and your body so you can raise awareness of your experiences with curiosity instead of judgment

Build the skills to sit with uncomfortable emotions so that you can better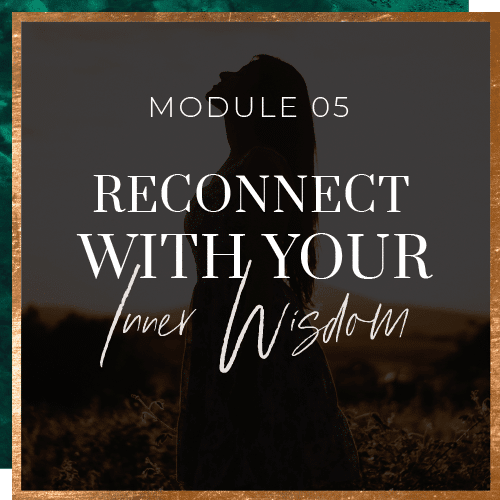 Module 5: Reconnect with Your Inner Wisdom
Learn more about intuitive eating and how to embrace the 10 principles, without treating it like another diet

Cultivate trust in your body's internal cues so that you can eat without guilt or shame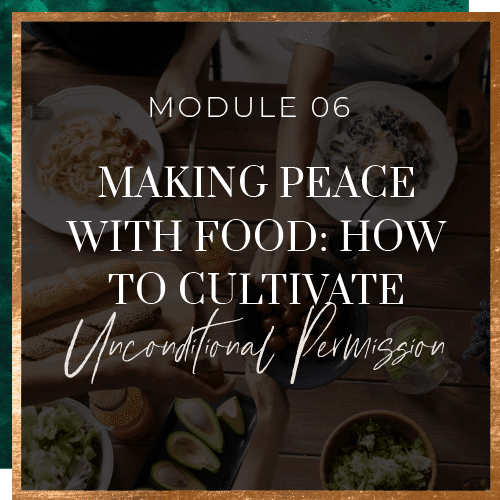 Module 6: Making Peace with Food: How to Cultivate Unconditional Permission
Learn how to give yourself unconditional permission to eat all of the things so you can make peace with food, without feeling out of control

Practice framing how you think about your choices to come from a place of curiosity rather than judgment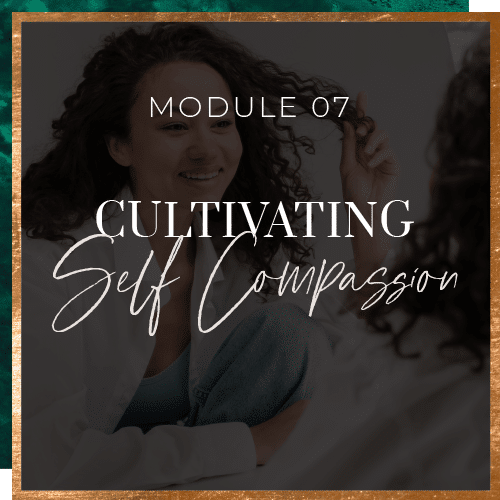 Module 7: Cultivating Self Compassion
Learn how to release your inner critic and cultivate self-compassion through mindfulness, self-kindness, and connecting with the common humanity (or shared experiences) of all people.
Stop "should'ing" all over yourself, so you can eat, move, and do what you want to do instead of what you think you "should" (or "shouldn't).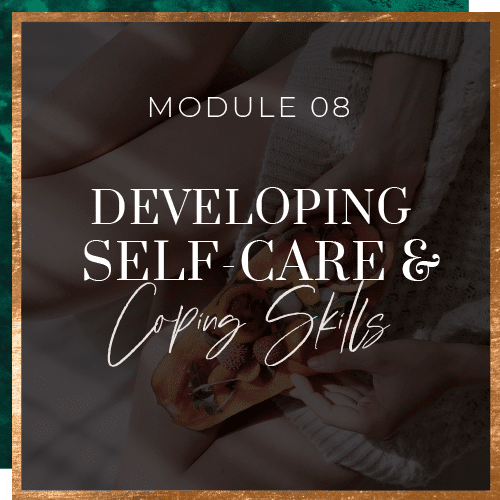 Module 8: Developing Self Care & Coping Skills
Cultivate a toolbox full of coping skills that involve physical, mental, and emotional self care practices 

Learn how to "sit with" the uncomfortable feelings that come up in this process, without turning back to dieting.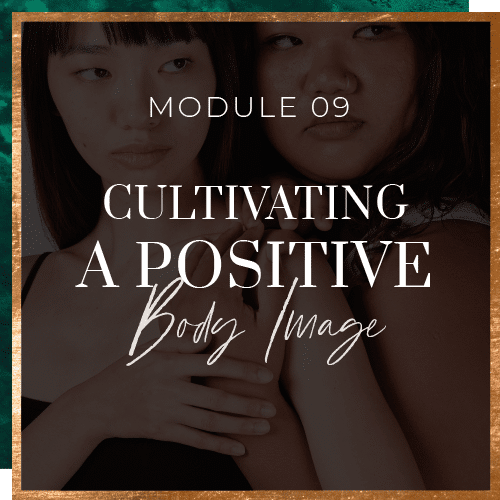 Module 9: Cultivating a Positive Body Image
Gain an understand of the history of body image development (i.e. why you feel the way you do about your body)

Learn how to process body grief and nurture respect for your body

Move away from body shame and towards body appreciation, respect, and liberation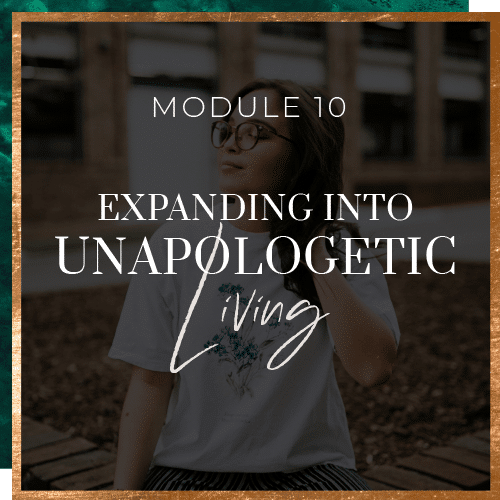 Module 10: Expanding into Unapologetic Living
Learn how to go from trying to "fix" yourself, to unapologetic eating, and finally unapologetic living so you can live a meaningful, fulfilling life in line with your values