Learn to tune into your body with my FREE Mindful Eating Exercise
Food freedom and a better relationship with food are two of the benefits of intuitive eating...but what do those things mean exactly? Read on for 24 (relatable!) intuitive eating benefits that you can see as you move through this process.  Unlike dieting,...
read more
Movement is an important aspect in our day-to-day lives and it makes up the 9th principle of intuitive eating. The philosophy behind intuitive eating is applied to intuitive movement (referred to within this post interchangeably as intuitive exercise):  listen to your...
read more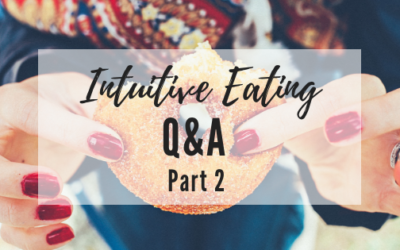 Intuitive Eating can be a difficult process, especially in the beginning. There have been a few questions that came through in my private Intuitive Eating and Body Image Support Facebook group (please join if you haven't already!) that I want to address today. Read on...
read more