24 Hours in Athens Greece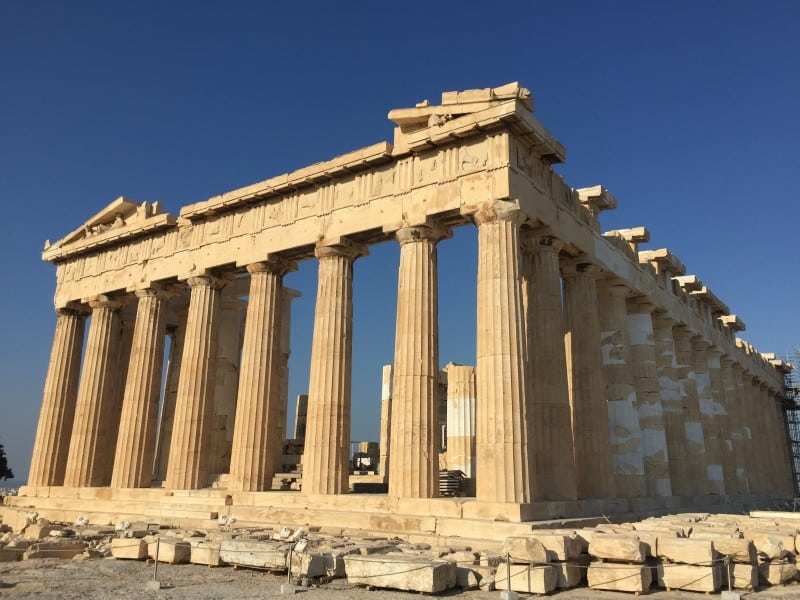 A guide on how to make the most of 24 hours in Athens, Greece. Get a taste of the Greek life with local food recommendations and the top sites to see.
"You really don't need more than a day in Athens."
I heard this over and over as I was planning my trip to Europe this summer. Compared to the stunning Greek islands, Athens doesn't get much love. While I believe that any city can be fun and exciting, provided you know the best places to eat and where to visit, I only had 24 hours in Athens. So in between my flight from Belgium, and heading out for 8 days in the Greek islands, I joined the mass of other tourists doing a quick and dirty tour of Athens.
To Stay
For just a quick visit you'll want to stay in Plaka, the old historical neighborhood of Athens that is clustered around the eastern and northern slopes of the Acropolis. Yes, all the other tourists will be there too, but there are dozens of tiny side streets that allow you to get off the beaten path while ogling the neighborhood's gorgeous neoclassical architecture. Plus, it's a quick walk to the one real reason you came to Athens: the Acropolis. I stayed at the Acropolis House, a small boutique hotel in the heart of Plaka. It was no frills, but the location was perfect and the staff friendly and helpful.
Getting from the Airport to Plaka is pretty simple via public transport; I took the M3 to and from the airport.
Metro: metro line 3 runs directly from the airport to Syntagma station. From there my hotel was a quick five-minute walk. Trains are often faster since they aren't dependent on traffic, however they only run every 30 minutes so you may have to wait a bit if you just missed one. You can buy tickets from vending machines or at the ticket office (with English-speaking tellers) and will pay about 18 euro round trip.
Bus: the X95 public buses runs from the airport to Syntagma square, and can take anywhere from 60-90 minutes depending on traffic. Tickets are 12 euro round trip
Taxi: depending on traffic, a taxi will only save you about 10-15 minutes (depending on how long you wait for the train) and will cost you 35 euro, or 50 euro if between midnight and 5am.
To Do
Take a Free Walking Tour.
Get oriented to the city and hit many of the big sites. During the hot summer months they hold the tour at 7pm, but email them to confirm. The tour was a great orientation to the city and its history (a good review since I didn't remember much from middle school history class). We visited Syntagma Square, the Tomb of the Unknown Soldier, the National Gardens, Panathenaic Stadium, the original Olympic Stadium, the Temple of Zeus, and the Parthenon. You also get to see a Greek island in the middle of a big city (I won't spoil the surprise, but trust me: it's beautiful). The tour ends with a (somewhat dark) climb up through the neighborhoods on Acropolis Hill, with beautiful nighttime views of Athens.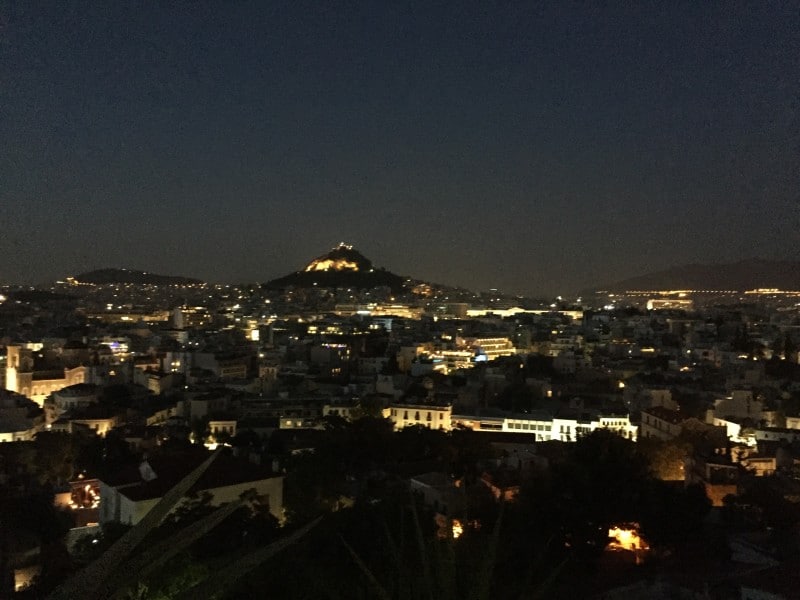 Wander around Plaka.
Get off the tourist path in Plaka (which is literally just two or three streets – you can't miss them) and get lost in the labyrinthine of tiny side streets, colorful buildings, gorgeous greenery, and cute shops.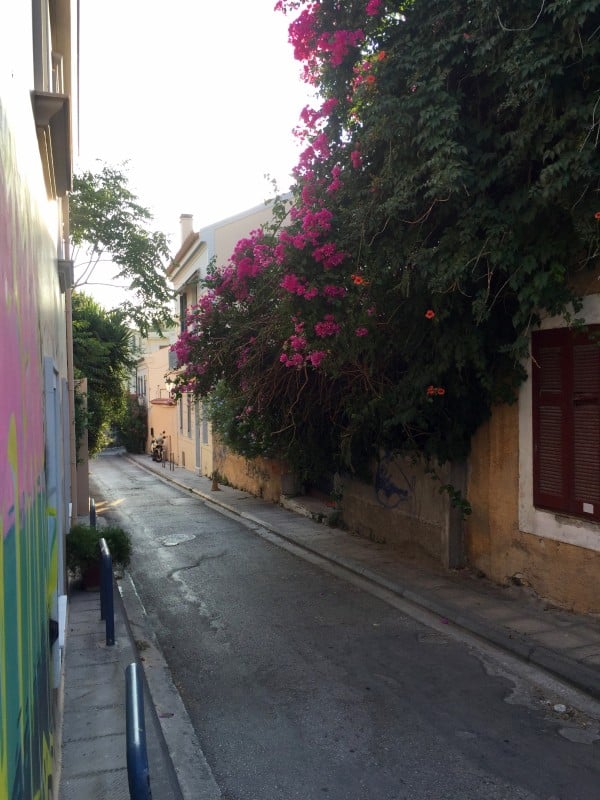 Visit the Acropolis.
Acropolis Tip #1: The best tip I can give you is to go RIGHT when the Acropolis opens at 8am. Not only will you avoid the crowds and lines, but it's your best chance to not melt into a puddle of sweat (read: there is NO shade). Trust me on this one: as I was leaving the Acropolis a few minutes after 9am, there were massive crowds of people surging through the entrance (whereas I walked through all by myself). Going right at opening also allows you to get a few (very rare) tourist-free photos of the Acropolis buildings. The other option, if you don't have a morning to visit, is to go after 5pm when it has cooled down and most of the crowds have left.
Acropolis Tip #2: Spare yourself the crazy line at the main entrance and head farther down the street to the south slope entrance, found on the southwest side of Acropolis Hill. Plus, as my walking tour guide explained, this allows you to view all the elements of Acropolis Hill in the original historical timeline.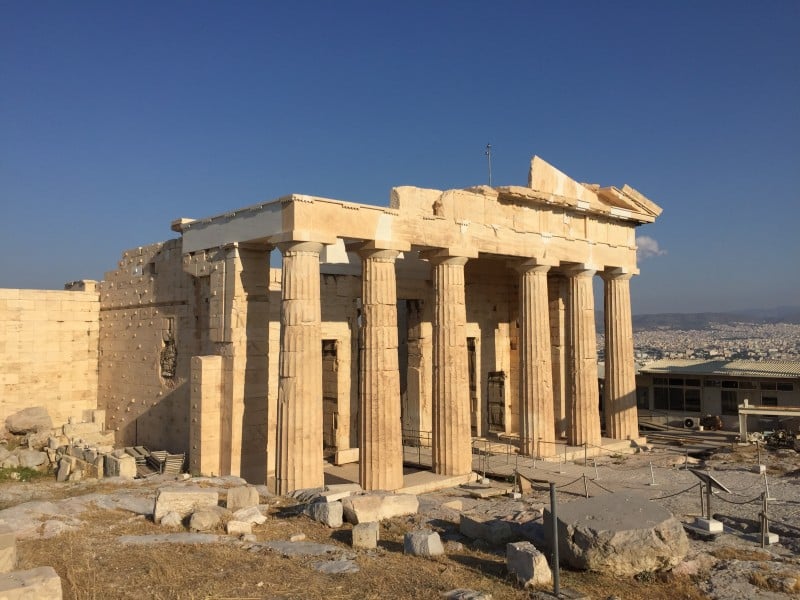 Depending on your level of interest (and the number of photos you take) the visit from start to finish will take about 1 to 2 hours.
To Eat and Drink
Have coffee at Tailor Made. This modern coffee shop roasts its own coffee and offers an alternative to the thick Greek coffee.
Seeing as you'll only have one (maybe two) dinners in Athens, choose wisely and stay away from the crowded tourist streets. At the recommendation from my hotel, I had a delicious dinner at Taverna Saita. The first sign a restaurant is good is if there are locals eating there, and Saita fit the bill. There are lots of local Greek favorites for a really good price.
There are dozens of rooftop bars and eateries with views of the Acropolis all lit up at night. I liked Point A, a rooftop bar with located near the end of the free walking tour, making a good post-tour cocktail stop.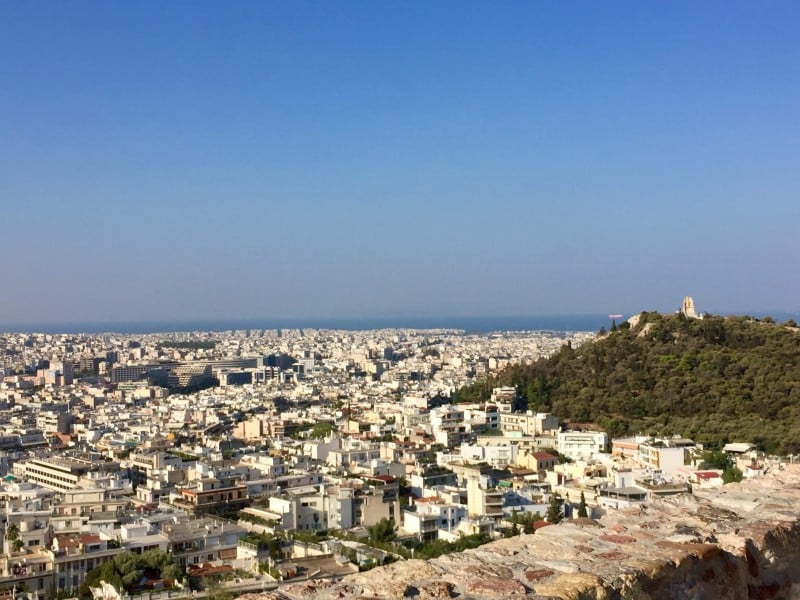 Stay tuned for my next travel blog post all about the Greek Islands: Milos, Santorini, and Mykonos.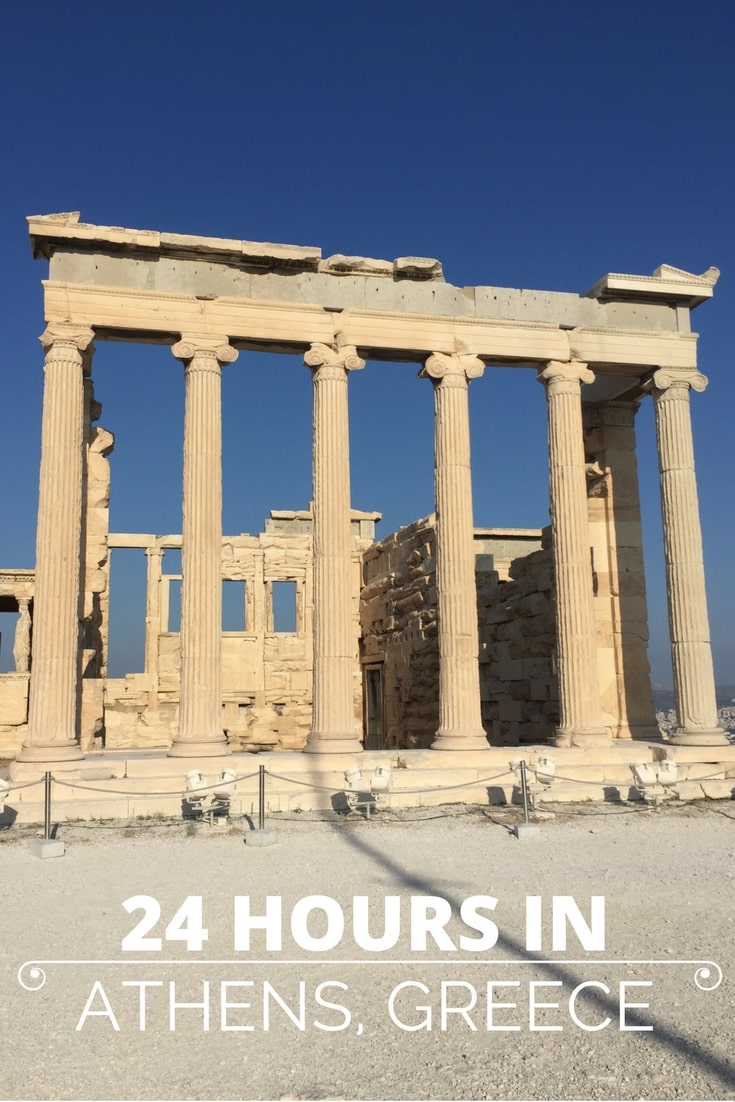 ---
Author Bio
This article was written and reviewed by Alissa Rumsey, MS, RD, CSCS, a registered dietitian and Certified Intuitive Eating Counselor. She specializes in weight-inclusive care, intuitive eating, body image healing, mindfulness, self-compassion, and healing from chronic dieting, disordered eating, and eating disorders. Alissa holds a Bachelor's Degree in Nutrition and Exercise Science, and a Master's Degree in Health Communications, and is also an NSCA Certified Strength and Conditioning Specialist.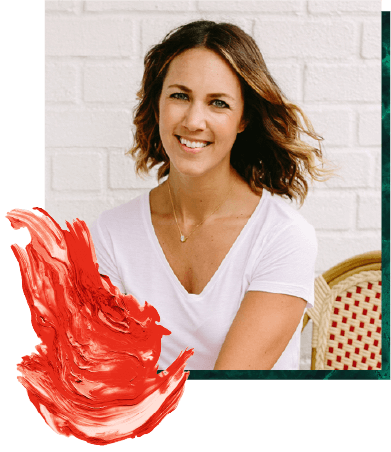 Alissa Rumsey, MS, RD, CDN, CSCS (pronouns she/her/hers) is a registered
dietitian, nutrition therapist, certified intuitive eating counselor, and the author of
Unapologetic Eating: Make Peace With Food and Transform Your Life. Alissa is
passionate about helping people reclaim the space to eat and live,
unapologetically.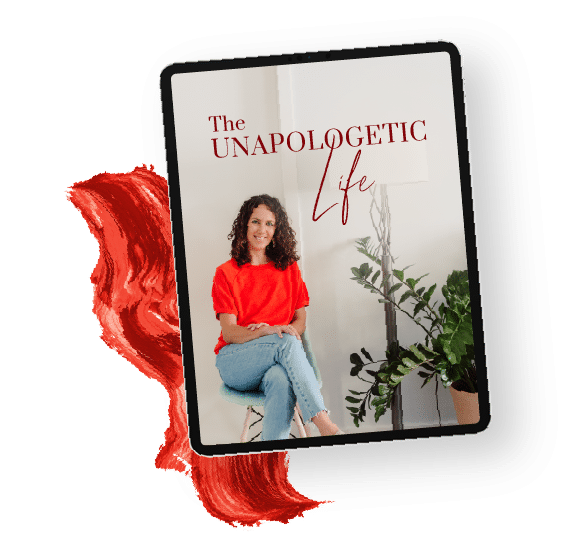 A twice-a-month round-up of inspirational stories, lessons, practical tips and encouragement for living your most authentic, unapologetic life.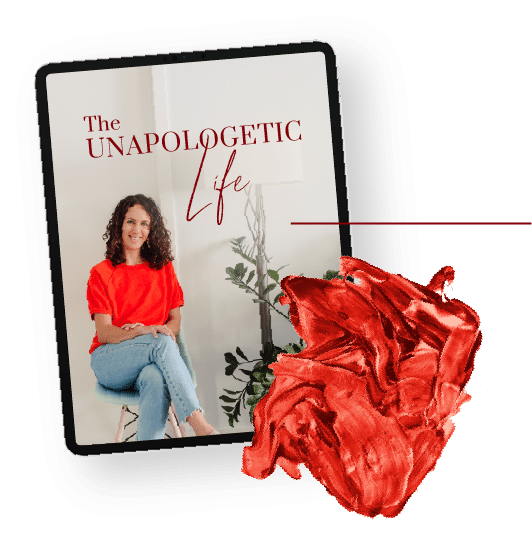 A twice-a-month round-up of inspirational stories, lessons, practical tips and encouragement for living your most authentic, unapologetic life.