Traveling Through the Greek Islands: Milos, Santorini, and Mykonos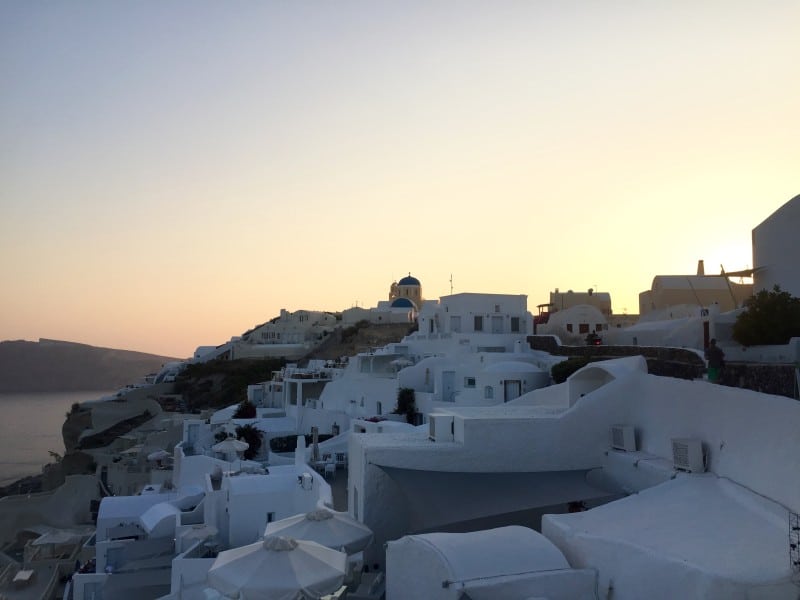 The Greek Islands are a type of bucket-list trip that everyone should do at some point in their life. I spent eight days traveling through three different Greek islands – Milos, Santorini, and Mykonos. This travel guide includes tips on how to get around, where to stay, what to do, and where to eat on all three islands.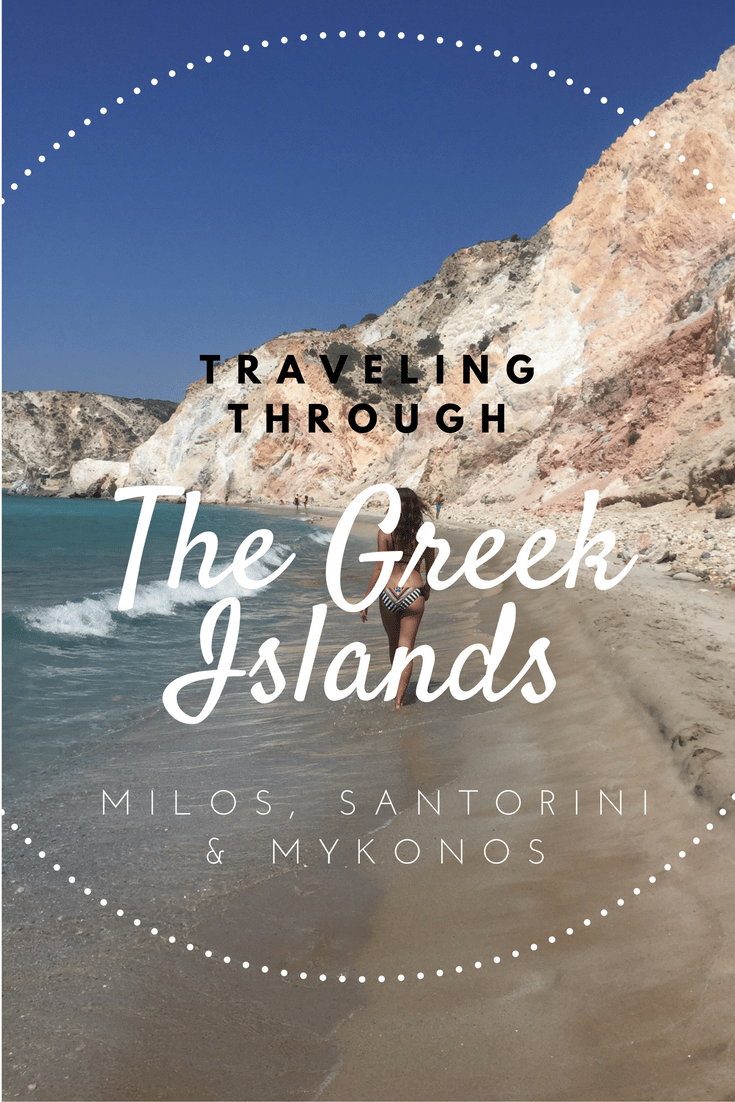 Milos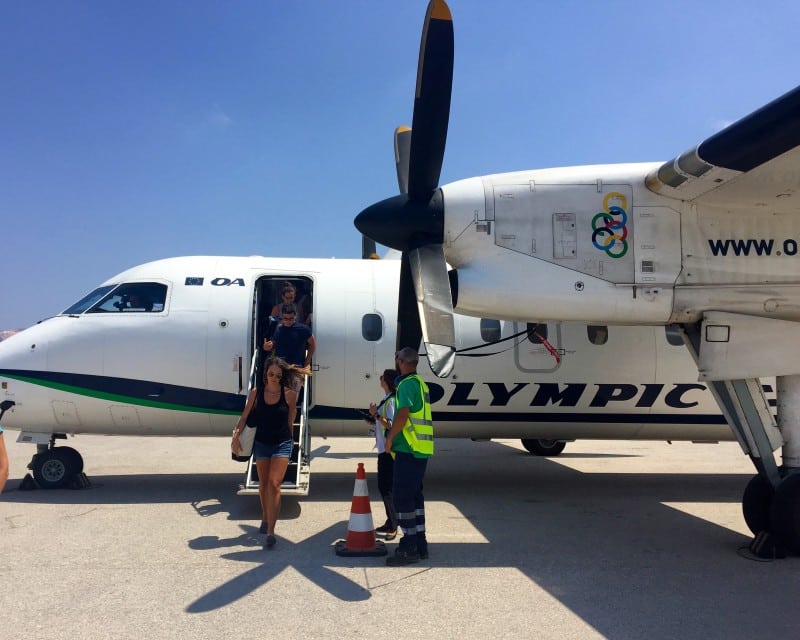 A Greek friend tried to dissuade me from going to Milos, saying that it was a sleepy island with nice beaches, but not much to do. Lucky for me, I didn't take her advice, and Milos ended up being my favorite of the three Greek islands. Milos is one of the larger Greek islands land-wise but since it is not on the tourist path, it seems much smaller. It is home to some of the most unique and beautiful beaches I have ever seen. Plus, it was nice to be off the beaten tourist path, and interact with Greeks going about their daily lives (something that was impossible to do on the other islands). So if you're looking for some rest and relaxation, alongside 50 gorgeous beaches, head to Milos.
How To Get There
Greece's extensive ferry service connects to Milos. As it was our first island, and my friends were connecting straight from the Athens airport, we decided to take the quick 40-minute flight from Athens to the Milos airport…it may or may not have been the smallest plane I've ever flown on.
Where To Stay
The main port of Adamas is a great hub, with the ferry terminal, boat dockings, and plenty of restaurants and bars. We choose to stay a 10-minute walk away, at Villa Zampeta, an adorable bed and breakfast right on the water. It was nice to be slightly outside of town, closer to the water, and away from the rest of the visitors.
What To Do
Two or three days on Milos is plenty. We spent two and a half days, and did the following:
Day 1: We arrived mid-day and immediately put on our bathing suits and headed to O Hamos, a restaurant and beach bar just down the street from our B&B. The food was incredible and would make a great lunch or dinner. We had the first of many fresh Greek salads and local beer.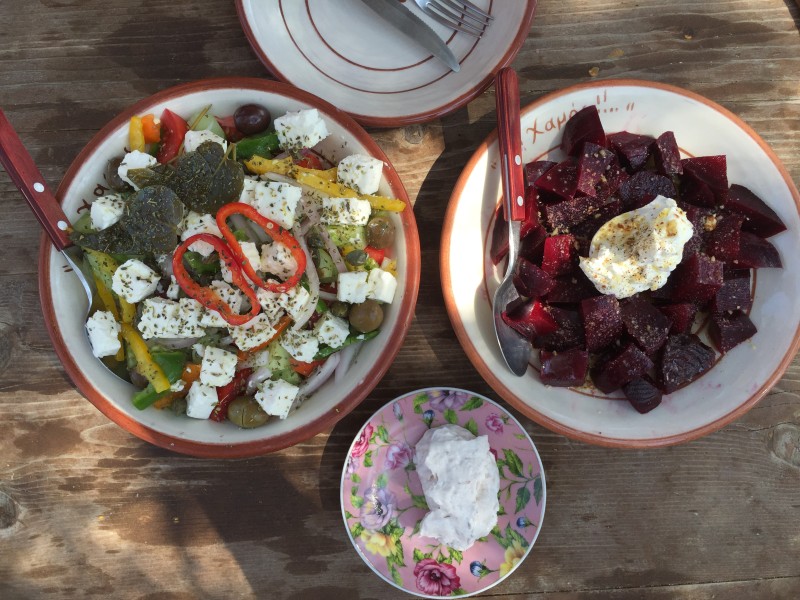 After lunch and a swim, we changed and hopped on the bus up to Plaka for sunset. The bus runs fairly regularly during the summer months, with stops in downtown Adamas and down the street from our B&B. Plaka is set up on the hills atop Milos, with pristine views of the sunset. Head to Utopia Cafe for drinks and snacks while you watch the sun set over the sea.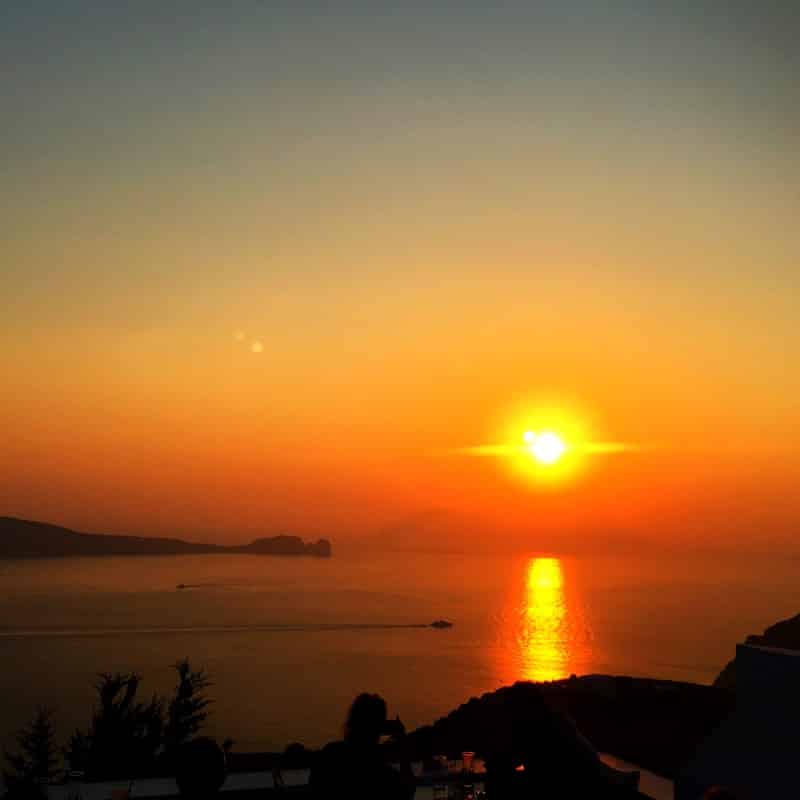 Day 2: Take a catamaran trip around the island. This is the best way to see many of the hidden beaches on Milos that are only accessible by boat. The island is built on volcanic rock, so it boasts some of the most insane views, every time we turned a corner we gasped. The boat company was incredible, with great information and a delicious home-cooked picnic on the beach. We did the full-day sailboat trip that circled the entire island, stopping at places like Kleftiko, only accessible by boat. One note: the Greek seas can be rough, so if you get seasick (like I do!) make sure to bring along some medicine.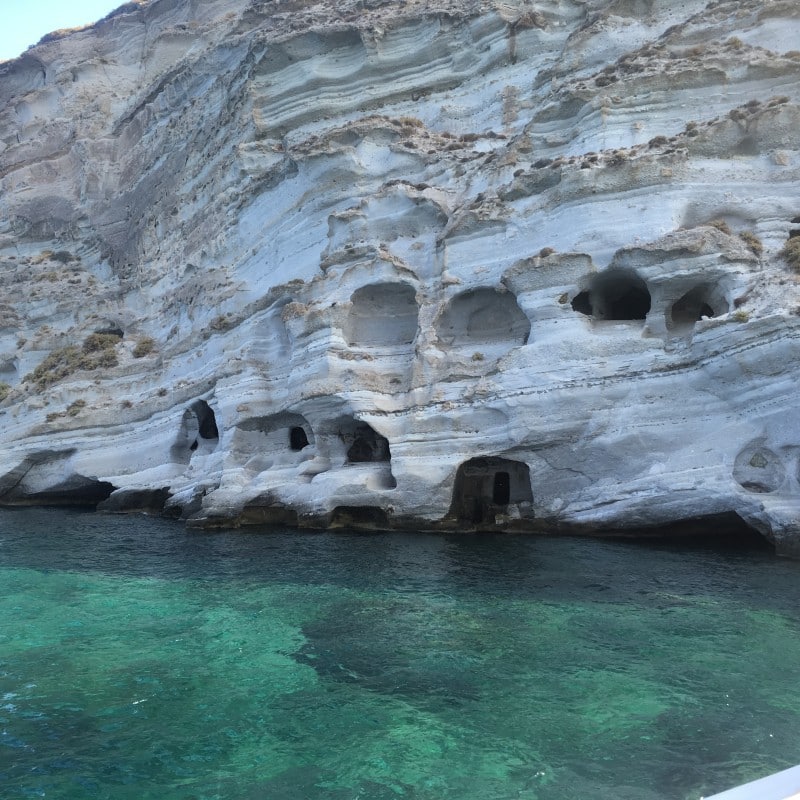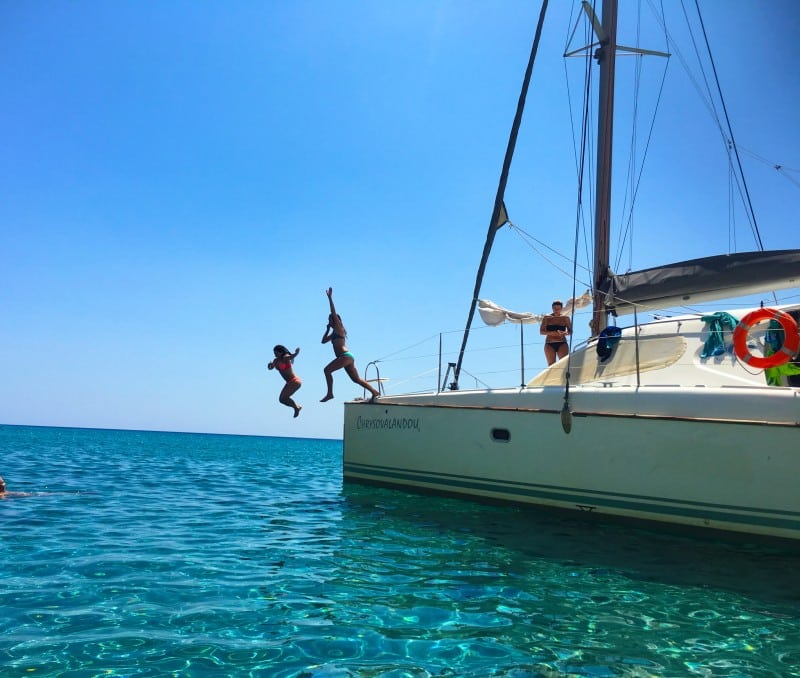 Day 3: Rent a car and explore the island beaches. Milos is such a quiet island so it was easy to drive around: we passed almost no cars during the day we spent driving around.
Head to Firaplaka beach first and get beach chairs before it gets too crowded (try to get there before 11am). This narrow beach took my breath away. It's squeezed between cliffs and the sea, with shallow, warm, clear water. We ended up spending most of the morning here because, well, you can see why: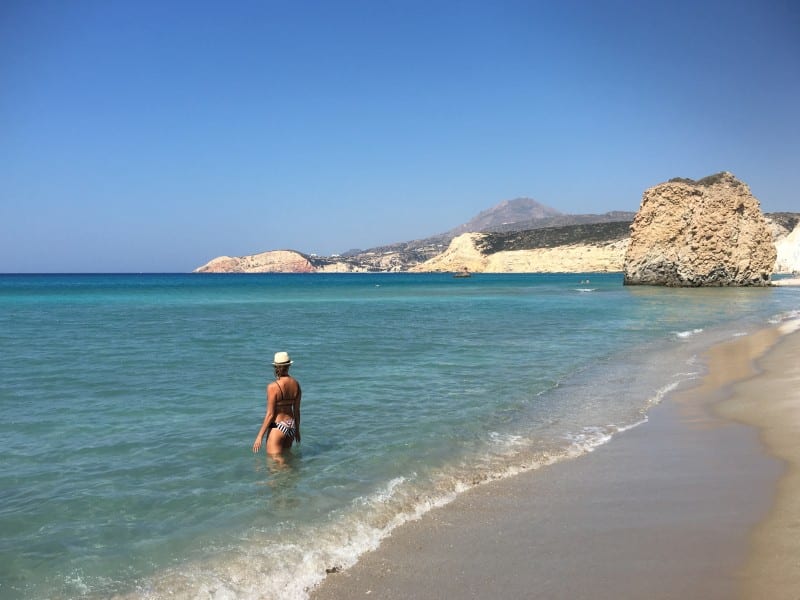 Paleochori is another must-visit beach. Volcanic heat rises up through part of the beach, and many of the restaurants cook their food in ovens buried in the sand. This also makes the water really warm. We swung by here for lunch and ate at Sirroco, famous for their volcanic food.
Sarakiniko beach was our last stop of the day. I can honestly say I have never seen a landscape like this. With white volcanic rock formations leading down into the deep blue-green sea, it felt like we were walking on the moon! Sarakiniko also has fun cliff jumping with a variety of different heights.
To end our time in Milos, we drove up to the village of Pollonia and had a gorgeous sunset dinner at Gialos on the water.
Santorini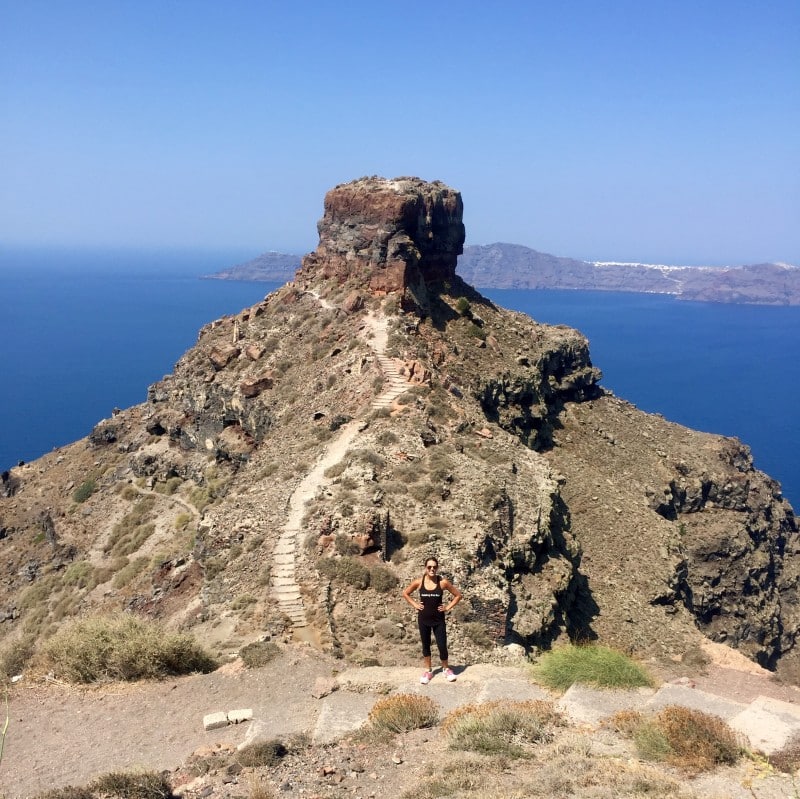 My first impression of Santorini was not so good. After being on the quiet, secluded island of Milos for three days, arriving at the Santorini ferry port was an assault on my senses. We were immediately accosted by dozens of taxi drivers, bus drivers, and tour operators trying to persuade us to use their transportation to get into town. While Santorini grew on me over the next few days, it was actually my least favorite of the three islands we visited. I know I know, that sounds sacrilegious. While Santorini did have some stunning caldera views, it felt all kind of…fake. The beautiful white buildings built into the cliff? All hotels, restaurants, and tourist shops. Where were the "real" people who live here? It all felt like it was built just for tourists, almost like a type of Greek Disneyland. Now don't get me wrong, it was incredibly beautiful along the cliffs, but the hoards of tourists and lack of any kind of actual culture really turned me off. Plus, outside of the caldera of Fira and Oia, the rest of Santorini was pretty ugly.
Ok ok, before you hate me even more for crushing your Santorini dreams, I'll tell you what I liked about it. But first, some basics to get you started.
How To Get There
We took a high-speed ferry from Milos to Santorini, which took about 2.5 hours. Try to schedule transport from the ferry terminal ahead of time. There is a public bus that runs to the Fira bus station, but it fills up quickly. The bus system on the island is pretty good and is a cheap way to get around. You can buy your ticket on the bus.
Where to Stay
The main areas to stay include Oia (the romantic honeymooner end), Fira (also known as Thira), and Firostefani. I recommend Firostefani, situated just a 10-15 minute walk from downtown Fira, which makes it slightly quieter and less crowded. We stayed at the Ersi Villas, a B&B run by a Greek family. The villa is set down from the main road and has a small pool – a nice touch given the 95-degree temperatures and no beaches close by. Elias, the manager, was very friendly and helpful with tips and ideas of where to go and how to get around.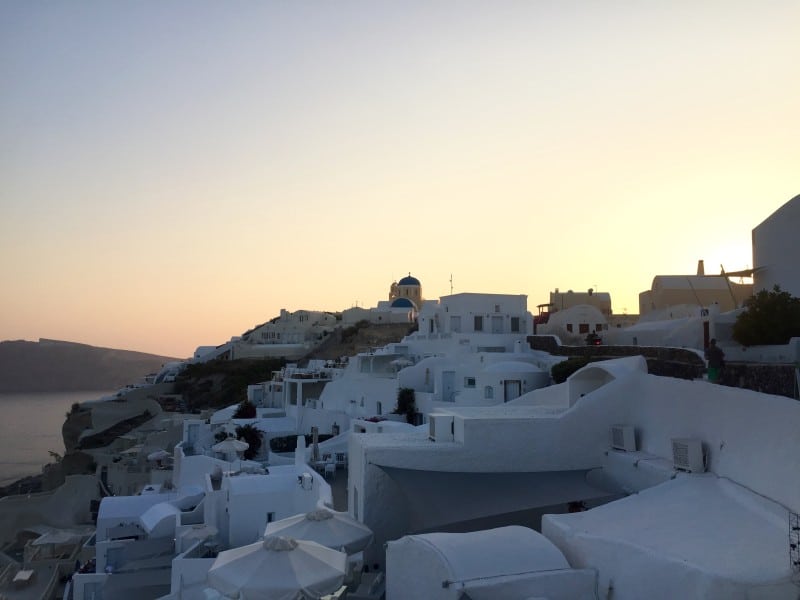 Santorini Must-Do's
Cliff Walk from Fira to Oia. This was by far the highlight of our time in Santorini. The path along the caldera, or cliff, runs from Fira to Oia and covers about 9 kilometers (or 5.6 miles). The cliff walk is packed with people in Fira, gets a little quieter in Firostefani, and then is basically empty for the next 5 miles until you get to Oia. The views were absolutely incredible, and you could see the whole eastern side of the island. I recommend heading out so that you end up walking down into Oia around sunset. It took us about 3 hours to walk the trail, which included stopping and taking photos at multiple points. Once in Oia, you can take the public bus back to Firostefani or Fira.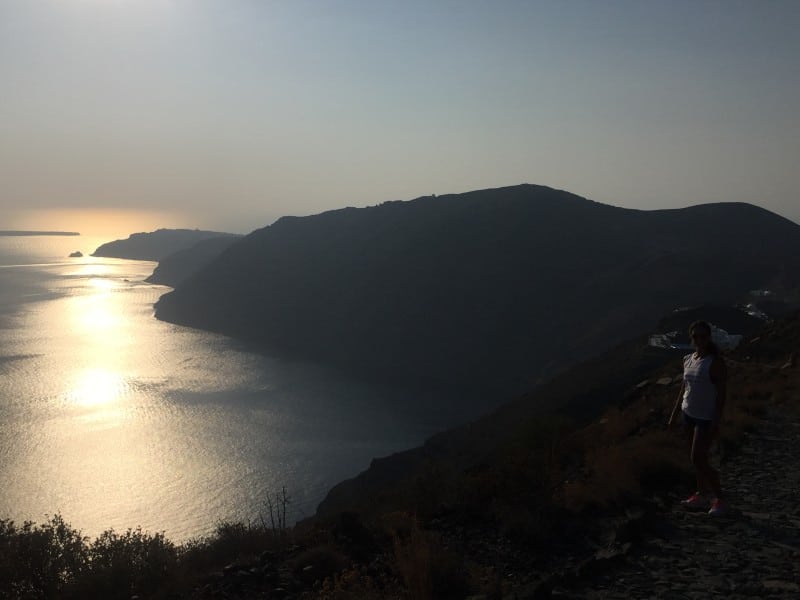 Santos Winery. One thing I haven't mentioned: my love affair with Greek wine. Santorini's unique volcanic soil yields grapes with a distinctive flavor, and we tasted some amazing white wines. Santos Winery is easy to get to by bus. Perched on a cliff overlooking the ocean you can enjoy a wine tasting that comes with cheese, bread, and fresh tomato spread.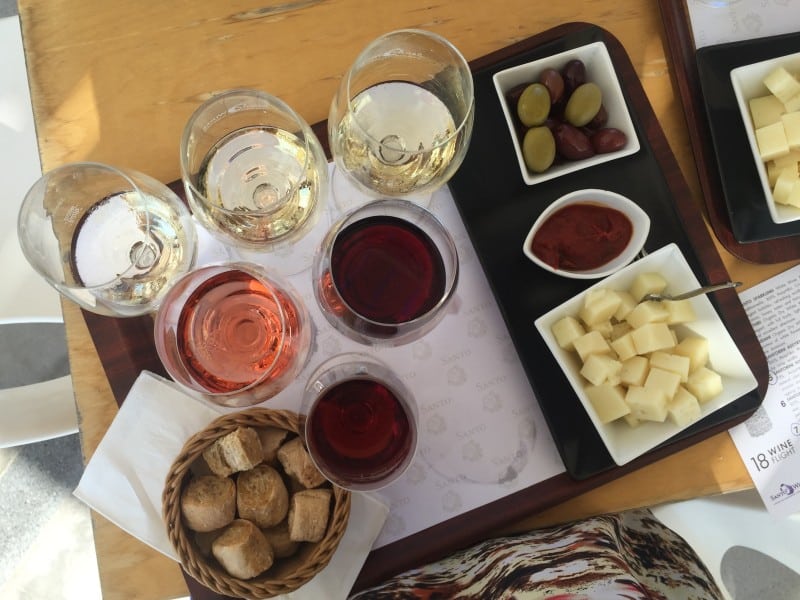 Perissa or Perivolos Black Sand Beach. Easily accessible by bus, these beaches make for a nice day trip while on Santorini. While they aren't nearly as beautiful as those on Milos, the black pebbles (instead of sand) make for a pretty backdrop. We showed up late morning and there were still plenty of beach chairs and umbrellas available for rent.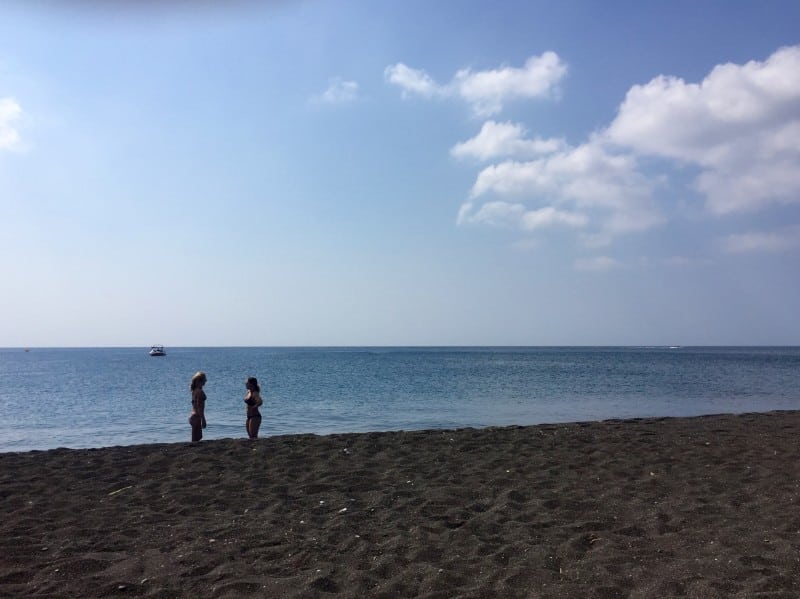 Other miscellaneous recommendations: try Feredini in Oia for great fresh fish, Onar cafe in Firostefani for drinks and tomato balls, and Aktaion, a traditional restaurant in Firostefani that has been run by the same family since 1922!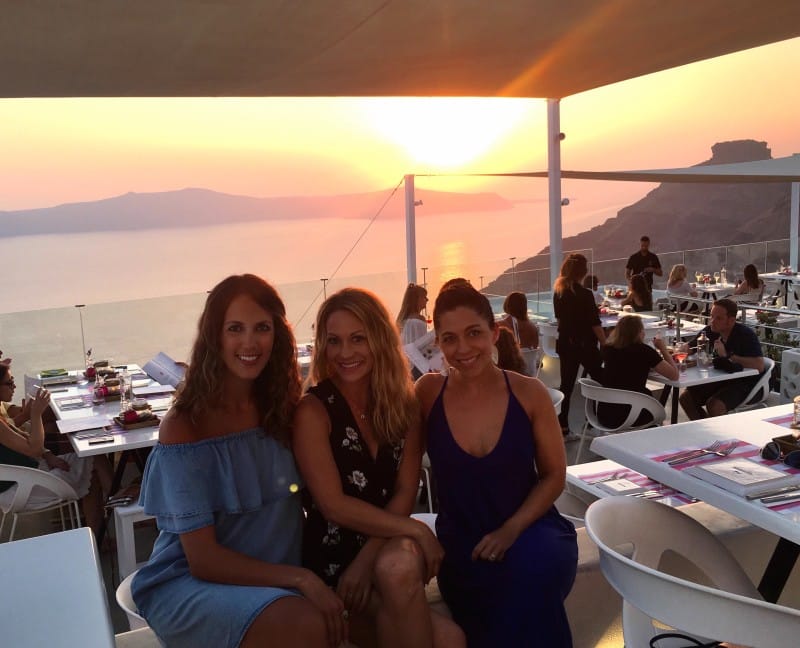 Mykonos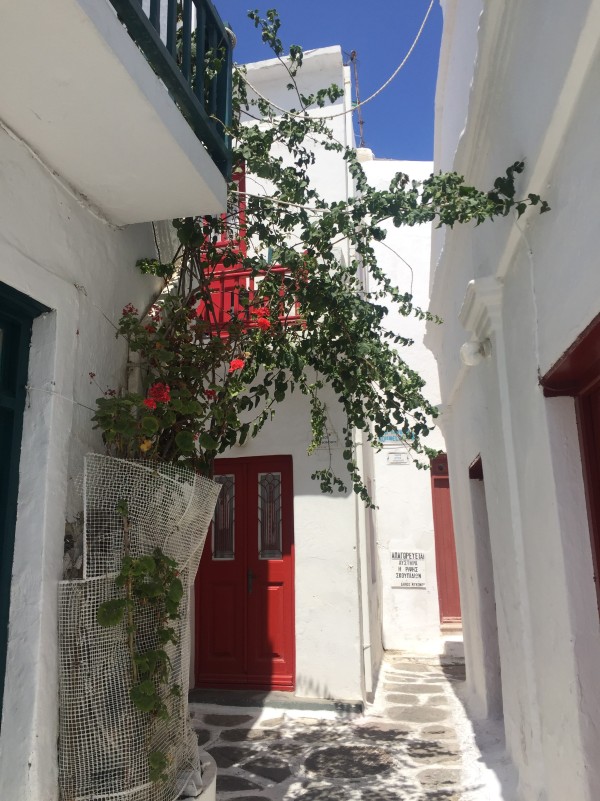 Ah Mykonos. I thought I would not enjoy you much at all, but I ended up being enchanted by your tiny streets. This is what I pictured the Greek Islands to be like.
While Mykonos is known as the "party island" I can tell you that there is another side to this small Greek island. My friends and I did do one afternoon on a party beach, but the rest of the time we spent exploring the adorable windy streets of Mykonos Town (also known as Chora Village).
How To Get There
We took a second high-speed ferry from Santorini to Mykonos, which took a bit longer, about 3 hours. From Mykonos we flew to Athens…also known as the most expensive 20 minute flight I've ever taken. That's what I get for traveling to Greece in August! Mykonos also has a bus system that can bring you to the various beaches outside of town.
Where To Stay
Once again we choose to stay just outside the main part of town. Omiros Hotel is nestled on a quiet cliff, an 8-10 minute walk from Mykonos Town. There was a beautiful pool and breakfast was included.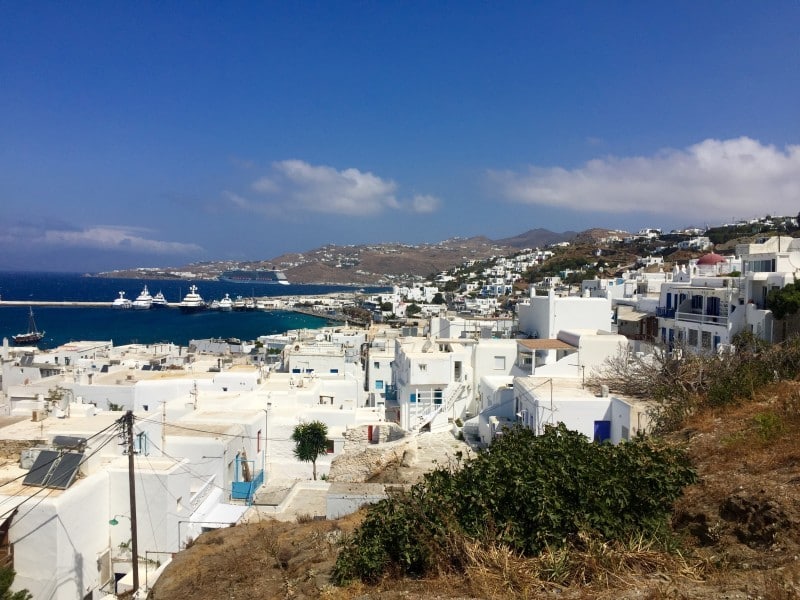 What To Do
We only had two days in Mykonos, and I spent most of that time wandering around Chora Town. After the shiny, touristy streets of Santorini, Mykonos was a breath of fresh air. While there are many high-end shops and a good deal of tourists, most people tend to stick to the beaten path in the center of Chora. Instead, get lost in the windy whitewashed staircases and walkways. The walkways are so narrow that most "streets" can't even accommodate a car. This makes for lovely wandering and exploring. A few highlights:
Explore Little Venice. On the western most part of Mykonos town the buildings meet the sea in an area known as "Little Venice". The houses were built right on the edge of the sea, with their balconies hanging over the water. Stop for a drink at one of the outdoor patios overlooking the ocean, just beware of the waves crashing over the seawall!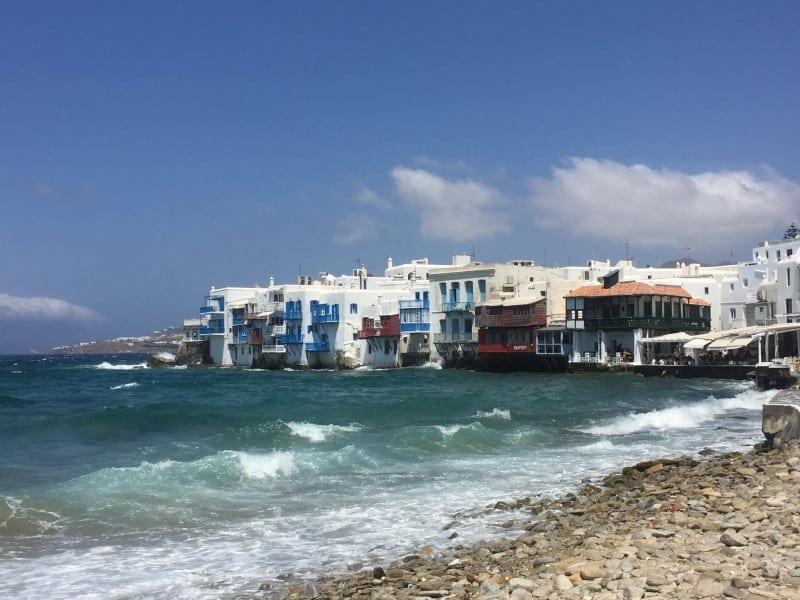 Grab a coffee at Polopo. A Greek shopkeeper at a tiny art store recommended this coffee shop, and I was not disappointed. Tucked into a quiet corner, it's the perfect place to sit and linger over a coffee.
Pick up bougatsa at Ntoukas. This pastry shop is right across from Polopo, and makes some of the best bougatsa, a Greek breakfast pastry made with phyllo stuffed with custard, cheese, or minced meat. Try their baklava too.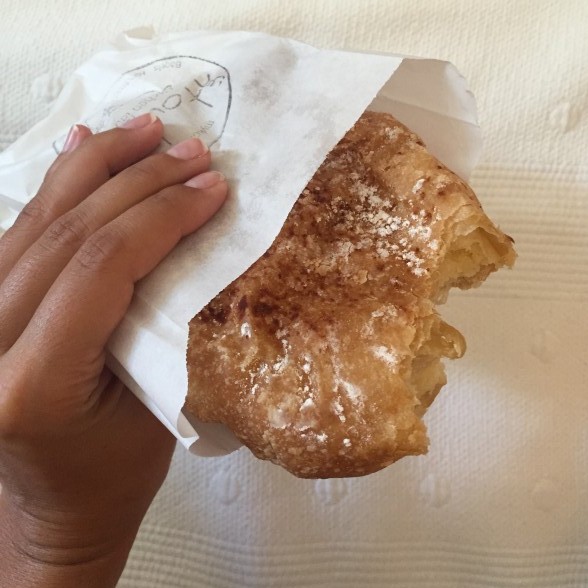 Have lunch at Caesar's. This charming cafe served us our first pita bread of the trip, paired with a trio of dipping sauces including hummus, eggplant, and spicy tomato.
Dinner at Eva's Garden. Our last meal in Mykonos was in this lovely garden surrounded by grapevines. Their moussaka was one of our favorites of the trip.
Eat Gyros. These cheap street eats are all over the Greek Islands, and make for a filling lunch or dinner for just a few euros.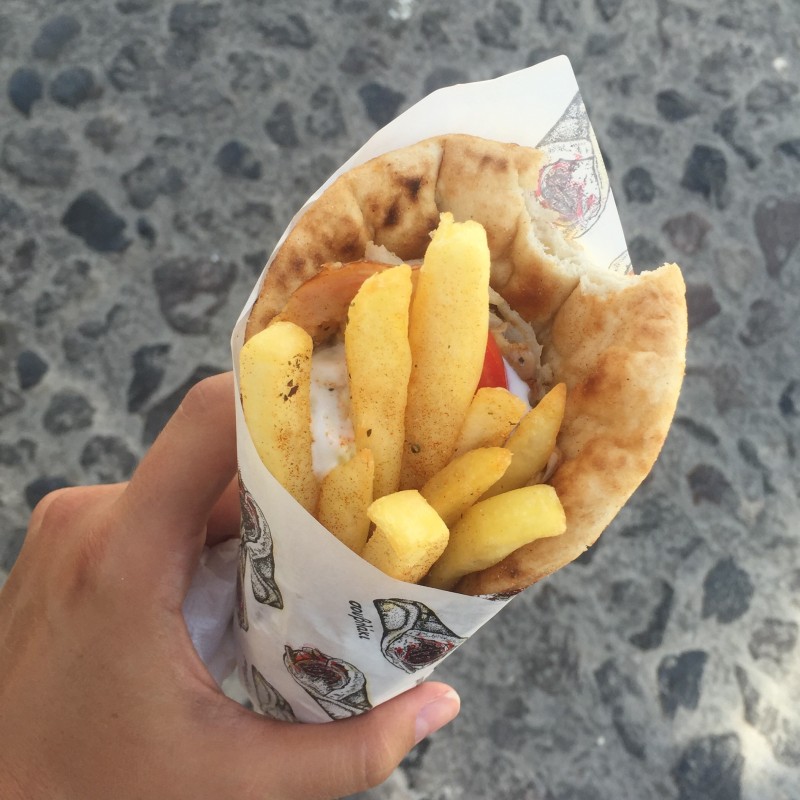 Have you been to any Greek Islands? What was your favorite?
[br]
Learn how to start eating more mindfully.
GET THE FREE E-GUIDE: 5-MINUTE MINDFUL EATING EXERCISE
---
Author Bio
This article was written and reviewed by Alissa Rumsey, MS, RD, CSCS, a registered dietitian and Certified Intuitive Eating Counselor. She specializes in weight-inclusive care, intuitive eating, body image healing, mindfulness, self-compassion, and healing from chronic dieting, disordered eating, and eating disorders. Alissa holds a Bachelor's Degree in Nutrition and Exercise Science, and a Master's Degree in Health Communications, and is also an NSCA Certified Strength and Conditioning Specialist.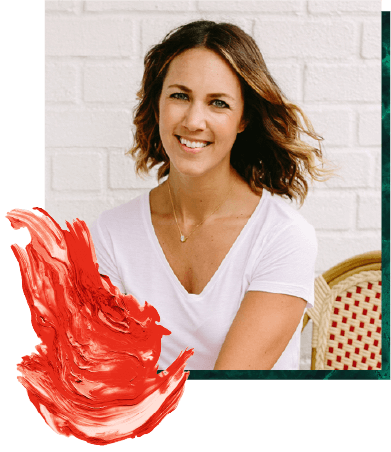 Alissa Rumsey, MS, RD, CDN, CSCS (pronouns she/her/hers) is a registered
dietitian, nutrition therapist, certified intuitive eating counselor, and the author of
Unapologetic Eating: Make Peace With Food and Transform Your Life. Alissa is
passionate about helping people reclaim the space to eat and live,
unapologetically.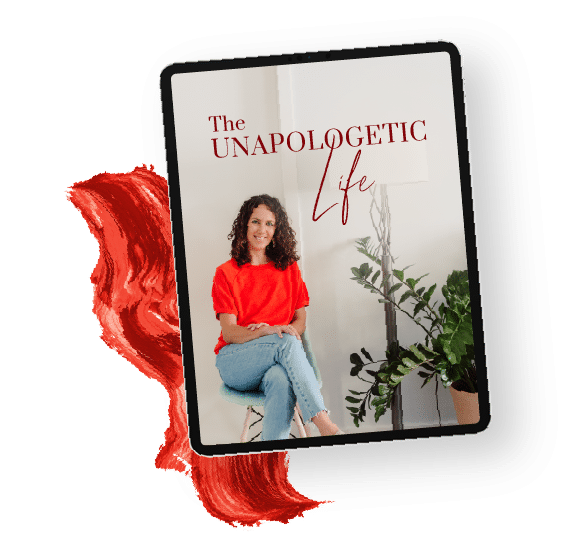 A twice-a-month round-up of inspirational stories, lessons, practical tips and encouragement for living your most authentic, unapologetic life.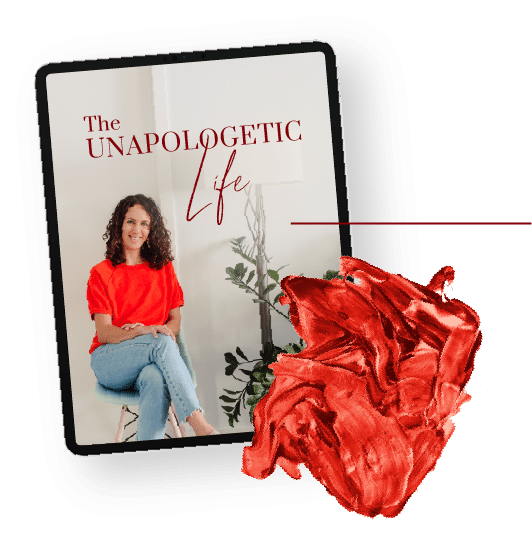 A twice-a-month round-up of inspirational stories, lessons, practical tips and encouragement for living your most authentic, unapologetic life.