What to Pack for a 4-Day Trek to Machu Picchu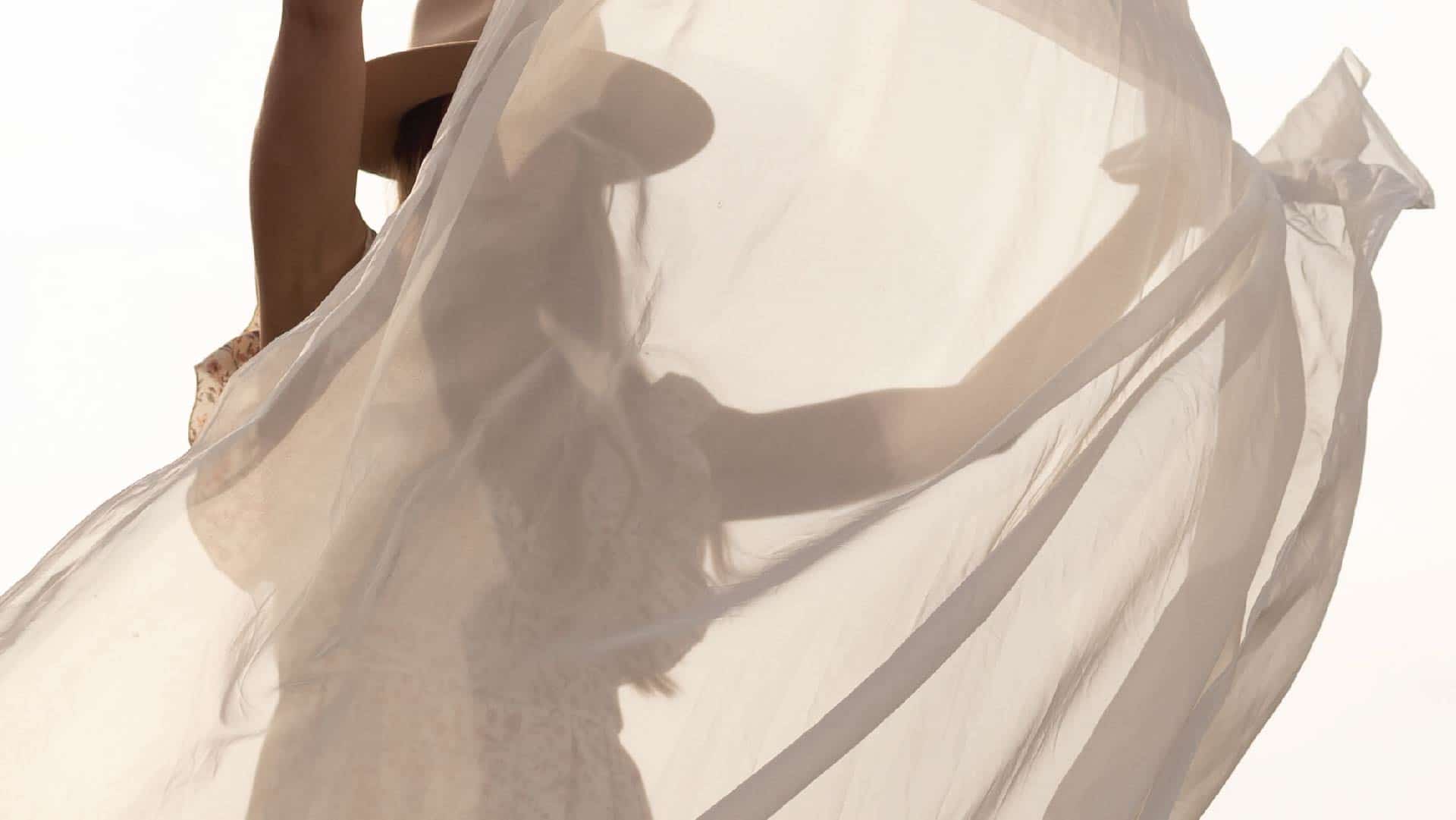 Planning to hike to Machu Picchu? Here is my A to Z guide to Inca Trail hike packing.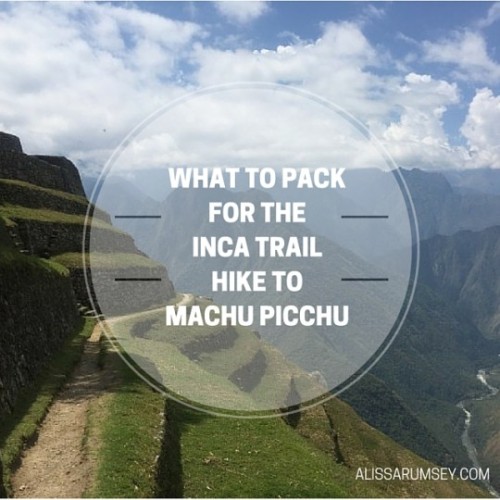 After years of traveling with just a carry-on suitcase, I'm in the habit of waiting until the night before my trip (or, in a few cases, a few hours before…) to start packing. This is not something you can do when traveling to Peru and hiking the Inca Trail to Machu Picchu. I started planning months in advance, especially in regards to the hiking boots, since these need to be broken in. Below is a list of recommended items to bring for a 4-day, 3-night hike in the Andes.
Hiking Shoes/Boots.

While some people told me they hiked in sneakers, I highly recommend buying a good pair of waterproof hiking shoes or boots. The Inca Trail is 27 miles of all rock…very uneven rock. I never fully understood the reason for hiking boots, until my first 8-mile hike on all rocks. Hiking boots help to support your foot and ankle, and make it easier to grip the rock surfaces. Your feet are going to be sore no matter what after 8-12 hours of hiking, but the thick soles of hiking boots help to spare them from too much pain. I purchased mine at REI, where they have a full-proof return policy. Make sure to go on at least one or two training hikes to break them in and make sure they don't cause you any blisters.
Comfy Sneakers.

When you finish an 8-10 hour day of hiking, the first thing you are going to want to do is take off your hiking boots. I bought an old pair of sneakers with me to slip on and wear around the campsite at night, and I was SO happy I had them. Another alternative is flip flops, but just be warned: the toilets are not the cleanest and it's tough to see where you are stepping at night…
Winter Hat, Scarf, Gloves.

Depending on when you are hiking, it can plunge as low as 25-30 degrees F at night. We hiked in August, and while I didn't really use these during the day, they saved me at night when the temperature hovered around 30 degrees. Night two was especially cold (as you're at the highest elevation) and I had heard horror stories of people being so cold they didn't sleep all night. I bundled up in multiple layers plus hat/scarf/glove and slept like a baby 🙂
Hat with a Brim (+Sunglasses)

. I tossed an old baseball hat into my suitcase at the last minute, and I'm so glad that I did. The sun was very strong, and the hat helped me avoid squinting while shielding my face. Be sure you have a breathable one, so you don't overheat. You'll probably want sunglasses as well as the hat.
Waterproof Shell.

It only rained at night during my trek, so I never got caught in the rain – but this is very unusual. Even in the dry season it's important to pack a waterproof top layer in case rain comes on during the hike. I borrowed a friends Arc'teryx, but you can find some ones for not too much money from Patagonia and North Face.
Plastic Poncho.

The shell covers you, but trust me – you're going to want something to cover up your backpack in the event that it rains. I purchased one for cheap in Cusco before we left.
Fleece.

I wore my EMS fleece every night once the temperature dropped. I kept it in my daypack, as the temperature rises and falls during the hike, and wore it for awhile on day 2 when we were at the highest elevation.
Lightweight Down Jacket.

This wasn't something I had originally packed, but after hearing some night 2 cold-weather horror stories from travelers in Cusco, I decided to purchase a Northface down jacket in town (bonus: it was over half the price of the coat in the US!). I actually didn't end up wearing it much, BUT it came in super handy as a pillow: stuff the jacket into your sleeping back case and voila! If you have a heavier fleece, you probably don't need this.
Clothing:

3 pairs of hiking/athletic pants – I wore workout leggings, using 2 pairs on alternate days (you're dirty anyway, so no need to wear new clothes every day!). I saved the 3rd pair for sleeping in once I had wiped myself down with body wipes at the end of the day (see below). You can also wear hiking pants, just make sure to try them out to ensure they are comfortable to walk in.
3 sweat-wicking tanks – I used versions with built-in bras so I didn't have to pack sports bras as well. Same as with the pants, I alternated 2 tanks during the day and saved a clean one to sleep in.
2 sweat-wicking long-sleeve shirts – I brought two Under Armour shirts, and wore one as a top-layer during the day while hiking and the other one at night to sleep in.
4-5 pairs of mid-weight hiking socks – 3-4 pairs for hiking, 1 pair to sleep in (I brought 4 and used my sleeping socks to hike with on the last day). I was fine with just 1 pair of socks per day, but if you like to change yours more frequently consider bringing a few extra pairs
Underwear – consider purchasing at least a couple pairs of sweat wicking and/or antimicrobial underwear. They are pricier, but I got two pairs and saved them for the last two days of the hike.
Large Garbage Bags.

I used 3 of these: 1 for my sleeping bag and 1 for my clothes — these two went into the red bag that you give to your porter; then 1 to hold all of the items in my daypack. This is an extra layer of protection in case it rains.
Gallon-Size Plastic Bags.

My recommendation: bring A LOT. This was a last minute recommendation from a friend, and I'm so glad I listened. I used these for so many things: dirty underwear/socks, kindle, iPhone, passport, leaky bug spray bottle, and more. I also put my hydration reservoir into one of them before putting it into my daypack, just in case it leaked. Mine never did, but this fix saved one of my fellow hikers when her hydration bladder leaked mid-way through the day.
Hydration Bladder/Reservoir.

I have never used one of these before, and it was lifesaving. Trust me: when you're 13,000 feet in the air and have been climbing straight up hill for 6 hours, the last thing you are going to want to do is have to open a water bottle in order to drink. Drinking enough water is key to preventing altitude sickness, and a hydration bladder ensured I could easily take sips during the day. I recommend buying one that comes with a mouthpiece cap, that way you can toss it around and not worry about what bacteria might be getting on the top. I purchased this 3-L hydration bladder and loved it. 3 Liters sounds like a lot, and while you don't have to fill up the whole thing it is a nice option to have. I usually filled it up to 2-2.5 Liters at a time.
Water bottle.

While a hydration bladder is most important, I liked having a water bottle to fill up and drink pr/post hiking while at the campsite and during meals.
Toiletries:

Hand sanitizer – there is no running water, so hand sanitizer is a must. I used an entire 3oz bottle over the four days.
Moist Wipes – what shower? Bring enough to wipe down your body each of the 3 days post-hike.
Face Wipes – I brought separate face wipes
Deodorant
Toilet paper – you have to provide your own toilet paper, so be sure to bring enough
Toothbrush/toothpaste
Sunscreen – the sun is very strong, make sure to bring enough to cover all exposed skin during the 4 days
Bug repellent – the bugs can get pretty bad at times, so make sure to spray all exposed skin.
Moisturizer – the air is really dry, I brought hand and face lotion and used it often
Lip balm with SPF
Medications/First Aid:

Painkillers (i.e. Aleve/Ibuprofen/Excedrin) – a common symptom of altitude adjustment is a headache, so these meds came in handy. Ibuprofen was helpful to prevent sore muscles.
Pepto – about half my group experienced some type of nausea or diarrhea, so this medication was used often.
Imodium – while you don't want to use this if you suspect a bacterial infection, diarrhea related to altitude sickness can be slowed down with this.
Diamox – optional prescription medication used to prevent altitude sickness
Moleskin – cut into squares and circles to use on your feet when you start to feel pressure. Be sure to use it as soon as you feel any pain or pressure, and it can prevent blisters.
Band-Aids
Neosporin
Anti-chafing Stick – I used BodyGlide on my toes to prevent blisters
Quick-dry hand towel.

Our tour company provided us with boiled water to wash our hands before meals, and I used a hand towel to dry.
Headlamp +extra batteries.

Another item I had never used before, and was so happy to have on hand. It gets dark early in the mountains, and it was really helpful to have a hands-free flashlight to use when walking back and forth to the dinner tent and bathrooms. It's also really useful when packing and unpacking your belongings in a dark tent. Bring extra batteries just in case. You can also bring a hand-held flashlight, but I didn't find that I needed it.
Portable Phone Charger.

While I had my phone on airplane mode, I used it to take all of my photos. I brought my portable charger and it was enough to keep my phone charged for the entire four days.
Camera +extra batteries.

I used my iPhone, but if you do bring a camera make sure to keep extra batteries with you.
Snacks.

Llamapath provided us with 3 huge meals plus a snack bag which usually included a piece of fruit and some type of granola bar. If you're the hungry type, or like to have food on hand just in case, consider bringing a few of your own snacks i.e. bars, nuts, beef jerky, etc.
Passport.

You'll need this at certain checkpoints along the trail.
Backpack.

Most of the hikers on my trip (me included) choose to pay extra for a porter to carry the majority of our belongings (about 14kg worth) up the mountain. You'll still need to bring along a daypack, consider one that is 20-25 Liters. Make sure it has a good waist strap, to help your body carry most of the weight (versus your shoulders). In my daypack I carried my hydration reservoir, camera, sunscreen, medications, hand sanitizer, toilet paper, passport, waterproof shell, and fleece (I usually wore it first thing and then shed it as I warmed up).
More on my travels in Peru can be found here:
---
Author Bio
This article was written and reviewed by Alissa Rumsey, MS, RD, CSCS, a registered dietitian and Certified Intuitive Eating Counselor. She specializes in weight-inclusive care, intuitive eating, body image healing, mindfulness, self-compassion, and healing from chronic dieting, disordered eating, and eating disorders. Alissa holds a Bachelor's Degree in Nutrition and Exercise Science, and a Master's Degree in Health Communications, and is also an NSCA Certified Strength and Conditioning Specialist.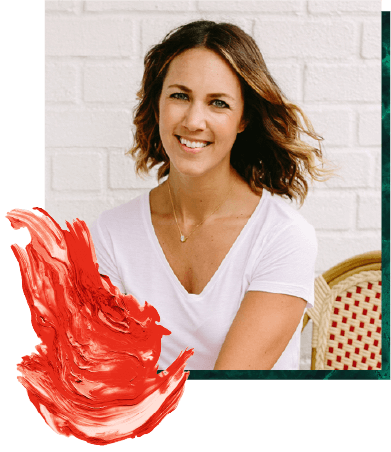 Alissa Rumsey, MS, RD, CDN, CSCS (pronouns she/her/hers) is a registered
dietitian, nutrition therapist, certified intuitive eating counselor, and the author of
Unapologetic Eating: Make Peace With Food and Transform Your Life. Alissa is
passionate about helping people reclaim the space to eat and live,
unapologetically.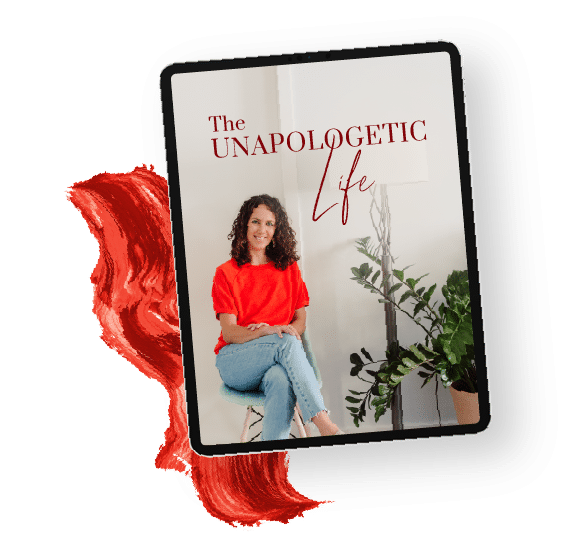 A twice-a-month round-up of inspirational stories, lessons, practical tips and encouragement for living your most authentic, unapologetic life.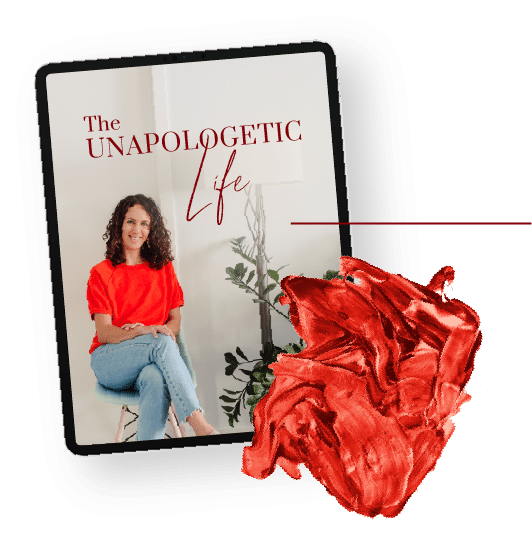 A twice-a-month round-up of inspirational stories, lessons, practical tips and encouragement for living your most authentic, unapologetic life.