Travel Guide: Havana, Cuba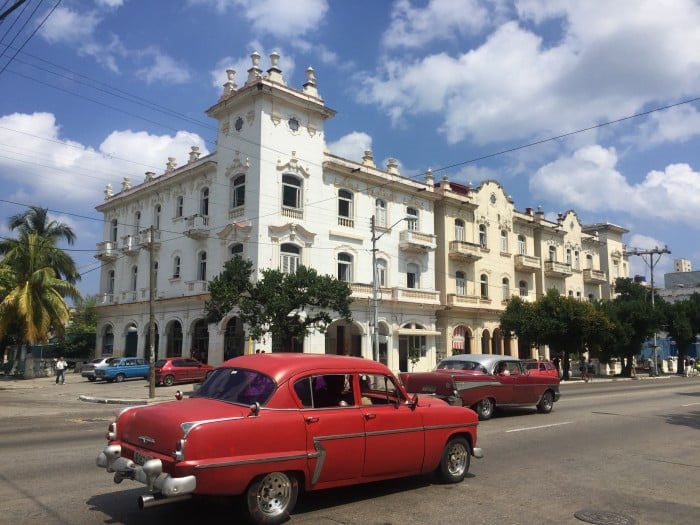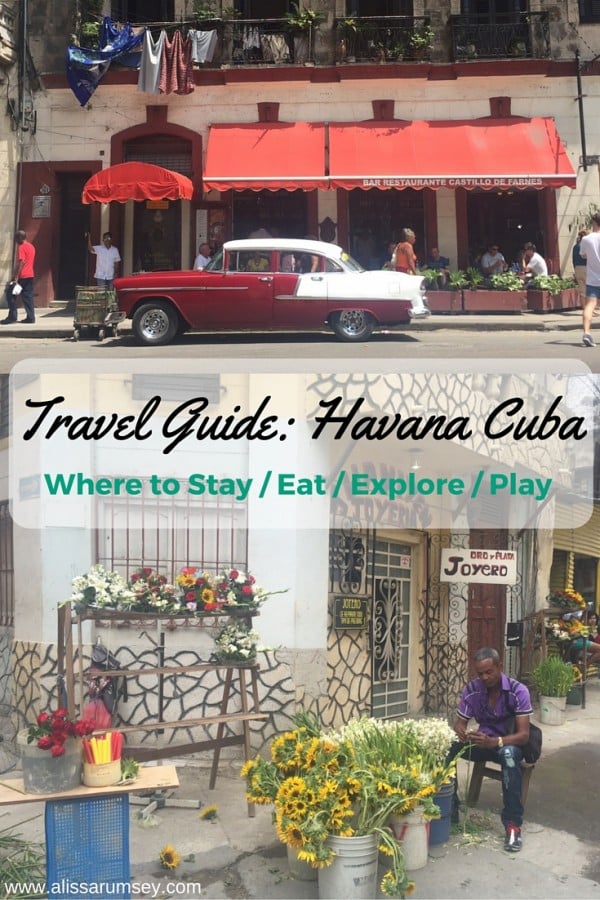 I have to admit, I was a little nervous traveling to Cuba. Not necessarily "is the US government going to come after me?" nervous, but I had the sense that it would be a place unlike anywhere I had been before. And boy, was I right.
Stepping foot in Havana, I immediately felt at ease. I'm not sure if it was the wide, tree-lined streets of Vedado, the friendly Cuban's, or the pulsating beat of music, but I fell a little bit in love with Havana. It has a vibe, a feeling, that I have yet to feel elsewhere.
While just a short 45-minute flight from Miami, Cuba is a world apart. Imagine a first-world country, now transformed into a third-world country: this is what Cuba felt like to me. In the Vedado neighborhood of Havana, massive white-columned mansions flank wide calles. Behind their crumbling exteriors, you can image how regal they must have looked when they were first built in the early 20th century. In Central Havana, Parisian architecture is crossed with brightly colored Caribbean designs, the buildings now decaying terribly. But behind the crumbly exterior lies history, culture, music, dance, and hospitality. Here is what I recommend if you are traveling to Havana, Cuba.
Where to Stay
Most people, when picturing Cuba, have the image of Old Havana in their head. Tightly packed cobblestone streets, old buildings with classic cars parked out front, music streaming out of open windows, open air bars on every corner. While you can technically still find these things in Old Havana, the reality will be very different from your expectations. Those cobblestone streets and open air bars are filled with tourists, and you're more likely to hear English or German being spoken than Spanish. There are few Cubans in Old Havana unless they are working at a tourist shop. In short, despite being beautifully restored, Old Havana is a tourist trap.
The main neighborhoods are Old Havana, Havana Central, which is quieter and crumbling, Vedado, a more modern district, and Miramar, a residential neighborhood.
My recommendation: visit Old Havana, and stay in Vedado or Havana Central. You'll get to better know Cuban culture and interact with local's going about their day. Vedado is a hip, modern neighborhood packed with bars, restaurants, music venues, and lots of regular Cubans. We stayed in an Airbnb off of Calle 23, the main road that runs through Vedado. It is just a 45-minute walk from Vedado to Old Havana. Another option is to stay in Havana Central, the dilapidated neighborhood that lies between Vedado and Old Havana. We spent much of our time wandering the tiny streets of Havana Central and we were often the only tourists in sight. Despite the badly decaying buildings, the neighborhood has a special charm and is filled with Cubans hanging out on stoops, out of windows, on balconies.
For more info on booking accommodations, check out this post.
Where to Explore
We spent three full days exploring Havana. While it was enough to get a taste of the city, it left me wanting more. Here are a few of the must-dos while in Havana.
Wander along Calle 23 and buy peanuts in paper cones for 1 CUP.
Head to the Malec

ó

n and people-watch – go during the day for the view, and at night to have a drink and chat with the locals
Hitch a ride in a communal taxi (10 CUP, don't ask just hand them the money)
Sip a mojito on the front lawn of the Hotel Nacional
Sit in a park and watch kids play futbol or baseball
Visit the Plaza de la Revolucion

Go to

Parque Central

and hire a driver for an hour to take you up and down the

malecón

at sunset (should be no more than $20)

Spend an afternoon at

Hemingway's house

Tour a cigar factories – check out Fabrica de Tobaco Partagas
Visit the Craft market

Spend an afternoon in Old Havana and check out El Capitolio Building, the Grand Theater, Plaza Vieja, Plaza de Armas (the oldest square in Havana), Basilica de San Francisco de Asis, and The Cathedral of The Virgin Mary

Visit the Museo de la Revolución (Museum of the Revolution) and the Museo de Bellas Artes
Eat dinner at a Paladar
Listen to live music and dance salsa at one of the city's many music venues (see bars, below)
Where to Eat
Cuba is not known for its food, but the up-and-coming Havana restaurant scene is starting to change that. Private restaurants, or Paladares, have grown exponentially since restrictions eased in 2011. With them comes food outside the traditional meat, beans, and rice realm. Here are the restaurants we loved in Havana (warning: reservations are a good idea).
This popular Paladar is located in an old penthouse apartment near the Hotel Nacional. Dishes are Spanish-influenced fusion by Cuban chef Dayron Aviles. Get the octopus carpaccio (if it's not on the menu, just ask) and red snapper in salsa verde. Enjoy views of Vedado from the outside balcony.
This relatively new restaurant is situated in the same abandoned cooking oil factory as Fabrica de Arte (see bars, below). Old Cuba this is not: this restaurant/bar/lounge is filled with hip, young Cubans. Ask for a table on the rooftop, and enjoy dinner and drinks while the sun sets.
Situated directly on the ocean, this Paladar offers beautiful views from its outdoor patio. Known for its seafood and extensive wine list, it's one of the best places in the city to get lobster. We lingered over cigars (my first – and probably last) and Cuban rum before heading across the river to Fabrica.
Where to Play
Fabrica de Arte Cubano (Vedado) – this is THE place to be on a Friday or Saturday night. It's difficult to put into words, but think a combo of art/dance/drink/food…all in an old converted cooking oil factory. Get there before 10pm, unless you want to wait in line for over two hours (that is not an exaggeration). Or, do what we did: go when it opens, around 8pm, get a stamp on your "ticket", then make a deal with the bouncers to let you come back after dinner without waiting in line 😉
Bertolt Brecht Cultural Center (Vedado) – head here to see popular Cuban contemporary musicians. Be prepared to wait in line (do you sense a theme here?).
Saraos Bar (Vedado) – while the Miami-vice feel of this club almost made me turn and leave, the promise of see Kelvis Ochoa (a popular Cuban musician) live in a small space had me hooked. Luckily, Sarao (and Kelvis, fresh off his SXSW show) didn't disappoint. A fun place for dancing and live music, filled with locals.
Last but not least, hang on the Malecón at night, where locals gather with beer and bottles of rum.
Check the other blogs in my Cuba Series:
Travel Guide to Cienfuegos and Trinidad *Coming soon!
---
Author Bio
This article was written and reviewed by Alissa Rumsey, MS, RD, CSCS, a registered dietitian and Certified Intuitive Eating Counselor. She specializes in weight-inclusive care, intuitive eating, body image healing, mindfulness, self-compassion, and healing from chronic dieting, disordered eating, and eating disorders. Alissa holds a Bachelor's Degree in Nutrition and Exercise Science, and a Master's Degree in Health Communications, and is also an NSCA Certified Strength and Conditioning Specialist.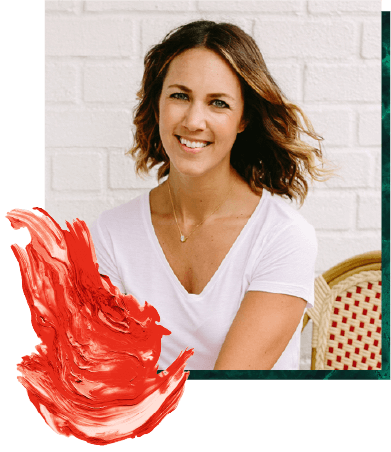 Alissa Rumsey, MS, RD, CDN, CSCS (pronouns she/her/hers) is a registered
dietitian, nutrition therapist, certified intuitive eating counselor, and the author of
Unapologetic Eating: Make Peace With Food and Transform Your Life. Alissa is
passionate about helping people reclaim the space to eat and live,
unapologetically.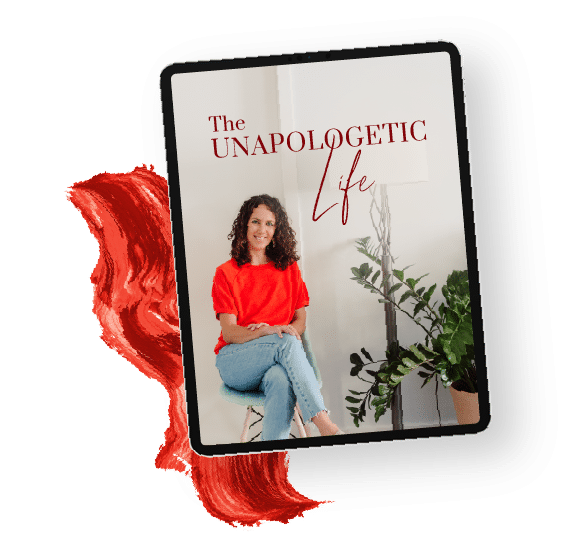 A twice-a-month round-up of inspirational stories, lessons, practical tips and encouragement for living your most authentic, unapologetic life.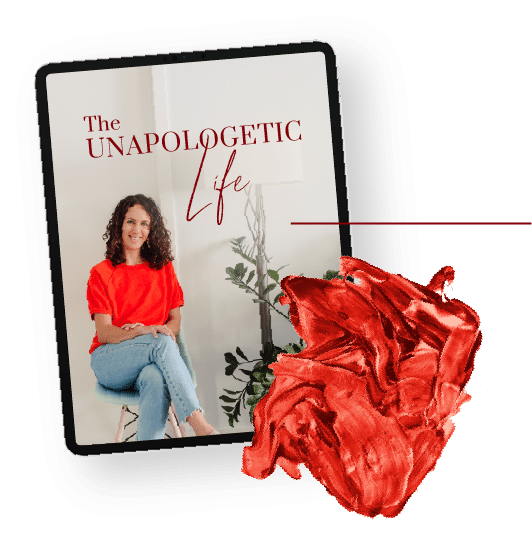 A twice-a-month round-up of inspirational stories, lessons, practical tips and encouragement for living your most authentic, unapologetic life.