17 Best Intuitive Eating Podcasts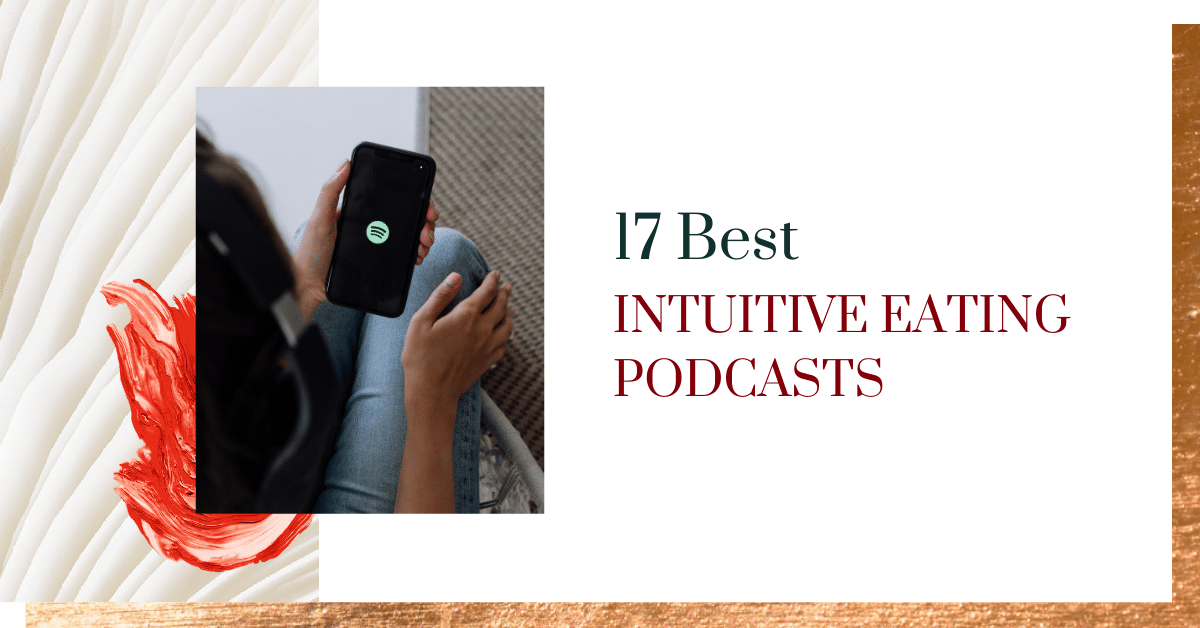 Podcasts are a great way to dip into the world of intuitive eating, or to dig deeper into specific topics related to intuitive eating. Many of my colleagues who are experts in this area host fabulous podcasts. Here is a list of 17 of the best intuitive eating podcasts (IMO) to help you integrate the principles of intuitive eating and anti-diet approach into your life.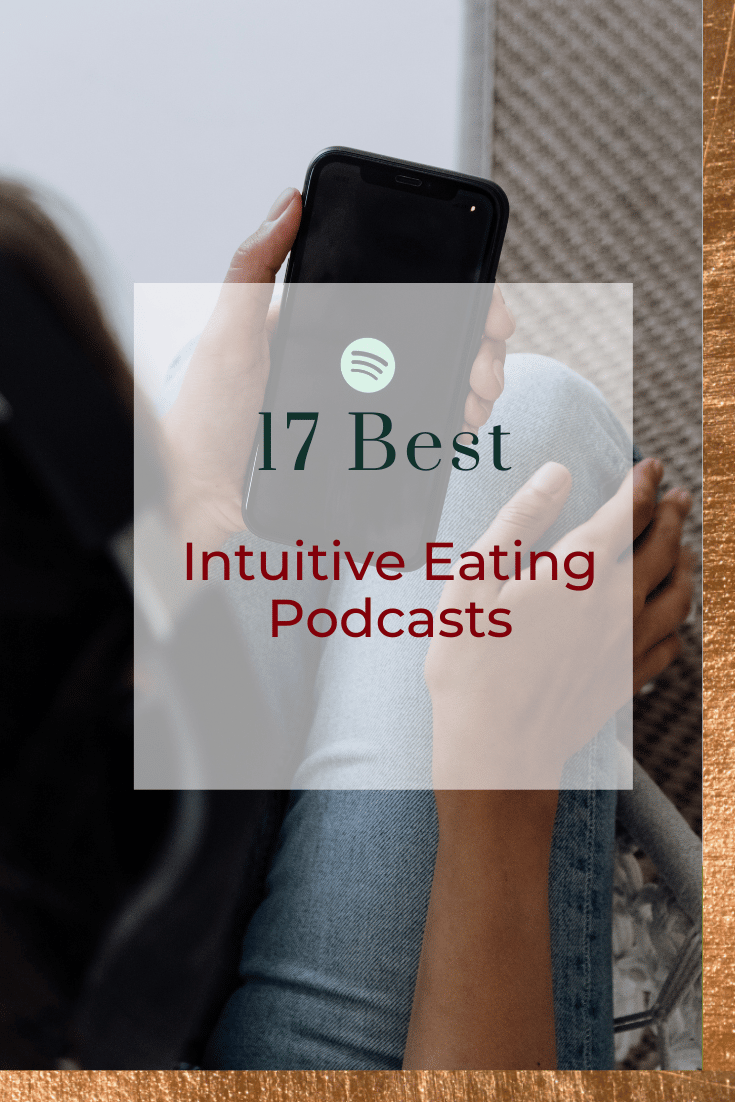 I mentioned in this post some of my favorite books for learning about intuitive eating and helping you put the principles into practice. Let's face it though, we all struggle with packed schedules and sometimes it is tough to find the time to sit down and read a full book. Podcasts are a wonderful alternative! They have become super popular in the last few years as a way to entertain and educate on the go.
The podcasts below all feature experts in the area of intuitive eating exploring topics related to pregnancy, advocacy, gut health, diet culture, wellness culture, weight, etc. For each podcast, I share a short description and recommend a couple of episodes to get you started.
You can also listen to my interviews on Food Psych, Food Heaven, and Intuitive Bites.
Please note: some links below are affiliate links. I only use affiliate links for products I use and trust!
Happy listening!
The Best Intuitive Eating Podcasts
1. Food Psych with Christy Harrison, MPH, RD, CDN
Each week Christy Harrison, author of Anti-Diet, interviews a new expert guest about their relationship with food growing up, their own personal journeys towards body acceptance, and what they are doing now to expose the harmful messages of diet culture. Food Psych is listed as one of the top 100 podcasts on iTunes. I recommend starting with episode #127: Intuitive Eating & Health At Every Size FAQs with Ashley Seruya & Christy Harrison, or episode #106: How to Stop Pursuing Weight Loss & Make Peace with Your Body with Ijeoma Oluo, Author of "So You Want To Talk About Race".
2. Nutrition Matters with Paige Smathers, RDN
Paige Smathers shares interviews with experts in the area of health and wellness, exploring topics related to eating disorder healing, weight struggles, and food issues. I recommend starting with episode #81: Gut Health and Elimination Diets, or episode #69: Busting Nutrition Myths- Exploring Weight Loss, Adrenal Fatigue and More.
3. RD Real Talk with Heather Caplan, RDN
Heather Caplan uses her platform to share #realtalk from dietitians about how they integrate nutrition into their own lives, featuring anti- or non-diet approaches. I recommend starting with episode #23: AMENorrhea and the ethics of practicing however you want to, or episode #9: EDBs are a real thing.
4. Love Food with Julie Duffy Dillon, RD
Julie Duffy Dillon formats her content into a letter addressed to food. Guests are able to explore complicated relationships to food using this unique approach. I recommend starting with episode #86: Intuitive eating never works for me with Evelyn Tribole, or episode #174: How do I challenge diet talk with Cara Harbstreet.
5. The Embodied and Well Mom Show with Lindsay Stenovec, MS, RD, CEDRD
Lindsay Stenovec helps listeners navigate the challenges of motherhood and pregnancy-related to feeding, body trust, body image, and transitions. I recommend starting with episode #017: Impact of Diet Culture on Our Wellness Before, During & After Baby, or episode #008: Pregnancy Weight Gain- "The Conversation You're Not Having with Your OB."
6. The Mindful Dietitian with Fiona Sutherland, MSc, ASD, RYT-200
Fiona Sutherland interviews dietitians about the challenges and complexities within their work as body inclusive, Health at Every Size, non-diet practitioners. I recommend starting with episode #43: The Mindful Dietitian with Nicola Rinaldi, or episode #8: The Mindful Dietitian with Marci Evans.
7. Don't Salt My Game with Laura Thomas, PhD
Laura Thomas, author of Just Eat It, explores the lies and dangerous trends of the wellness industry with guests ranging from bloggers to entrepreneurs to creatives to doctors. I recommend starting with episode #45: Intuitive Eating: How to Ditch the Diet Rules w/ Laura & Pixie, or episode #41: What it's Really Like to Have an Eating Disorder w/ Laura & Even from Not Plant Based.
8. You Can Eat With Us with Cara Harbstreet, MS, RD, LD
Cara Harbstreet, author of the Healthy Eating for Life workbook, seeks to connect individuals who are breaking free from diet culture through the stories of experts and everyday people. I recommend starting with episode #016: Tracy Brown & Fighting Fear of Weight Gain, or episode #003: Haley Goodrich & An Intro to Health At Every Size (HAES).
9. Nourishing Women with Victoria Myers, RDN
Through her podcast, Victoria Myers seeks to empower women to ditch the diets, heal their digestion, practice wellness without obsession, and regulate their hormones. I recommend starting with episode #49: Digestive and Hormonal Healing, the Impacts of Poor Health on Our Relationship with Food, Individuality in Medicine, the Power of Perspective, Stigma Around Anti-Anxiety Medication, and Other Real Talk with Kait Miller, or episode #55: Mental Health and Mindful Eating with Lisa Hayim, RD, LD.
10. Intuitive Eating for the Culture with Christyna Johnson, MS, RDN, LD
Christyna Johnson adapts intuitive eating for different life situations and cultures. She addresses microaggressions, disordered behaviors, fatphobia, and ethnocentrism in dietetics. I recommend starting with episode #006: I'm Full. Now What? (Feel Your Fullness), or episode #007: It Hits Different (Discover the Satisfaction Factor).
11. Food Confidence with Jennifer Bravo and Andrea Paul, RDN, LD
Jennifer Bravo and Andrea Paul discuss raising food and body confident kids with "game-changers" in the field. I recommend starting with this episode: Breaking down the science & safety of food production with Food Science Babe, or this episode: Raising Body Confident Kids and Defining 'Diet Culture' with Dana Suchow.
12. Imperfect Health with Kelly Jones, RD, CSSD, LDN and Kim Hoban, RDN, CDN, CPT
Self-proclaimed recovering perfectionists and dietitians Kelly Jones and Kim Hoban discuss the practical, and imperfect, ways they integrate fitness, nourishment, health, family, and career in their lives. I recommend starting with this episode: Welcome Back (to Reality)!, or this episode: Postpartum Things (Part 1).
13. Intuitive Bites with Kirsten Ackerman, MS, RD
Through her own experience of making peace with food, Kirsten Ackerman speaks with expert guests about topics related to Health at Every Size, tuning into internal cues, ditching diet rules, etc. I recommend starting with episode #5: Why Intuitive Eating is Not "Letting Yourself Go" with Lyndi Cohen, or episode #4: My Journey to Non-Diet Nutrition.
14. Going Beyond the Food with Stephanie Dodier, CNP
Stephanie Dodier explores different topics related to food and bodies in order to empower women to live beyond the obsessions and accept themselves confidently as they are right now. I recommend starting with episode #173: So You Wanna Lose Weight? Part 1, or episode #004: Q&A: Why My Stress Hormones are Dysfunctional and What To Do?
15. More Than What You Eat with Rachel Goodman, RDN
Rachel Goodman shares tips for healing your relationship with food, learning to trust your body, and improving body image through interviews with experts in the field. I recommend starting with episode #7: Raising Intuitive Eaters, or episode #19: The Impact Body Image & Nutrition Have on Physical Activity.
16. The F*ck It Podcast with Caroline Dooner
Caroline Dooner, author of The F*ck It Diet, discusses the failures of the diet and wellness industries and all of the ways their messages harm us physically and mentally. I recommend starting with episode #24: Intuitive Eating Mistakes, or episode #4: with Summer Innanen.
17. Food Heaven Podcast with RDs Wendy and Jess
Dietitians Wendy and Jess share sustainable tips for health and wellness rooted in Health at Every Size, intuitive eating, and body acceptance. I recommend starting with episode #3: The Secrets to a Healthy Breakfast, or Episode #46: Helpful Tips for Gas and Bloating.
What Podcasts am I missing? Share your favorites below!
Are you looking for more support with intuitive eating and body image healing?
My team and I work with clients virtually throughout the US, helping people who are frustrated with dieting change their relationship with food and their bodies Learn more about our intuitive eating coaching programs to see how you can find balance and develop long-term lifestyle habits, no guilt or obsession required.
Looking to learn more about intuitive eating on your own? My Unapologetic Eating 101 – Intuitive Eating & Body Image Course is a self-paced online course that walks you through the foundational principles of intuitive eating, mindfulness, self-compassion, body image healing, coping tools, and more. It also includes my favorite tools and practices to help you integrate what you're learning into your day-to-day life.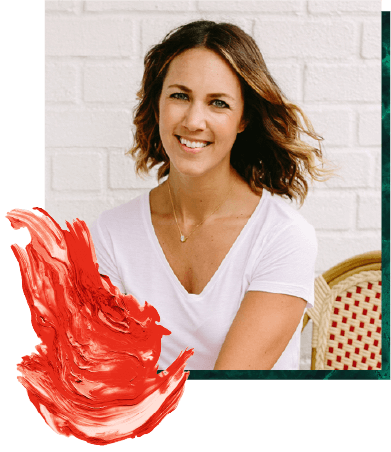 Alissa Rumsey, MS, RD, CDN, CSCS (pronouns she/her/hers) is a registered
dietitian, nutrition therapist, certified intuitive eating counselor, and the author of
Unapologetic Eating: Make Peace With Food and Transform Your Life. Alissa is
passionate about helping people reclaim the space to eat and live,
unapologetically.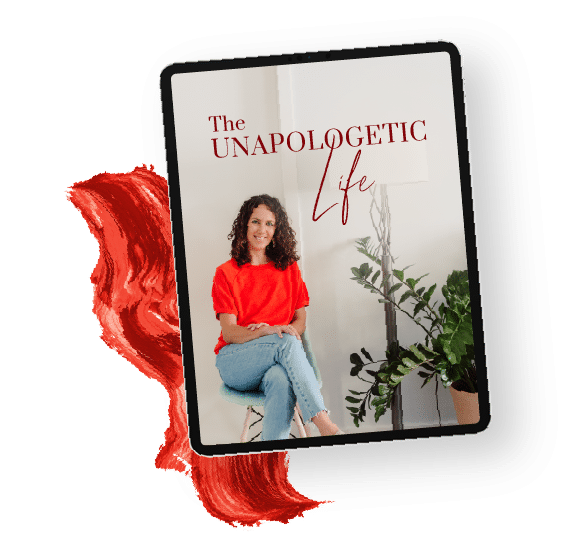 A twice-a-month round-up of inspirational stories, lessons, practical tips and encouragement for living your most authentic, unapologetic life.